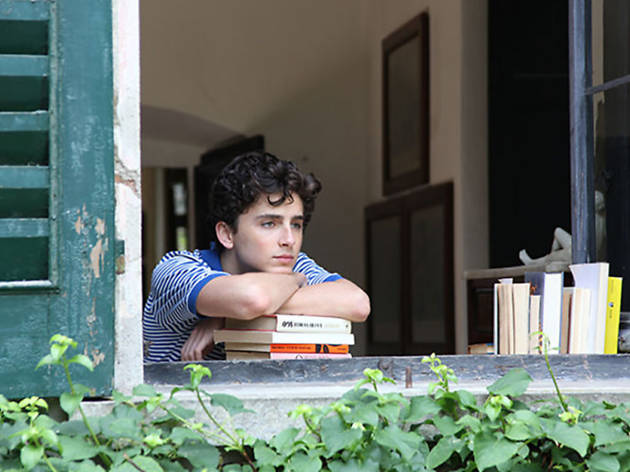 Time Out says
This swooning coming-of-age gay romance transports us not only to northern Italy, but to a lazy summer's exchange of books, fruit, glances and power.
Italian writer-director Luca Guadagnino likes to show off his homeland as a place of sensual self-discovery. That's especially true of his last two films, the exquisite Milanese romance 'I Am Love' (2009) – a film with the power to make you pack your bags and head off to the nearest airport – and the languorous island thriller 'A Bigger Splash' (2015). But he's never given us the total swirl of sultry weather, budding libidos and teenage confusion that marks his new drama, 'Call Me by Your Name'. It's a triumphant, heartbreaking tale of coming out based on André Aciman's acclaimed 2007 novel. When considered within the tradition of onscreen gay courtship, the movie takes its place alongside such all-time greats as 'Brokeback Mountain', 'Carol' and 'Moonlight'. It has a choking emotional intensity that will be apparent to anyone who's ever dared to reach out to another.
The movie takes place 'somewhere in northern Italy', but it's actually set at the peak of Western civilisation – which, in case you didn't know it, was the summer of 1983. In the breezy villa of a beloved American professor of antiquities (Michael Stuhlbarg), multiple languages are spoken by a loving family. Plates of food are passed around along with side dishes of intellectual debate and affectionate teasing. Girls in sundresses pedal to the lake on bicycles. A brilliant pop song, the Psychedelic Furs' 'Love My Way', throbs out of radios and on the dance floor. And brainy discussions of art history compete for time with more tangible pleasures (not just volleyball).
Swanning through this charmed universe like a little prince is thoughtful 17-year-old Elio (Timothée Chalamet, straddling the awkward age deftly), a musical prodigy who's often plugged into his Walkman, from which he transcribes piano etudes. (Guadagnino deploys the period details tactfully, always advancing the teen's evolving mental state.) Elio has experienced these leisurely summers at the villa many times before, we gather, yet this time he is dumbstruck by the magnetism of Oliver (Armie Hammer), the chiselled, showboating grad student in tiny shorts flown out by his father for a season of research. Both young men share a Jewish heritage – Oliver wears a Star of David around his neck, while Elio's family, he offers, are 'Jews of discretion' per his mother – and both share a bathroom that begins to feels like a barrier.
Guadagnino makes films for adults. It's partly why his work feels so vital in a moviescape filled with immaturity, and even as he turns up the heat on his central characters' subtle –and mutual – flirtation, he never descends into ponderousness or straight-up comedy. The pressure gets released in a spectacular one-take seduction in a dusty plaza, the camera circling as Elio, uncertain of his purpose, his urges, his entire body, musters up his courage and Oliver struts just out of reach. 'Call Me by Your Name' is a playful film, but it trembles with a sense of impermanence, gorgeously developed as the summer's shadows grow longer (cinematographer Sayombhu Mukdeeprom blesses the imagery with an atmosphere you can breathe) and the duo becomes more brazen with its affections.
That's as good a taste as one should offer, and probably best left there. But Guadagnino has a breadth of feeling worth mapping out at the edges: bearded and gentle, Stuhlbarg nails a compassionate paternal monologue that uncorks the movie's entire reservoir of empathy in a single speech. (To have such dads in the world.) Meanwhile, an attic tryst between two shirtless men and a ripe peach will leave you gasping. Those are two dramatic extremes that few directors would know what to do with, much less attempt. Guadagnino, though, like his countrymate and one-time documentary subject Bernardo Bertolucci, is up to the task. In attaching sinuous style and casual sexiness to a universal ache, Guadagnino has come away with real wisdom. Sweet and salty, his movie burns like a suntan.
Follow Joshua Rothkopf on Twitter: @joshrothkopf
Details
Release details
Rated:
15
Release date:
Friday October 27 2017
Duration:
132 mins
Cast and crew
Director:
Luca Guadagnino
Screenwriter:
Luca Guadagnino, James Ivory, Walter Fasano
Cast:
Michael Stuhlbarg
Armie Hammer
Timothée Chalamet

Average User Rating
3.5 / 5
Rating Breakdown
5 star:

3

4 star:

5

3 star:

2

2 star:

2

1 star:

1
I thoroughly enjoyed this film in all aspects. I believe that the actors did a brilliant job and that the way the film is shot flows harmoniously with its setting. As a gay man, it is refreshing to see a film that is becoming more and more popular that is not entirely based on cliches and sex and I think this is a nice step forward in the right direction. I'm surprised by the number of people who did not enjoy this film as much here, but I feel that many people can relate to the storyline which also touches on social issues of the time that are still very relevant for some people today. I am now in the process of reading the book of this film because I liked it so much!
Oh, those long hot days of summer - but despite the sun-kissed scenery and imagery there are times where it all feels a bit insipid. I think the casting could have been better to be honest. Hardly eye candy. The speech by Elio's father at the end is indeed the high point - and there are some charming comic moments along the way - but it's all rather slow and unaffecting.
Director Luca Guadagnino follows up the excellent "A Bigger Splash' in another Italian location - moving from a deep south island to the north of the country during a langorous 1983 summer.
Seventeen-year-old Elio (Timothée Chalamet} and his family, a multi-lingual highly civilised, academic bunch, spend their summers at a gorgeous villa and each year invite a house-guest to join them.
Oliver (Armie Hammer) a rivetingly handsome post-graduate student arrives and charms everyone with his handsome, magnetic and literally golden presence, not least Elio, a musical prodigy. The lad realises that he likes boys more than girls.
Among idyllic settings, warm nights, lazy dinners and lashings of fresh juice from the apricot tree in the villa orchard, a romance develops although Oliver is more cautious than the love-lorn Elio.
This movie-goer is always uneasy with all-male love scenes and these become more graphic as the affair deepens in intensity. Maybe that's just my hang-up and a generational thing.
Autumn nears and Oliver departs. Elio is heartbroken but his loving father (Michael Stuhlbarg) who knew what was going on all the time, tells him to remember and look back on a brief and marvellous friendship which many don't experience in a lifetime.
An absolute charmer of a movie and on a frivolous note, it was a real pleasure to see groups of teenagers laughing, talking and enjoying life without being constantly glued to their phones.
There's been quite a lot of publicity for Call Me By Your Name, so, for me, it had quite a lot to live up to. I thought Armie Hammer was great in Social Network, but several times in CMBYN I found his acting wooden: The scene when he was going up the stairs yawning (I can do a better fake yawn than that); and the scene where the two of them were cycling and Hammer stops to catch his breath. I didn't know of Timothée Chalamet (no offence intended), and wondered whether he'd be able to carry off this role. He did so brilliantly, and was more convincing than Hammer. At times I thought the story too slow and was a little bored. At other times, I thought the story was great. On the whole not bad, but because of hype and unfulfilled expectations, only 3 stars.

'Italian writer-director Luca Guadagnino': not on this film. Call Me By Your Name was scripted by veteran gay director James Ivory, who also optioned Aciman's novel for the screen and is one of CMBYN's producers. Indeed the film's development was largely down to Ivory before Guadagnino (initially involved as Ivory's location scout) stepped in as director. Check your facts, Time Out! If this wins Best Adapted Screenplay at next year's Oscars, it's 89-year-old Ivory you'll see on the podium winning a decades-overdue statuette.
Unpopular opinion, but after months of hype and anticipation I felt unexpectedly slightly underwhelmed by CMBYN compared to Guadagnino's earlier films – especially A Bigger Splash – or Ivory's own timelessly watchable gay classic Maurice. Chalamet is fantastic as Elio. But the grand passion lacks something, especially in the last act, perhaps affected by Guadagnino's decision to shift Oliver and Elio's farewell trip from Rome, steeped in homoerotic history, to northern Italy.
Luca Guadagnino delivers many moments of cinematic magic. building on to the charged storytelling of 'I Am Love'. He often cuts away from the action to another artful image to multiply its emotional impact (not unlike Eisenstein). A theme of Greek statuary is used to highlight another world where a man-to-man sexual gaze was accepted. Great use of the personal meaning of The Psychedelic Furs 'Love My Way' - being gay is love his way after all. The father's feelings also pack a late punch. Even the credits are imaginative!. Simple plot -will they? won't they? but cranked up & up over 2 hours. Do not miss this film - bravissimo!!!