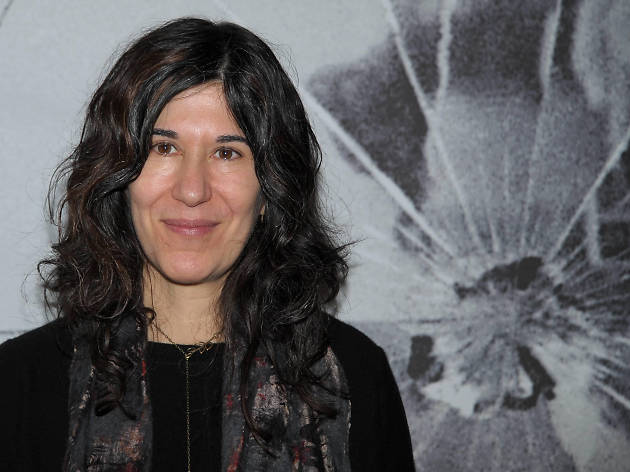 Debra Granik on 'Leave No Trace', discovering J-Law and resisting Hollywood
The indie filmmaker shares the story behind her latest gem and her memories of Oscar night
Debra Granik is much more than just The Director Who Discovered Jennifer Lawrence. Her first feature film since the Oscar-winning (and Lawrence-discovering) 'Winter's Bone', 'Leave No Trace' sees her back with another drama set in backwoods America and another powerful take on the current state on her homeland.
What drew you to the film's themes of outsiderdom?
'I was very interested in what happens when we don't conform. I've always been attracted to people that extricate themselves from mainstream culture, and there's now news that unprecedented numbers of people are living on federal land and in national parks. We don't know what happened to all the people whose houses were foreclosed in the sub-prime mortgage scandal.'

The film is about existing outside society. Did you ban mobile phones on set?
'I've heard about filmmakers who ask people not to use cell phones on set but I don't want to be a tyrant! But would I love to work with people who want to work like that? Yes.'
''There was a glory to where we were shooting'
'Leave No Trace' is mostly shot outdoors in Oregon's forests. How was the shoot? Are you an outdoorsy person?
'I'm not a super-hardy person, but I aspire to be. Our Oregon crew helped us so much in the rainforest, showing us how to gear up and techniques like putting fibreglass on surfaces so the microphone doesn't detect the rain and wreck the sound. There was a glory to where we were shooting.'

Ben Foster is known to be ferociously committed as an actor. What lengths did he go to get into character?
'He loved wielding knives and learning how to light fires. We had two outdoors skills trainers and he really liked their aphorisms like, "Once you have a fire, you have a friend." He liked learning about Gray Man philosophy: how to avoid detection in a crowd. I should have asked him if he'd be deploying it in his day-to-day life.'
Did Ben and Thomasin McKenzie spend time together away from set?
'They did the skills training together just a few days prior to filming, which was super-important to their traction. They brought some things to filming, like clicking to communicate, which turned out to be a survival technique with the bushmen in Africa.'
What's the key to casting a young actor? Is there always a leap of faith involved?
'I think "unjadedness" is very important. She was very motivated to read the novel, come up with their own ideas, read the script, compare her ideas to mine. She had an intrinsic interest in trying to figure out how to inhabit these shoes, to walk this life, and those things that I need in an actor's collaboration with me.'
I imagine Jennifer Lawrence would have been similar on 'Winter's Bone'. Did you get the same vibe from her?
'Yes, I did. I think she probably carries that with her now, but at that time especially she had some insights similar to Tom. Tom found some similarities in her real life to the character. I don't think Jennifer found that in the character she portrayed, Ree Dolly, other than she had a regional affinity. At that time, she was still very close to her life in Kentucky, and she knew of the lives that were being portrayed in "Winter's Bone".'
What are your memories of casting Jennifer?
'I told the casting directors that I didn't want anyone to come in with make-up or in sexualised garments – which is very common in auditions – and Jennifer turned up and was like, "I've just come off the red eye and I'm in my flannels." She's was very playful with it. Do I feel proud of her success? I feel proud to be able to give rich roles to emerging actors. I have very little to do with what comes next.'
'It's women's responsibility to say: "Fuck heels
on the red carpet."'
What was Oscar night like?
'Being around the rich and famous is not my wheelhouse, but I was excited that "Winter's Bone" was the lowest budgeted film that had ever been nominated at the time. When a small film gets recognised like that, me and other filmmakers that make films in the same sort of financial bracket – under $5 million – get films made.'
Jennifer Lawrence broke out in Granik's acclaimed drama 'Winter's Bone'
What are the changes you'd want to implement to make the filmmaking world a safer place for young actresses?
'Well, like all change, women that have to do a lot themselves too. It's women's responsibility to say: "Fuck the heels on the red carpet. I'm not doing it anymore." Look at the hordes of women that decided to wobble around on stilettos, not even being able to ascend the stairs properly. I'm not trying to shame people for their garments and I don't want to be a censorious bitch, but women have to decide to how they want to be presented. If you're asked to undress [at an audition] because you're being evaluated for whether you're thin enough, be your normal body weight. Don't inject things into your face that could end up ruining your life. There are many, many things that people could do to say no to the system. My big slogan is, 'Try to." It's easy to talk about it and be hot-headed like I am; it's really hard to do.'
'Leave No Trace' opens Fri Jun 29
Support Time Out
We see you're using an ad-blocker. Ad revenue is Time Out's main source of income. The content you're reading is made by independent, expert local journalists.
Support Time Out directly today and help us champion the people and places which make the city tick. Cheers!
Donate now