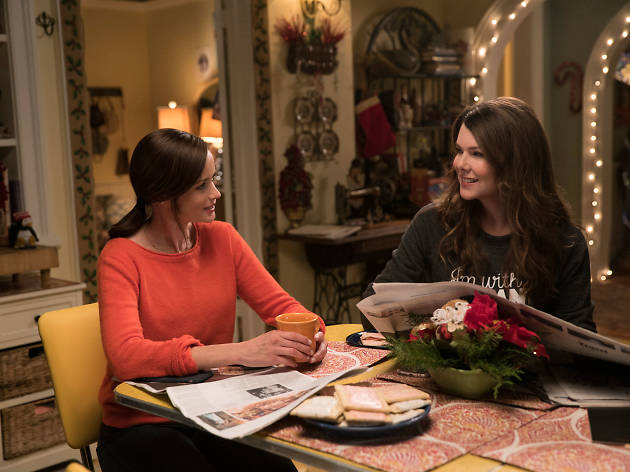 Gilmore Girls: 'The new episodes had to grow up because we have'
We meet real-life Gilmore Girls Lauren Graham and Alexis Bledel to talk the 'pure joy' of returning to Stars Hollow, the positive impact the show's had on its female fans and the future of the Netflix series
'Filming new episodes was like revisiting an old boyfriend… but in a good way!' laughs 'Gilmore Girls' star Lauren Graham. 'I had a very strange sense of not knowing where I was in time.' And that's exactly how fans are going to feel watching four new nostalgic instalments of 'Gilmore Girls' on Netflix.
For the uninitiated, 'Gilmore Girls' is a much-loved US series following Lorelai and Rory Gilmore, the endlessly quotable mother-daughter duo who are also BFFs thanks to their 16-year age gap.
A decade has passed since 'Gilmore Girls' ended in 2007 after running for seven seasons. But now it's back in all its clever and comforting glory. Fans have waited nine years, but Graham believes that now is the right time for the show to make a comeback: 'It felt like we'd accidentally waited for the exact right time. The moment Alexis [Bledel, who plays Rory] and I walked into our house I suddenly felt really jittery. It was weirdly emotional.'
'Rory would have been very excited by the prospect of the first female president'
Graham describes returning to 'Gilmore Girls' as 'pretty much pure joy', but admits that playing funny, fast-talking Lorelai Gilmore takes practice: 'You have to prepare more like a play. It's much more theatrical than normal television. The lines are long and complicated. But I missed that. It felt really good to return. It was almost as if the ten years hadn't happened.'
But, of course, they have. The finale saw Yale graduate, Hillary-fan and aspiring journalist Rory heading off to report on Barack Obama's campaign. Now Donald Trump is president elect, a turn of events her character wouldn't be happy about, says actress Alexis Bledel: 'Rory would have been very excited by the prospect of the first female president. She's going to have to wait a little longer.
Times have changed and the characters have too. Bledel says she was surprised to find Rory battling to find her feet: 'I wanted to see her victorious and successful after all her hard work, but Rory has some real and significant challenges to work through.' Rory has become a writer like she dreamed of, but despite stellar credentials the new season finds her without a home or a job and making some questionable choices.
'Lorelai is in an opposite position,' explains Rory's onscreen mum Lauren Graham. Lorelai's where we left her: living in Stars Hollow, running the Dragonfly Inn and still fighting with her mother at Friday night dinner. She's with Luke now, but 'she's a little too settled and she's stopped examining her life. But I'm ten years older and my life has changed. The new episodes had to grow up, because we have.'
Despite the passage of time, familiar faces are returning. All three of Rory's former love interests make appearances, plus Melissa McCarthy is back as Lorelai's BFF Sookie St James. One character, sadly, won't be. Edward Herrmann, who played Rory's beloved grandfather Richard Gilmore, died last year. 'The loss was devastating and Edward's absence on the show was really palpable,' admits Graham.
Instead, the storyline will focus on the three Gilmore women: 'All our lives are upended by the loss of Richard. It sends each of the generations on their own journey.'
'It's almost as if the ten years haven't happened'
It's a fitting return for the show, which has been praised for its strong, well-rounded female characters. 'What is exceptional about the dynamic between them is how they support each other,' says Bledel. 'They do everything they can to lift each other up. That is still pretty unique in storytelling today.'
Gilmore Girls existed pre-social media. 'There wasn't fan feedback the way there is now,' explains Graham. 'I didn't know how popular it was until after we'd finished.' But the impact of the show on its fans is clear. 'I get stopped by mums who were single or struggling and also young girls who looked up to Rory, who was so dedicated to her studies and ambitious. They say, "This affected me. This gave me something to be inspired by." That's a positive thing and it's something we feel very proud of.'
So what next for 'Gilmore Girls'? Will there be another season? 'We really don't know,' says Bledel. 'We are interested in presenting something really special. The last thing we want to do is exploit that opportunity.'
'We just want to make sure we treat it with care,' says Graham.
'Gilmore Girls: A Year in the Life' is available from November 25 on Netflix UK
Need a 'Gilmore Girls' refresher?
Catch up with our essential binge guide to the best episodes of 'Gilmore Girls' – and new Netflix instalments 'A Day in the Life'