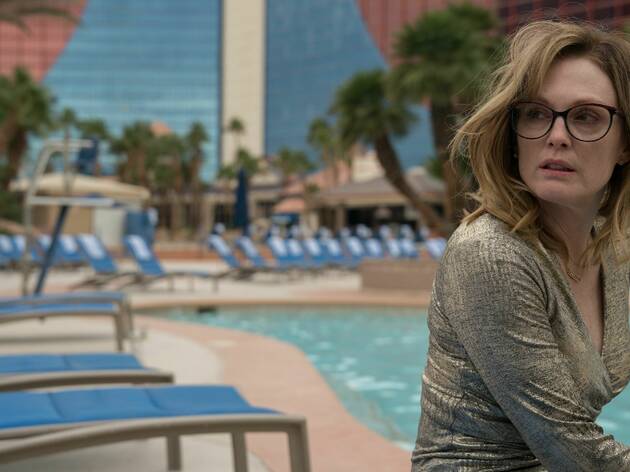 Time Out says
Julianne Moore delivers a signature performance as a rumpled romantic survivor.
Film review by Joshua Rothkopf
Los Angeles women have no better avatar than Julianne Moore – film after film, she turns her complexity into a gift to the city's quiet and desperate. Moore is brittle and close to self-ruination in Todd Haynes's majestically chilly 'Safe'; zonked out on pills (and guilt) in 'Magnolia'; a distracted lust object in 'Short Cuts'. You really have to go back to Gena Rowlands's immortal turn in 1974's 'A Woman Under the Influence', spitting and fidgeting on her Hollywood lawn, to find someone as good.
So it really should be a Marvel-level event that 'Gloria Bell' sees Moore adding to her LA pantheon in a major way. Don't let the movie's deceptively banal title fool you – this is as complete and full-bodied a performance as you're likely to see all year. Subtly, Moore etches in the details: 'Gloria' has been divorced for 12 years. She seems fine with that, shooing away the neighbor's cat that keeps slipping into her apartment when she's working her blah insurance job. (Anyone who belts out Olivia Newton-John songs in her car would never think of herself as a cat lady.) Gloria loves to dance, and it's at these disco nights, the silver foxes prowling, that Moore cuts loose with her most heartbreaking work, every song an emotional dip and a rebirth.
Chilean director Sebastián Lelio, an Oscar winner for his compassionate 'A Fantastic Woman', has been here before, quite literally: His homegrown 2013 film, 'Gloria', was a first run of this material, which he now remakes with a mainly American cast – Fassbinder's muse Barbara Sukowa makes a brief flash – and much of the same visual grammar. Think of it like a play or a pop song (yes, Laura Branigan's 'Gloria' gets a workout). Lelio wants to explore something iconic about the modern urban woman, and his commitment to that task over two films – why not more? – feels near-heroic.
Lelio's new cast is better, both sharper and confident enough to underplay. There's not only the exquisite Moore, but also Michael Cera and Caren Pistorius as Gloria's grown-up children, each grappling with personal disappointments, and a career-best John Turturro as Arnold. He's the new man in Gloria's life, another divorcé who repeatedly hurts her with his unavailability. (We come to both like and loathe him.) Even during its more predictable turns, 'Gloria Bell' is a grown-up film that doesn't resort to comic broadness. It includes nudity, but the sex is never crass. Moore makes it all play like the classic club remix it is.
Details
Release details
Rated:
15
Release date:
Thursday June 6 2019
Duration:
102 mins
Cast and crew
Director:
Sebastián Lelio
Screenwriter:
Sebastián Lelio, Alice Johnson Boher
Cast:
Julianne Moore
John Turturro
Michael Cera

Rating Breakdown
5 star:

0

4 star:

0

3 star:

1

2 star:

0

1 star:

0
Had reservations about this movie, but Chilean director Sebastian Lelio's original foreign language award-winning version a few years ago had tempted me along to the green screen (someone's sits in front of you and you can't see a s*dding thing) at a certain Curzon cinema.
Julianne Moore produced this 2018 Hollywood remake set in Los Angeles as a vehicle for her own considerable acting skills, playing a middle-aged divorcee working in a run-of-the-mill job and cruising silver surfer bars to dance the night away in her spare time.
The ever-excellent John Turturro is another lonely single whom she encounters and forms a quite passionate relationship.
Things get messy and complicated and by the end of all the shenanigans she realises that all she really wants is to dance the night away without any romantic entanglements.
It's quite a slight film but Moore's charisma makes it very watchable. There is actually little substance underneath the blasting disco soundtrack and LA quirkiness.