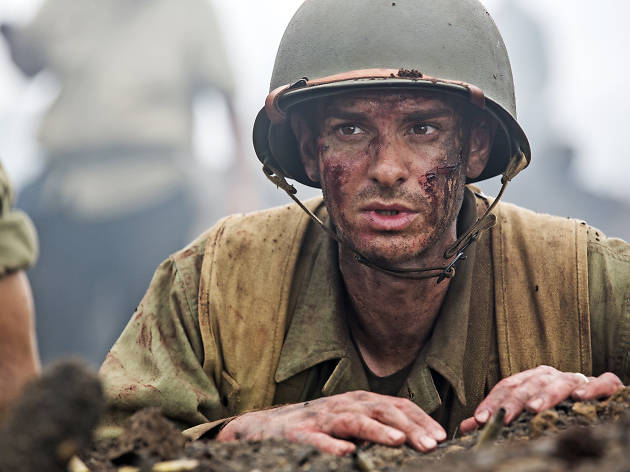 Time Out says
Mel Gibson directs a bloody tale of battlefield heroism starring Andrew Garfield as a conscientious objector
After a decade-long absence, Mel Gibson returns to directing with a brutal war film that has a rousing tale of God-inspired heroism at its heart. 'Hacksaw Ridge' is the true story of Desmond Doss (Andrew Garfield), an army medic and decorated WWII soldier who was a conscientious objector, a position informed by his Christian faith. Doss refused to even touch a gun, and Gibson's mission in retelling his story is clear and uncomplicated: He wants to honor Doss's gentle determination to stick to his beliefs and to show how his faith was ultimately vindicated by his selflessness on the front lines of combat.
'Hacksaw Ridge' is not subtle, but it is brutally effective, and it contains some of the most justifiably violent battle scenes ever committed to film. Before we get there, it's a more traditional movie. We watch as Doss dodges his violent, alcoholic war-veteran father (Hugo Weaving) at home in rural Virginia and meets his future wife Dorothy (Teresa Palmer), a nurse, in the film's most corny scenes.
It's only when Doss joins the military, faces a possible court-martial and later heads to Japan that the contradiction of his being a soldier and refusing to touch a weapon properly kicks in and gives the film proper dramatic weight. There are strong scenes in the training camp, where Gibson and the script by Andrew Knight and Robert Schenkkan resist portraying Doss's army colleagues as unsympathetic brutes. In turn, they also refuse to treat Doss as a misunderstood messiah. Wisely, he is presented as mostly unremarkable, and Garfield is endearing, playing him as likable and kind, someone who could easily fade into the background. His permanent smile suggests a guy with a simple, settled approach to life.
But that's all window dressing compared to the main event: the re-creation of the Battle of Okinawa defines 'Hacksaw Ridge'. Long, unrelenting, skillfully choreographed and taking up almost half the film, the conflict is masterfully handled. Prepare to see guts and blood. Prepare, too, for an eye-rolling moment that makes explicit Doss's relationship with his God (though frankly it could be worse; we've all seen 'The Passion of the Christ'). Don't expect any sympathetic treatment of the Japanese: they firmly remain the enemy, and you'd be forgiven for feeling the odd twinge of discomfort at just how vividly their demise is shown and how Gibson steals horror-movie techniques to stress how terrifying their villainy is. Overall, there aren't many shades of gray in 'Hacksaw Ridge', but it's a movie that fulfills its purpose with vigor, confidence and swagger, and those battle scenes are impossible to take your eyes off of.
Details
Release details
Cast and crew
Director:
Mel Gibson
Screenwriter:
Andrew Knight, Robert Schenkkan
Cast:
Andrew Garfield
Sam Worthington
Vince Vaughn
Rachel Griffiths
Teresa Palmer
Hugo Weaving

Average User Rating
4.4 / 5
Rating Breakdown
5 star:

9

4 star:

4

3 star:

1

2 star:

1

1 star:

0
Not a big fan of Mel Gibson as a director but I've trully enjoyed the film history and acting.
Those of a nervous disposition should avoid. The battle scenes in this movie make Saving Private Ryan look like a fight in a school playground. Mel Gibson gives this heroic true story the full Hollywood treatment - and at times it teeters on the edge of being corny - but he carries it off, thanks to the central performance of Andrew Garfield which is understated and wholly likeable. Vince Vaughan is entertaining too as the aggressive drill sergeant. A powerful two hours at the cinema and a moving tribute to human courage.
Hard to watch but so glad I did!
At times, my eyes were permanently shut, others wide open completely mesmerised by the action shots.
You don't miss a single bang, jolt, gun shot, everything is shot with great realistic effect.
The story line flows perfectly, constantly gripping you throughout the film and the acting is amazing - Hugo Weaving, Vince Vaughan are stand out supporting acts.
'Help me get one more' the haunting message that you will take away, even get a little weepy.
Fantastic piece of history brought to life for us to understand, appreciate and mourn.
It starts off as a sentimental tale of a simple American family (dysfunctional elements slightly touched on) before advancing into a distasteful blood bath.Yes War is ugly - but do God fearing "thou shall not kill" believers really want to celebrate the obscene catalogue of atrocities Mel Gibson has served up.
I have no problem with the simple minded message of the film, but I find the appalling depiction of slaughter just a little bit exploitative.
Tremendous war movie. Best in many a year. Wonderful acting through out with superb battle scenes.
An outstanding film with outstanding acting especially by British Andrew Garfield. His accent is so convincingly American that I had to double check! The Battle of Okinawa was a terrible and bloody battle between the Americans and Japanese only this battle had a strong ray of light and hope driving through the bullets and bombs which went by the name of Desmond Doss. A true story, we see Doss as the religious, vegetarian, conscientious objector that he was, determined to serve his country but also determined never to use arms. He was almost court-martialled for holding on to his beliefs and views firmly. However, eventually Doss was permitted to become the medic he so much wanted to become and walk headlong into battle carrying nothing more than a few bandages and morphine injections. His faith must have been strong! The rest of the film needs to unfold without words from anyone. Just have a tissue to hand!
Splendid!
I never heard about this true story before but I was absolutely transcended by the movie!
During the second world war, United States are fighting against Japan, a young soldier decides he wants to serve his country but by saving most lives as possible rather than taking some. He will never derogate from his convictions and this is beautiful, making this war film beautiful despite of the hard images we saw in it.
Even on this war environment, Mel Gibson manages to tear us out of laughter by showing us human nature during their soldiers training.
I especially appreciate to see how the movie is respecting some memories of the soldiers; it gives just more credit to the story.
The movie just came out, so you have plenty of time to go watch it!