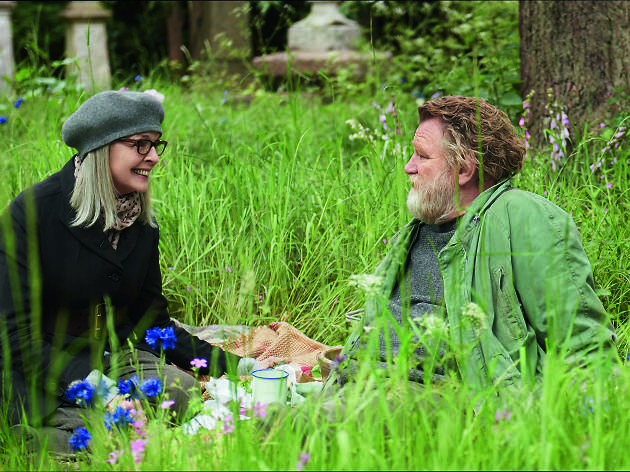 An American expat living in London falls for a homeless man in this diverting but toothless romcom
This London-set, golden years romcom stars Diane Keaton as Emily, an all-at-sea American widow, and Brendan Gleeson as Donald, a gruff Irish loner – living on different sides of the tracks in the same north London suburb. It's directed by Joel Hopkins who made 2008's 'Last Chance Harvey', and this is a similar against-the-odds, transatlantically cast romance, although 'Hampstead' is never quite as slick as that earlier film. It's based on the real-life case of a homeless man who fought the authorities to be able to remain on a patch of the heath that he'd occupied for years. When Emily and Donald fall for each other, their on-off romance has to face the prejudices of everyone around them.
That may sound like 'Hampstead' gets under the skin of London's inequality, but don't come to this film looking for social realism. This is an unapologetically fluffy film that never digs deep into its characters' lives. Its pleasures are patchy. Keaton offers an endearing performance, even if her chemistry with Gleeson (not on top form) is weirdly lacking. And there are enough winning supporting turns to keep the film fizzing along, especially from Jason Watkins as an opportunist accountant and Lesley Manville as a self-serving neighbour. This is light and disposable stuff – amusing, but nothing more.
Release details
Rated:
12A
Release date:
Friday June 23 2017
Duration:
102 mins
Cast and crew
Director:
Joel Hopkins
Cast:
Diane Keaton
Brendan Gleeson
Lesley Manville