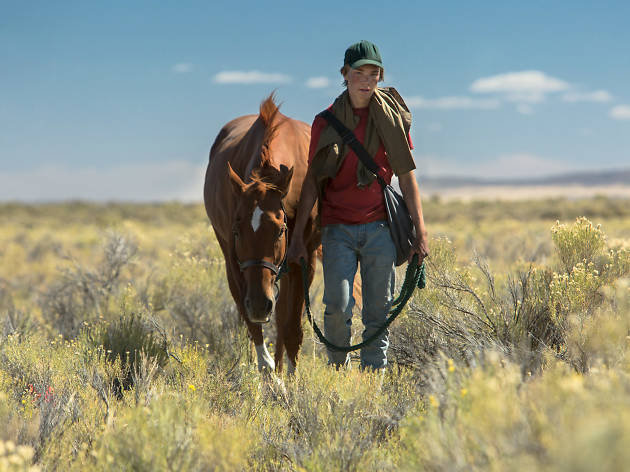 Time Out says
'45 Years' director Andrew Haigh heads to the USA for this gentle, tender story of a young boy in trouble who finds comfort in an unwanted racehorse
British filmmaker Andrew Haigh ('Weekend', '45 Years') hits the American highway for this touching, if slightly underwhelming, tale of a troubled boy who strikes up a rapport with an ailing racehorse called Lean on Pete. This good-nature four-legged friend can't arrive quickly enough for 15-year-old Portland teen Charley (Charlie Plummer): his mum is long gone, a loving aunt is nothing but a preoccupying memory and his well-meaning but wildly erratic dad (Travis Fimmel) is hardly a thoroughbred in the parent stakes.
It's not for kids, but this adaptation of a Willy Vlautin novel plays like a thoughtful, arthouse spin on a parable for children - and one that's not afraid to make us do the work in imagining what's going on in its main character's mind. The movie's strongest scenes come early as the collapse of Charley's fragile home life is softened by finding a new purpose elsewhere. He finds cash-in-hand work helping out likeable old racing hand Del (Steve Buscemi), who races horses in scrappy local competitions, sometimes with the help of past-it jockey Bonnie (Chloe Sevigny).
But this sense of a new dawn is not to last. Charley is never far from life's cruelties - and they pile up when he's forced to hit the road with Pete, meeting various characters en route, some more welcoming than others. There's tragedy here, but what's most winning about 'Lean on Pete' is how Haigh never lingers on misery: he's as interested in surprising kindnesses and the goodness of most folks as he is in life's knocks.
Haigh is nothing if not a sensitive, compassionate director, and he puts a lot of faith in Plummer in the film's many quiet scenes, especially those where it's just Charley and his horse. That's not entirely successful. As the story becomes more episodic, and Charley ends up further and further from home, so the film feels distant from its earlier, more nourishing scenes. It's a road movie where the origin feels more interesting than the destination, but it's never less than warm and likeable.
Details
Release details
Release date:
Friday February 16 2018
Duration:
121 mins
Cast and crew
Director:
Andrew Haigh
Screenwriter:
Andrew Haigh
Cast:
Charlie Plummer
Steve Buscemi
Chloë Sevigny

Rating Breakdown
5 star:

0

4 star:

0

3 star:

0

2 star:

1

1 star:

0
Unimpressed despite all the glowing critiques.
Director starts his film as a boy/horse story. It's tender, moving and gripping.
Mr Haigh then veers into American desert landscape cinematography, then abruptly goes into lost kid in dangerous territory. Wish he'd made up his mind earlier as to what sort of genre he prefers without switching without reason or warning.
Although the central character, Charlie, is likeable and convincing, in Part 3 (The Lost Waif) he can't sustain interest.
It was great to collar the ever-brilliant Steve Buscemi as the rogueish racehorse owner who helps the boy. Hard and tough but with a heart of gold.
Redeeming features but otherwise tiresome and boring in last 30 minutes.