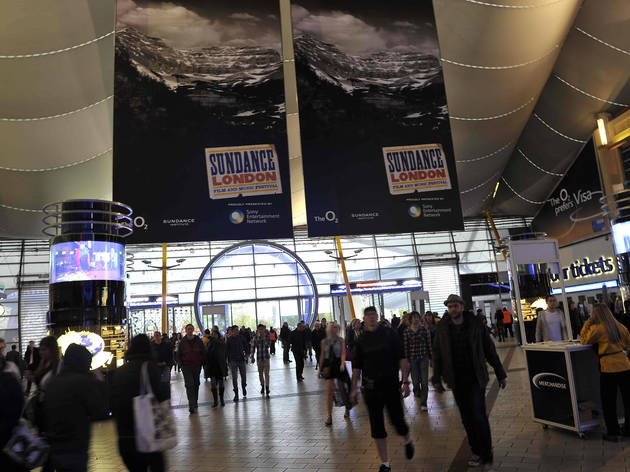 Meet the men behind Sundance London
John Cooper and Trevor Groth discuss their indie film and music fest
There were raised eyebrows when, in 2011, the Sundance Film Festival announced it was putting its snowboots and fur-lined parkas into storage and heading to London. But Sundance London's four-day residency at The O2 in Greenwich last April (its usual home is Park City, Utah) was such a success that it's returning this year with another suitcase full of American indie dramas and documentaries, all of which first screened at the festival back in January.
'We're excited,' says John Cooper, director of the Sundance Film Festival, down the phone from LA. 'We had a blast last year.' His colleague, the festival's director of programming, Trevor Groth, is also upbeat: he says he was pleasantly surprised at how a London audience embraced off-the-beaten-track American stories. 'I was blown away by the audience. Those Q&As were some of the best I've been part of. They really got the films.'
This year, Sundance London will show 21 features – the same mix of dramas and docs that defines the annual festival set up by Robert Redford in the 1980s back home, just on a smaller scale. Some of the titles that leap out include '
Upstream Color
'. It's the second film from Shane Carruth, whose first film, the head-scratching, time-travelling tale '
Primer
' wowed and confused audiences back in 2004. His new film sounds equally out there: 'A man and woman are drawn together, entangled in the life cycle of an ageless organism,' says the blurb. Of the docs, subjects include African evangelism ('
God Loves Uganda
'), Hemingway's granddaughter ('
Running from Crazy
') and a whale ('
Blackfish
').
Once again, there will be music alongside the films, says Cooper. 'We've got Peaches coming this year with a film, "
Peaches Does Herself
". And The Eagles will be there too with a film about themselves.' One innovation will be a spotlight on three new British films, including '
The Look of Love
', starring Steve Coogan as the porn and property baron Paul Raymond.
There's a big difference, of course, between The O2 and a bijou ski resort in the mountains outside Salt Lake City. Were Cooper and Groth happy with the buzz around the place last year? Was there enough of a sense of community in among The O2's anodyne bars and restaurants?
'There was, but I thought there were some things we could do to improve it,' says Cooper. 'We came back in September last year and looked at the space closely to see how we could find a place for filmmakers and audiences to come together more easily. So we're building a hub which will be more of a hangout. It's all there. The O2 allows for that because it's all under one roof.'
'Now we want to take it further.'
Sundance London is at The O2 from April 25-28.