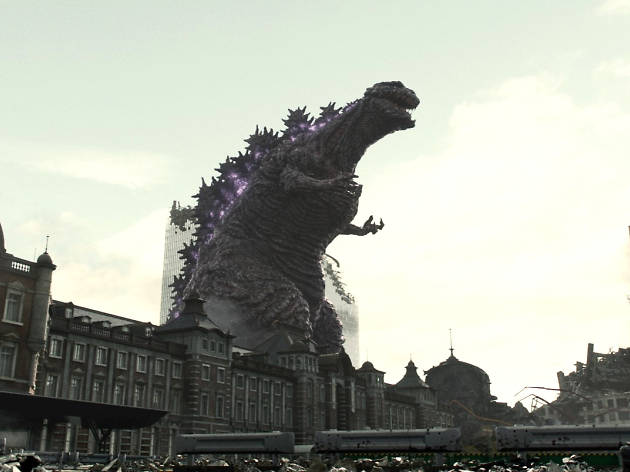 Time Out says
The terrifying giant lizard is back for a reboot that's big on politics but a light on scares
The title translates as 'New Godzilla', but the Toho studios reboot of their most prized property forgets the Japanese sequels and spin-offs, ignores the Hollywood remakes, and proceeds as if Tokyo had never previously been given a major stomping by a gigantic fire-breathing reptile. The whole movie, in fact, treats the emergence from the sea of this previously unidentified creature as if it were an unfolding news event, with every location, ministerial meeting and air base dutifully captioned and subtitled. As a result, it's essentially serious in tone, marking a spiritual return to Ishirō Honda's 1954 original in using the story as a state-of-the-nation enquiry – back then reflecting the trauma of a country emerging from nuclear destruction, and now using the Godzilla myth as a way of examining the government response to the 2011 tsunami.
So, yes, the capital gets duly trashed by a nuclear-enhanced monster courtesy of the latest digital effects , but there's a lot of chat and political soul-searching in-between, so don't expect too much crowd-pleasing destruction. The result is impressive in many ways, but very Japanese, and perhaps lacking a little in the way of fun-factor.
Details
Release details
Rated:
12A
Release date:
Friday August 11 2017
Duration:
120 mins
Cast and crew
Director:
Hideaki Anno, Shinji Higuchi
Cast:
Jun Kunimura
Satomi Ishihara
Shinya Tsukamoto

Rating Breakdown
5 star:

3

4 star:

0

3 star:

0

2 star:

0

1 star:

0
Agree with other reviewers here; no surprise to find a TO review reaching for the history books to substantiate their negativity. I always read Time Out reviews so that I can go to see the films they do not recommend. The dreadful animated 'Sing' being an example. Shin Godzilla is the best Godzilla film next to the original Honda version. If you like your Gojira real, not played for laughs & with no Yank in sight then this is for you!
This reviewer has no love or fondness of kaiju culture or the original Godzilla concept clearly as hed realize this is one of the best monster movies in decades! Beautiful, haunting and most importantly the best 'Godzilla' since the original black and white version. Absolutely breathtaking!
Shin Godzilla is simply brilliant. I feel TimeOut gets his review totally the wrong way around due to lack of cultural awareness. This movie is a potent criticism of Japanese society with giant lizard in it. In that context it is not trying to appeal at all to old time fans but using the vehicle of Godzilla to put a huge mirror in front of the Japanese people and its politicians (and believe me everyone watched it here) and show the contradictions and ossification of modern Japan to the rest of the world. Hugely underrated masterpiece. Get out of your shell TimeOut.