Star Wars: The Rise of Skywalker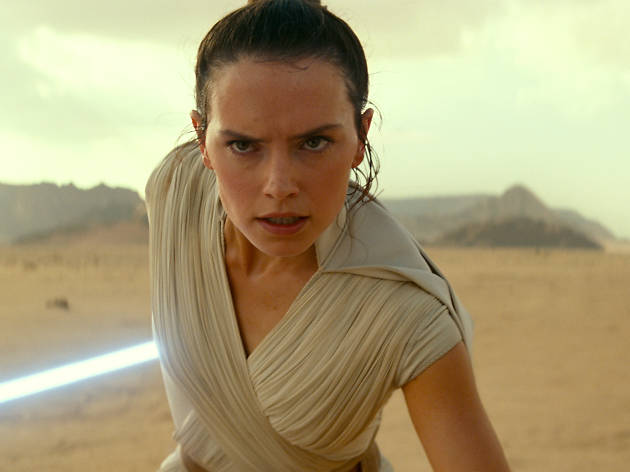 Time Out says
Episode IX is a timid finish to a saga that deserved a stronger climax.
'Never underestimate a droid,' we hear several times in the new 'Star Wars' – and why would you? For the most part, droids are hard-headed, sturdy companions, opening doors at the last minute with a minimum of beepy fuss. Director JJ Abrams is like a droid. He revived this brand from his childhood memories, unarchiving it from his data banks and dutifully projecting it, just like Artoo does with Leia's hologram in the 1977 original. Abrams's 'The Force Awakens' (2015) was a pitch-perfect summoning of old magic: thrilling and nostalgic, even if the trick remained stubbornly unimaginative. But Rian Johnson's follow-up, 'The Last Jedi' (2017), executive-produced by Abrams, was something else entirely, subversive and churning with dark emotions. The franchise didn't deserve it.
Now Abrams the droid is back, scurrying around to clean up those untidy messes that made things interesting for a parsec. 'The Rise of Skywalker' marks the return of a plodding dullness, the kind that George Lucas peddled with his second trilogy, laden with pointless plot curlicues, witless imperial intrigue and boring heroism. It feels like a massive retrenchment – privately, a rebellion seems to have been fought and lost – and only the most loyal fans will be happy about it. Right from the start, you feel the soft reboot: ghostly zombie destroyers rise up out of a planet's dirt, not quite vanquished. Will this new First Order prevail? Scarfaced Kylo Ren (Adam Driver) tear-asses around in his TIE fighter, less a sullenly rejected partner than back on his villainous business; Rey (Daisy Ridley, thirsty for dramatic opportunities that never materialise) continues her rock-levitation practice.
The psychic connection between these two, tinged with destiny and even a hint of attraction, was a major invention from the last movie. Now that tension has been cooled to a low simmer, all the better to make room for a bunch of lackadaisical lightsaber duels. 'The Rise of Skywalker' seems tooled for an 'Avengers'-bred audience accustomed to a string of trinket quests: where is the doodad that will lead to the dagger with the Sith writing that will steer us to the right galaxy while we avoid the quicksand and those flying stormtroopers? Even amid this disastrous script pile-up (co-written by 'Justice League' scribe Chris Terrio), the old charm can't help but manifest on occasion: the Millennium Falcon was meant to shimmy through steel canyons, Oscar Isaac's rakish Poe Dameron feels right as the attitudinal heir to Han Solo, and composer John Williams continues to do all the heavy lifting.
But otherwise, how did things get slack so quickly? For every floppy-haired Wookiee appearance (a balm to the soul), there are five missed opportunities. Billy Dee Williams wanders in and no one knows what to do with his Big Lando Energy. Shouldn't it be a crime to cast Keri Russell from 'The Americans' as a facially hidden master hacker? And do you remember Kelly Marie Tran's heroic mechanic, Rose? Abrams really hopes you don't – she's been downgraded to a generic helper lady while John Boyega's Finn goes gallivanting with another love interest, a sad capitulation to dark-web racism. Even the new droid underwhelms: Dio, a puppylike conehead, says things like 'Sad' and 'Happy'. With the fates of Skywalkers rising or falling, pardon us if we expect grander.
Details
Release details
Release date:
Friday December 20 2019
Duration:
0 mins
Cast and crew
Director:
JJ Abrams
Screenwriter:
JJ Abrams, Chris Terrio
Cast:
John Boyega
Daisy Ridley
Oscar Isaac
Mark Hamill
naomi ackie
Adam Driver

Rating Breakdown
5 star:

1

4 star:

0

3 star:

1

2 star:

0

1 star:

0
Messy pacing and script writing can't quite prevent it all from amounting to a fairly enjoyable romp (just about) - it's better than The Last Jedi (the bar is low) - but nor does it make for a grand finale to the space opera, not least because it clearly leaves the path open for yet another trilogy. They will clearly keep milking this cow until we all die of boredom. And that might not be in a galaxy too far away...
Remarkable that this is seen as a damp squib of an ending. This is as good an entry as any of the previous reboot. A far cry from the excesses of the noughties mess! Is it a criticism to suggest that this is a film made to appease an Avengers audience? Rothkopf is very likely to have nurtured his Star Wars virginity on the Lucas prequels and his disappointment of this latest, final film is not shared by me. I wept at least a couple of times in what was an exercise in nostalgia, sensitively delivered. The weaknesses inherent were no different to the previous 2. Therefore, I will give it 5 stars!