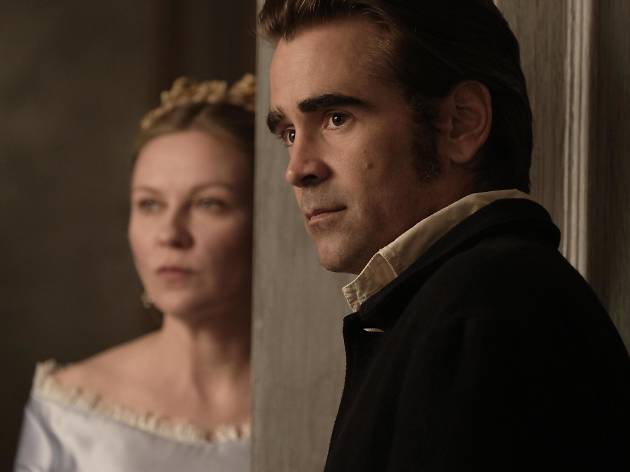 Set during the American Civil War, Sofia Coppola's sly drama tells of an injured Union soldier who is taken in at a girls' boarding school
Sofia Coppola's 'The Beguiled' is an exquisitely crafted drama of seduction, survival and sexual awakening in Civil-War era Virginia, with especially strong performances from Kirsten Dunst and Nicole Kidman as two teachers trying and failing to set an example of restraint and good behaviour to their young charges.
Taking place almost entirely within a remote rural boarding school, this slow-burn charmer tells how a small community of two teachers, Martha (Kidman) and Edwina (Dunst), and their five schoolgirls shelter an injured Yankee soldier, John (Colin Farrell), an Irishman found lying by a tree. As distant guns rumble, John's presence in the house means that it's not just the girls' French lessons that start to lend Coppola's film a mildly erotic air.
The source is a 1966 Southern Gothic novel by Thomas Cullinan – later made into a 1971 film starring Clint Eastwood – but the scale and restraint of this 'The Beguiled' makes it feel more like a short story. It's a film of great economy, as John realises that being a seducer and playing his hosts against each other could be his only route to survival. And the women aren't unwilling: Martha has a moment while giving him a bed bath; Edwina quickly falls into his arms; and young Alicia (Elle Fanning) isn't far behind. The others have their own way of getting close to him: one gives him a Bible; another enjoys 'just talking to him privately'.
It's a scenario that always feels on the edge of cheap exploitation: the handsome soldier, bed-bound, being eyed up coyly by the women and girls of the household. But that's not where Coppola takes the story. She's interested in the women, and especially in how they collectively justify not handing John to the authorities, claiming moral or practical grounds when we can all see what's going on. Farrell, meanwhile, can do smooth and charming in his sleep, and he does. Powerful, too, is how Coppola plays sex against violence: an early scene of Kidman sewing up Farrell's bloody leg plays as a weird meet-cute; later, she'll come back to that same leg when she feels spurned.
Of all Coppola's six films so far, this best resembles 1999's 'The Virgin Suicides'. The director of 'Lost in Translation' and 'The Bling Ring' dials down the potential for steaminess, violence and easy shocks and opts for a more controlled, gently simmering tension. There's none of the pop-song period flavour of 'Marie Antoinette' (there's barely any music early in the film; later, a restrained score by Phoenix kicks in), and the photography by Philippe Le Sourd has a soft romance to it, especially in candlelit scenes at night and in outdoor scenes as he captures sunlight falling through weeping trees. 'The Beguiled' has its jolts and its laughs, but mostly this glides along like a mildly cheeky, poetically made parable, well dressed, well designed and well performed.
Release details
Rated:
15
Release date:
Friday July 14 2017
Duration:
94 mins
Cast and crew
Director:
Sofia Coppola
Screenwriter:
Sofia Coppola
Cast:
Nicole Kidman
Colin Farrell
Kirsten Dunst
Elle Fanning

Average User Rating
2.8 / 5
Rating Breakdown
5 star:

0

4 star:

1

3 star:

1

2 star:

2

1 star:

0
A weak and poor bit of film making.l know nothing of the original but the acting is dire apart from two of the children.The Irish male lead is just embarrassing.The script is shallow.Obviously the well honed skills of her dad did not rub off on his daughter as her directorship is way below par..Some nice shots of southern America,but really nothing much to shout about here..2 stars
Lush photography can't quite save this interesting but rather slight southern tale that attempts to answer that age-old question as to whether the male or female of the species is the more deadlier. It's ok as movies go but I found myself wanting more simmering tension and barely restrained sexuality that what we get served - it's bread and water for the viewer rather than a feast.
This excellent film is a remake of a 1971 movie featuring Clint Eastwood. I have never seen the earlier one so cannot make comparisons.
Director and screenplay writer, Sofia Coppola's work even slipped into the customary tripe-fest in my local multiplex, presumably because of the Hollywood credentials of its three principal actors.
Whatever one's views on mainly arty film festivals, Ms Coppola deservedly won the Best Director award at Cannes earlier this year, only the second woman ever to be so honoured.
The entire film takes place in the inside, gardens and woods surrounding a Virginia girls school in the final year of the American Civil War. Only seven females are left - head Miss Farnsworth (Nicole Kidman), teacher Edwina Morrow (Kirsten Dunst) and five students, one of whom finds a wounded Union soldier Corporal John McBurney (Colin Farrell) in the woods.
It turns out that the soldier is a deserter and faces the unenviable choice of a Confederate POW camp or a likely death sentence for desertion by his own side.
Miss Farnsworth decides to shelter the soldier until his wounds have healed enough for him to leave and so we are given the fascinating interplay between a virile and charming male and seven females, all unaccustomed to a man's proximity and the hormones are soon buzzing in the stifling atmosphere of the academy.
The cinematography is brilliant with filters and bleached out colours and no background noise at all apart from the distant rumble of big guns.
It would be churlish to reveal the intricate twists and turns of the plot but the three leads make the most of their parts. Farrell is all blarney and creepy charm until events reveal his inner viciousness while Kidman does what she does best - a goody-goody carapace struggling to contain her bodily longings. Dunst's character falls hook, line and bodice ripper for the Corporal's handsome encouragement.
In its own persuasive manner, an absolute stunner of a movie from another major talent of the Coppola family.