The Killing$ of Tony Blair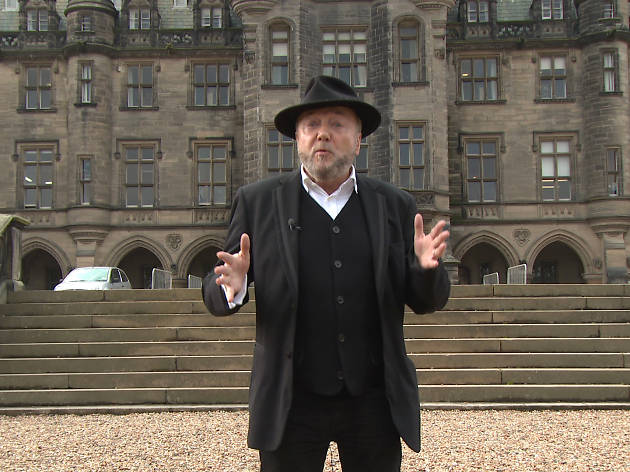 Time Out says
George Galloway presents a surprisingly sober doc about our former PM's dirty dealings
Just the name 'George Galloway' – this doc's presenter and co-writer – will have some vowing to go nowhere near this lively character assassination of Tony Blair. But anyone expecting wall-to-wall ranting and raving might be surprised by it's relative sobriety.

Yes, Galloway's disdain for Blair is blindingly obvious, and some of Galloway's language (banging on about the 'Blair rich project') and posturing (ringing the doorbell of Blair's Mayfair office like a slimmer Michael Moore in a fedora) are grating. But this Kickstarter-funded film doesn't need to pile on the hysteria to remind us how, in Galloway's words, Blair masterminded three 'killings': he killed thousands in Iraq; he killed the Labour Party; and he continues to make a killing in his post-Prime Ministerial life as a globetrotting speaker and political consultant.

It's only because the Iraq story is so familiar, especially post-Chilcot, that the central section devoted to that war feels like well-trodden territory. But that still doesn't make it any less commanding or essential, and any reminder that Coalition forces inflicted phosphorus and depleted uranium on Iraqi civilians is as welcome as it is ugly. Galloway's interviewees (none of them supporters of Blair; this is just not that sort of film) are a diverse bunch and include newly-crowned Tory Cabinet member David Davis, writer Will Self, former New Labour minister Clare Short and even Cherie Blair's half-sister Lauren Booth, who we must assume is off the Blairs' Christmas card list.

The chapter dedicated to Blair's international dealings since leaving office in 2007 is beyond distressing: if you need a nauseating reminder of why so many Brits feel alienated from the political centre, here it is.
Details
Release details
Release date:
Friday July 22 2016
Duration:
95 mins
Cast and crew
Director:
Sanne Van Den Burgh
Cast:
George Galloway

Rating Breakdown
5 star:

1

4 star:

0

3 star:

0

2 star:

0

1 star:

0
It is not surprising to see blairite sycophants feeling nauseated and down right sick watching this film. It is an accurate historic account of the horrific abuse of power lead by Tony Blair. It is a documentary that is in-depth, incisive, and full of behind the scenes scandals that were glossed over by mainstream media. Sadly, criminals like Blair and his supporters seem to always dodge real justice. The rest of us powerless and "normal" people could only watch and wonder why! Our solace is that at least such documentary will make the truth public. Maybe it'll shame the next abuser of power from committing further gross inhumane acts in the future. So if you really care about truth and justice, then you need to watch this film. If you are a Blair supporter, keep some brown bags handy. Thank you George Galloway.