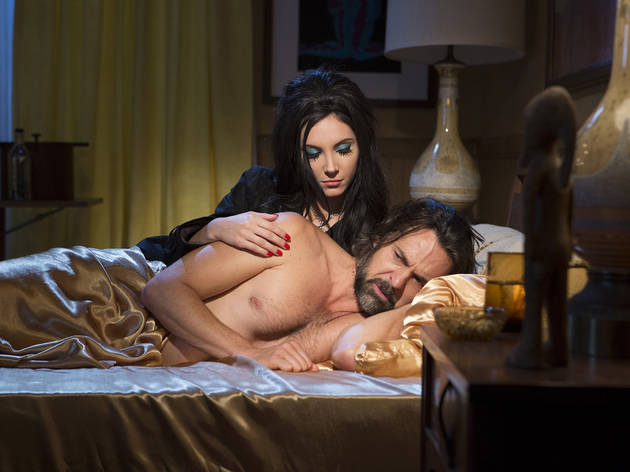 A budding witch uses her powers for evil in this hilariously kitsch and visually sumptuous horror-comedy
Writer-director Anna Biller is clearly a fan of the powerful women in Russ Meyer's sexploitation movies – films like 'Faster, Pussycat! Kill! Kill!' (1965). Her work, including 2007's 'Viva' and now the hugely entertaining 'The Love Witch', seems plucked from the same Playboy-era universe of huge hairdos, heavy make-up and voracious female appetites. But Meyer could never make a psychodrama as sophisticated as this.
'The Love Witch' is cloaked in a retro wardrobe and soundtrack (much of the music, by Ennio Morricone, is sourced from '60s thrillers) but is loaded with irony and a fluid sense of identity. Samantha Robinson (looking like she's stepped out of a centrefold) stars as Elaine, who drives up the California coast away from her failed marriage. But don't call her disenchanted. If anything, Elaine's got more magic than most, casting sexual spells over unlucky men. We also learn pretty quickly that she's a serial killer.
Elaine makes her way through a parade of male caricatures – a French literature professor, a frustrated married man, a lantern-jawed cop – but she's always in control, toying with their sense of entitlement. Biller's dialogue is intentionally stilted; she draws attention to the banal come-ons that once passed for romantic repartee, but also to the contortions that women had to strike in order to play the game. And nobody, it turns out, plays it better than Elaine does. But at what cost?
'The Love Witch' ends on a daring note of psychosis, launching the film into the uneasy company of David Lynch's 'Mulholland Drive'. 'Don't diagnose me!' Elaine spits at a conquest. But that's all you'll want to do, in between cheering.
Release details
| | |
| --- | --- |
| Rated: | 15 |
| Release date: | Friday March 10 2017 |
| Duration: | 118 mins |
Cast and crew
Director:
Anna Biller
Screenwriter:
Anna Biller
Cast:
Samantha Robinson
Jeffrey Vincent Parise
Laura Waddell

Average User Rating
4.5 / 5
Rating Breakdown
5 star:

1

4 star:

1

3 star:

0

2 star:

0

1 star:

0
This film has many wonderful things to rush to see it for - the sumptuous colours, the artisan design, the great fun playing with B-movie conventions for feminist ends, putting witch as the heroine and lots of marvellous Ennio Morricone on the soundtrack. But the distribution is terrible - it seems to have gone straight to the Prince Charles (bless them). Come on distributors, get your finger out & give this the wide release it thoroughly deserves!
I really liked this film. The whole technicolor vintage atmosphere that it creates is wonderful. Director Anna Biller also creates an interesting space of femininity, full of nostalgia, an imaginary world in which for once women seem to be in control of everything. The scene of the male gaze is an interesting one; shot beautifully by Anna Billet, male voyeur has been given hallucinogenic herbs by the which and his visual desire for her is mixed with an uncontrollable sick hallucination. The film definitely works, it has got a sense of nostalgia for the past but also touches on very contemporary issues.