'Africa Express presents Maison des Jeunes' album review
Damon Albarn and co return to Mali after last year's ban on music, and come back with something special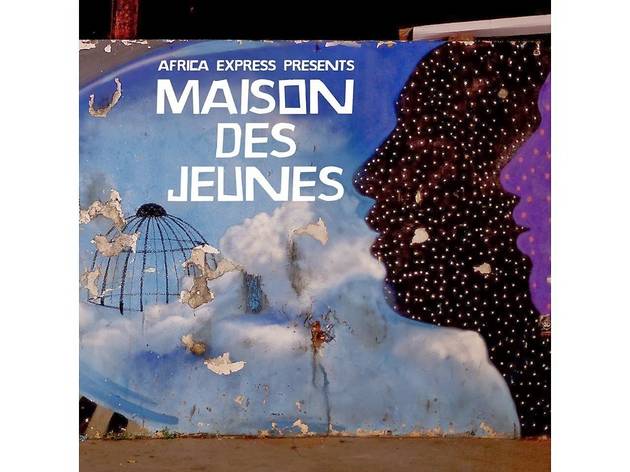 'Africa Express presents Maison des Jeunes'
In October, Damon Albarn's cross-cultural music collective Africa Express once again set its wheels into motion, and Albarn led a mixed group of Western and African musicians on a weeklong trip to Bamako, Mali. Unlike the last Africa Express outing, a riotous tour around the UK, there was no actual train involved. But, as ever, an eye-catching group of musicians from around the globe were on board: Brian Eno, Nick Zinner of Yeah Yeah Yeahs, Kankou Kouyaté (niece of the renowned Bassekou), Ghostpoet, Lobi Traoré Band, Holy Other, David Maclean of Django Django, Olugbenga Adelekan of Metronomy and many more.

Their goal was to write and record an album in just seven days, but for Africa Express – a sort of musique sans frontières project – unity and collaboration between different cultures are just as significant as laying down tracks in the studio. As a result the album, recorded in a city youth club called Maison des Jeunes, captures both the spontaneity and warmth of the occasion, and a more poignant aspect to the proceedings following last year's ban on music in Mali by an alliance of Islamists and Tuareg rebels.

One of the album's highlights, 'Soubour' sees Malian group Songhoy Blues (who were formed in reaction to that ban) team up with guitarist Zinner. Fittingly – from a country famed for its joyous musical heritage – this song is a celebration rather than a political diatribe. It's a classic example of desert blues, a blur of mesmerising guitar licks and uplifting harmonies. Elsewhere, London producer Two Inch Punch brilliantly conjures an unexpectedly contemporary track, 'Rapou Kanou', out of traditional elements, blending Tal B Halala's coarse Arabic vocals and the chiming kora (a West African stringed instrument) into something that sounds a little like Gold Panda. Lil Silva's 'Bouramsy' is an intensely rhythmic instrumental, while Kouyaté's cover of Salif Keita's 'Yamore' exhibits her stirring vocals. The standout track here, though, is 'Season Change', on which Ghostpoet passionately addresses the plight of Malian musicians: 'I gotta step up, I'm done with all the hiding'. He's flanked by an earth-shattering bass and the percussive stomp of Doucoura's talking drums, while a constant metal clanking in the background adds extra mysticism to a chorus that's like a prayer to the gods.

The Africa Express musicians only returned from Mali just over a month ago, but despite the rapid release schedule, Albarn has here overseen a memorable and important album. 'Maison des Jeunes' teems with innovation, and shows the awesome diversity of music from Mali alone, while sections of the Western media still lump African music together as a single genre. Perhaps the only fault here is a slight glut of collaborators, which means that (for example) we hear little of Eno's much-anticipated input. Nonetheless, 'Maison des Jeunes' shows that Africa Express is steaming ahead, and – in the face of musical oppression in Mali – more relevant than ever.

Buy this album here

What are your thoughts? Let us know in the comments box below or tweet us at @TimeOutMusic.


Watch the video for 'Soubour' by Songhoy Blues
Sponsored listing
The Victoria
Here's what happens when Dreambagsjaguarshoes grows up, packs its bags and moves to Dalston. The Victoria is now owned by the same people as the perennially cool and grungy Shoreditch hangout, and probably represents a mellowing out with age – it's a pub, it's more relaxed, it stages live music, and it's on a backstreet off Dalston Lane instead of the illuminated strip down the road. As a pub, it's decent – an artily thrown-together look, a few local beers (although not many), and a 'residency' from peripatetic grillers Psychic Burger. It's a misleading name – I sat thinking about what I wanted to eat for half an hour before having to go up and order at the bar in the old-fashioned way. But as US diner food in plastic trays goes, it's a fine example of its type. Through the back of the pub is the stage, where assorted bands assemble to perform. The Victoria has been a scuzzily democratic live music venue for decades, so it's great that the new owners kept that going and didn't turn the room into a dining room/yoga space/Tesco Metro.