'Alan Partridge: Alpha Papa – The Original Movie Soundtrack' album review
Many of the tastemaking DJ's favourite tracks are present, but this isn't the quintessential Partridge playlist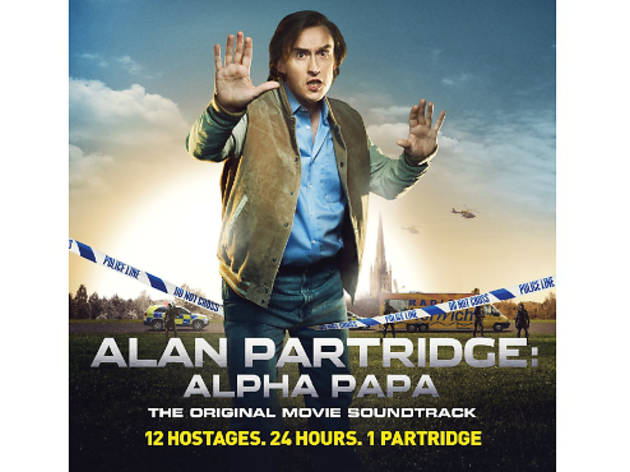 More importantly still, get the music right for chrissakes! What you put on the stereo has to reflect the exceptional taste of Norwich's foremost radio personality – a man who thanks Abba not only for the music, but also for his 'Aha!' catchphrase, and who thinks Wings are 'the band The Beatles could have been'. Luckily, the soundtrack album for the new Partridge 'Alpha Papa' movie contains plenty of Alan-approved gems, along with some choice soundbites from the man himself to really set the tone.
'Welcome to big school,' the North Norfolk Digital DJ and corporate face of Hamilton's Water Breaks purrs before Jakob Leidholm's house banger, 'Swede Love' kicks into life. That song might fit the movie, but feels slightly out-of-place on this compilation, which also features schlocky karaoke favourites 'Enola Gay' by OMD, and John Farnham's 'You're The Voice'. But Partridge is nothing if not eclectic, favouring the musical non-sequiturs of the local radio DJ. Everything from contemporary classical (Philip Glass's 'Koyaanisqatsi') to rock 'n' roll instrumentals (The Outlaws' 'Swingin Low') to the 'Ski Sunday' theme falls within the remit of the Norfolk mustard-cutter's 'broad taste'.
A seven-song bonus section ensures classic tracks, including a couple of Bond themes, are included. But this isn't, by any means, the quintessential AP playlist. Where's Gary Numan's 'Music for Chameleons', that Alan so adeptly plays air slap bass to while awaiting the Inland Revenue in his static caravan? And where, oh where, is Abba? Butter my arse! For a casual Partridge party, this will suffice, but completists will feel this album is far from ruddy bloody good.
What are your thoughts? Let us know in the comments box below or tweet us at @TimeOutMusic.
Sponsored listing
The Blues Kitchen Brixton
This Brixton branch - on Acre Lane - is one of three Blues Kitchens in London. The others are in Camden and Shoreditch. Each follows the same theme - food of a southern American bent served to a soundtrack of live music.  And while the music of the moniker does play more than a small part on the music programme, it's not all about the blues. Expect, too, swing, soul, bluegrass, Motown and themed nights - including a popular Halloween gig. There's usually something on every night of the week. The food menu takes in classic Deep South dishes, with New Orleans gumbo, catfish jambalaya, Texan brisket, St Louis pork rib and a creole bean burger. Canadian lobster, burger specials and jerk chicken salads also feature. 
Venue says: "Quench your midweek thirst with our new two-for-one offer on cocktails every Wednesday!"