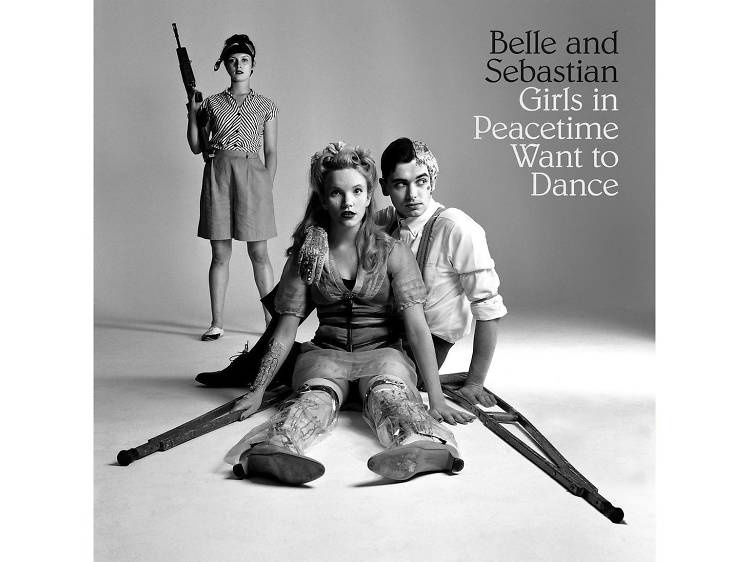 Belle And Sebastian – 'Girls in Peacetime Want to Dance'
'Lying on my bed, I was reading French, with the light too bright for my senses…' Welcome back to the delicate world of Belle And Sebastian, a fantasy universe where the boys are bookish, the girls are kooky and an idiosyncratic indie crew from Glasgow are chart-topping pop gods.
Stuart Murdoch and co have always been defined much more by their self-conscious aesthetic than their actual sound. As far back as their 1996 debut 'Tigermilk' they were messing about with synths, and throughout the noughties they sharpened their melodies and bulked up their production to the point where they even scored an unlikely Top 20 hit with 'Funny Little Frog'. The only real constant is their imaginative world: the rest of the band could be playing black metal, and as long as Murdoch was gently narrating some young overthinker's latest minor life drama it'd still be Belle And Sebastian.
So it's best to add a pinch of salt to the press release (by Saint Etienne's Bob Stanley) to their ninth album, which claims that 'Girls in Peacetime…' is the record on which Belle & Sebastian take a 'bold step onto the dancefloor'.
There are plenty of synths synthing away here, and even the odd dance beat, but Belle And Sebastian are hardly going to convert techno fans to their cause with the cutesy electrofunk of 'The Party Line'. They're much better advancing into Pet Shop Boys/Pulp territory on 'Enter Sylvia Plath' (a great listen once you get past that sixth-form title). Even better is 'Play For Today': a melancholy duet with Dum Dum Girls' Dee Dee Penny that opens with a lush, OMD-ish synth riff and climaxes into a shimmering 3am outro. It's stellar.
But anyone worried about a total reinvention will be glad to hear that 'Girls in Peacetime…' has enough Velvets-y guitar, bouncy bass and tasteful strings to guarantee that its progression is a shy shuffle rather than a great leap forward. Some of the best stuff here is very much in the old-school B&S mould: the band faultlessly occupy familiar ground on 'Nobody's Empire' (apparently the most personal song Murdoch has ever written, though as usual it's hard to tell through all the metaphors), and 'Ever Had a Little Faith?' is a lovely four-and-a-half-minute trip back to 'The Boy With the Arab Strap'.
Like all of the band's most recent albums, then, 'Girls in Peacetime…' contains a handful of gobsmackingly great songs and a lot of less inspiring material, varying from the teeth-grittingly quirky to the likeably dreamy and tender. Despite token mentions of 'bombs in the Middle East' and boom-and-bust, it exists entirely in the band's own universe, and it'll be lapped up by the band's huge, adoring fan cult. It certainly won't thrust them headlong into the pop mainstream – it's far too late for that now. But hey, that's okay: Belle And Sebastian don't have to worry about the Top 40, because in their own world they're all the radio ever plays.
What do you think of 'Girls in Peacetime Want to Dance'? Leave your review in the comments box below or tweet us at @TimeOutMusic.


Buy this album on Amazon
| Buy this album on iTunes