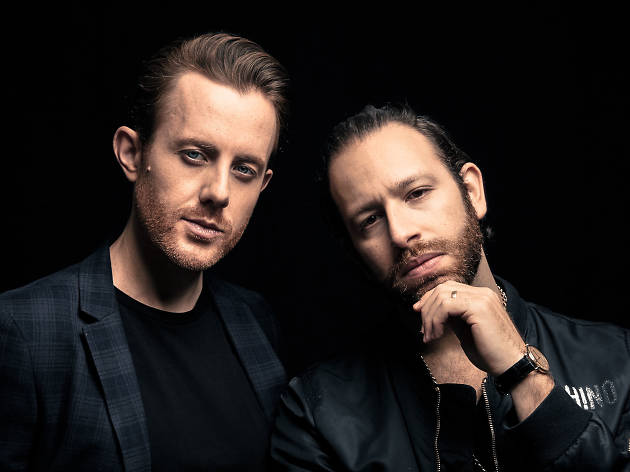 Chase & Status: 'Chart positions don't matter'
Picture a venn diagram with 'D&B' on one side and 'runs a free school' on the other. Who's in the middle? It's arena-crushing bass bosses Chase & Status, of course!
London duo Chase & Status have been producing rave-razing, chart-troubling electronic music for almost a decade. From their roots as DJs in the drum 'n' bass underground, to taking their live shows around the world and producing music for the likes of Rihanna and Rita Ora, the pairing of Saul Milton and Will Kennard have consistently broken new ground for the unapologetically bass-driven, street-level sounds they adore.
Ahead of a huge Ally Pally show on November 26, in support of their forthcoming fourth album, we met the duo to talk real friends, setting up their very own free school and what still gets them out of the house on a dark Saturday night in November…
How have things changed for you both since your debut back in 2008?
Saul 'Well we're both married now – and I've got a seven-month-old daughter as well – but we're as ambitious as ever. When you have a family, a mortgage, dogs, you get real responsibility. You don't take your foot off the gas, you put it down harder if anything, because there's more pressure to succeed.'
Will 'When you get into family life, you realise just how antisocial this job can be. We used to stay up all night in the studio or gigs, and sleep all day. But that doesn't work when you have a family. It can be difficult when you're leaving the house at 10pm just as they're settling in. But it's necessary: you can't cut yourself off from the world that you make music for.'
As successful blokes in your mid-thirties, do you you still feel connected to the world of sweaty raves?
Saul 'We might be fatter and hairier, but we still just love music. That is fundamentally what keeps you connected and gets you out the door at 10pm to drive to Rotherham for a DJ set in the middle of winter.'
'We might be fatter and hairier, but we still just love music'
What about your mates? Most thirtysomethings are slowing down and embracing 'normal' life by now... are you still in touch with your old friends?
Will 'Our old friends are the closest people to us. They're the most honest friends you have, no matter what you do. They always take the piss and keep you grounded.'
Saul 'They don't ask for anything! It's not your old friends who are texting you the day of a festival asking for passes for 17 people.'
Are you still happy Londoners – despite the seemingly endless closures of clubs like Fabric?
Will 'Yes. It feels a bit depressing right now, but you can't squash the demand from young people to go to awesome places like that. There are so many people in London who live for it. If, God forbid, Fabric never reopens, other places will pop up. There's such a big demand and that won't go away. It's too important.'
Saul 'The people that lose out are the youth – they're having opportunities and experiences taken away; it's like the early '90s, when they were forced into the fields. Who knows, with the recent resurgence of squat and free parties, maybe that will happen again now.'
Young people clearly matter to you guys. Will, you set up a free school in east London a few years back, how's that going?
Will 'It's going great. Our remit is to provide a private-school level of education to kids who wouldn't normally get that chance. The really exciting news is that we're about to move into a new building in Bromley-by-Bow. It's a huge purpose-built arts and music school for 300 students. The kids are the best part about it. It's all about reaching out to those kids who fall through the cracks: not because they're lazy, but because they're creative people who maybe haven't had the opportunity to express that at tough schools with no music departments.'
How do you feel about the recent commercial success D&B has witnessed, with the likes of Sigma collaborating with pop stars such as Take That and topping the charts?
Will 'Chart positions don't matter. If you're not doing it for the right reason, then you might as well stop and make tunes for Little Mix or whoever.'
More drum and bass in London
We've selected some of our favourite London drum and bass club nights and label parties from the across the spectrum.