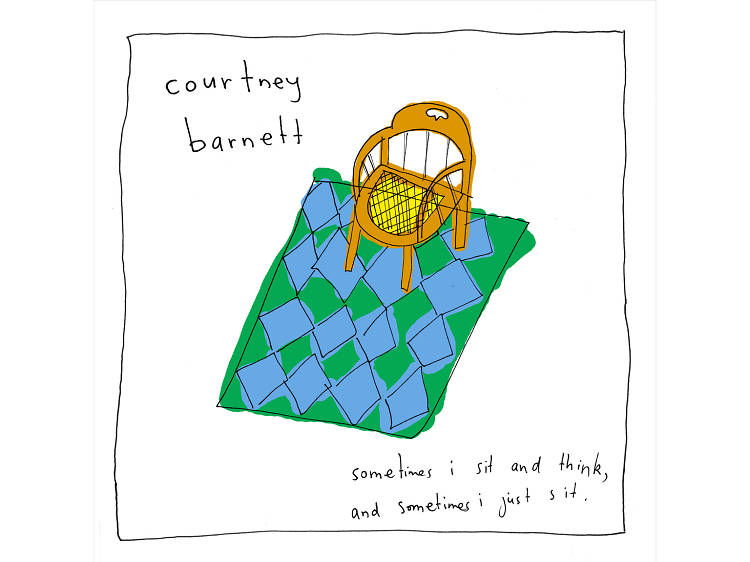 Courtney Barnett – 'Sometimes I Sit and Think, and Sometimes I Just Sit'
Australia and New Zealand were once the laughing stocks of the English-speaking pop world. For decades, our mates on the other side of the planet struggled to assemble even a half-dozen global stars: Kylie and INXS, sure; AC/DC and The Bee Gees, all right (despite the British passports); and there's always Nick Cave. But beyond that we're basically talking Men At Work and Jet. Remember Jet? Us neither.
But thanks to the internet, the Land(s) Down Under have suddenly started pulling their weight. Lorde is the world's coolest pop star, Five Seconds Of Summer are the next One Direction, Tame Impala have done for Perth what The Beatles did for Liverpool, and now Courtney Barnett is set to become Melbourne's own Bob Dylan.
We first heard her unmistakeable voice on her 2013 'double EP', 'A Sea of Split Peas', spinning out hilarious and poignant tales of twentysomething life with a sure ear for the poetry lurking in the mundane: an anaphylactic attack on a hot day, or a phone call from a concerned mother ('Are you eating?/You sound so thin').
Now this unassuming 27-year-old has made a proper, glorious debut album. Where 'A Sea of Split Peas' meandered, 'Sometimes I Sit and Think…' is tight and potent, mixing retro rock freak-outs with indie-pop gems like the heartbreaking 'Depreston'. Barnett's biting guitars and half-spoken vocals make her sound at times like a laconic, Aussie Patti Smith.
But the words themselves are bang up to date. There are some big subjects here: youth disaffection, gentrification, loneliness and even ecological collapse (on the astonishing 'Kim's Caravan'), as well as driving around Melbourne and trying to impress girls at the swimming pool. But it's all done with self-deprecating wit and a unique turn of phrase.
Charming and ironic, bored and anxious, disillusioned but hopeful: Barnett captures those millennial complications and contradictions like nobody else. 'Put me on a pedestal and I'll only disappoint you,' she warns on 'Pedestrian at Best', but we'll take that risk: who would have expected the voice of a generation to sing with an Australian accent?
Buy 'Sometimes I Sit and Think, and Sometimes I Just Sit' on iTunes | Buy 'Sometimes I Sit and Think, and Sometimes I Just Sit' on Amazon
Read more: The 10 best Courtney Barnett lyrics