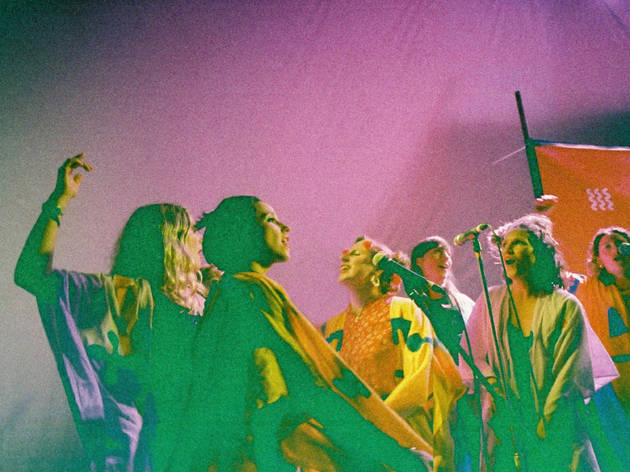 Deep Throat Choir: the name on everybody's lips
Their tagline is 'we are wimmin and we sing'. Learn more about London's coolest choir and watch them rehearse for their next London show
So you're sitting in Dalston Superstore doing a bit of research on Deep Throat Choir and the nice barman brings you a cup of tea, glances at your screen – which has several tabs open marked 'Deep Throat Choir' – smirks and calls you babe. It's not what you think. It's voices and drums. IT'S VOICES AND DRUMS! That's what Deep Throat Choir are: 30 outstanding female voices singing original songs and fantastic covers, using just the power and flexibility of their lungs and one drummer.
Having put on their own parties and shows since 2013, this weekend they're joining forces with London club legends Horse Meat Disco at Camden's recently refurbed Jazz Cafe. They'll be filling the room with fun and disco love by singing versions of classics by Donna Summer, Patrice Rushen, Jean Carn and Candi Staton.
Don't for one minute, though, think that this is some kind of college acapella group (although Deep Throat's founder Luisa Gerstein was behind the 'Cups' viral sensation that soundtracked the film 'Pitch Perfect').
Starting with just five singers, Gerstein wanted to focus on simply exploring harmonies. 'Sonically I only wanted to work with female voices,' she says, 'and then beyond that it became such a wonderful thing to have a female space. It feels decidedly different and I thought it would be best to keep it that way.'
Similar vocal projects like Lips Choir and House Gospel Choir have made singing groups en vogue right now – no thanks to the BBC's choral cherubim, Gareth Malone, who incidentally tapped them up to be on his show. 'We didn't really entertain the thought at all,' says Gerstein. Deep Throat has now bloomed into a 30-strong crew.
'The main thing everyone wants is to enjoy it and have a good time – the first question is always, is it going to be fun? Are we going to have a good time?'
And the cheeky, NSFW name? 'All the other names we floated just didn't feel right, like Hackney Women's Chorus,' Luisa laughs. 'Everything we came up with sounded annoying. People barely bat an eyelid now when we say it.'
Time Out was given a special pass and allowed to watch the choir rehearse. Watch exclusive footage of their rendition of Bee Gees' 'Nights on Broadway':
Deep Throat Choir play Jazz Cafe on Fri Jan 21 and Sat Jan 22. Their debut album 'Be OK' is out on Feb 17.
What else is on at the Jazz Cafe?
In 2015 the Jazz Cafe celebrated 25 years in business, having brought some of the most respected names in the jazz and soul world – D'Angelo, Amy Winehouse, Adele, Roy Ayers, Bobby Womack – to Camden Town. Now it's reopened with a new look, a technical upgrade and a revamped food and drink menu but still with a focus on funk, soul, R&B and electronic music.