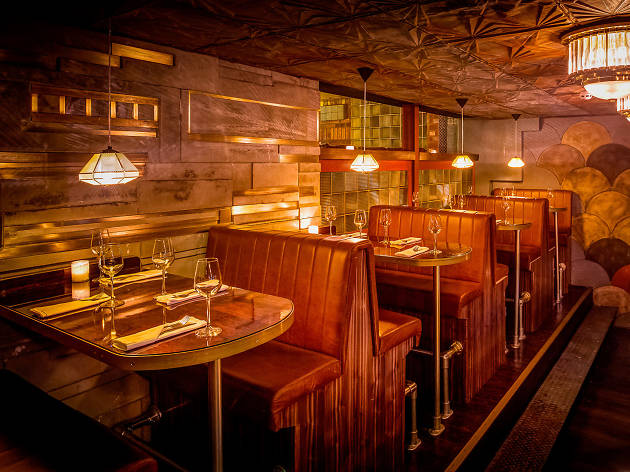 1/6
Paul Winch-Furness
Jazz Cafe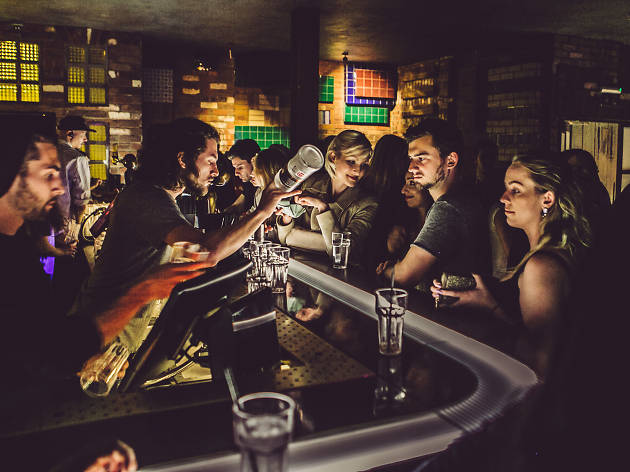 2/6
Jazz Cafe
3/6
Jazz Cafe
4/6
Jazz Cafe
5/6
Paul Winch-Furness
Jazz Cafe
6/6
Jazz Cafe
Time Out says
In 2020 the Jazz Cafe celebrates 30 years in business, having brought some of the most respected names in the jazz and soul world – D'Angelo, Amy Winehouse, Adele, Roy Ayers, Bobby Womack – to Camden Town.
A few years back the venue (once a branch of Barclays bank) was bought by The Columbo Group, proprietors of XOYO, Phonox, the Old Queen's Head and more great London venues. It reopened with a new look, a technical upgrade and a revamped food and drink menu, plus a 'reinvigorated bookings approach': more new and rising acts, but still with a focus on funk, soul, R&B and electronic music.
With a capacity of 440 it's an intimate gig space, and the two-level layout offers you a choice: get sweaty in the downstairs standing area, or book an upstairs table for a bit of luxury and a guaranteed good view.
Details
Address:
5
Parkway
Camden
London
NW1 7PG

Transport:
Tube: Camden Town
Contact:
Do you own this business?
Average User Rating
4.3 / 5
Rating Breakdown
5 star:

16

4 star:

6

3 star:

3

2 star:

0

1 star:

2
Great jazz venue but the food's still crap. Waited more than 2.5 hours last time I went there, and it was crap and cold when it came!
MY EXPERIENCE !! WENT OUTSIDE FOR A CIGARETTE AND WAS NOT AFTER THIS ABLE TO REGAIN ENTRY !!
To make a reservation in the restaurant at Jazz Cafe a 20/head deposit is taken. Conveniently it isn't stated anywhere that this is non-refundable
In the end Jazz Cafe and the Columbo group kept 134 quid for nothing.
No f's were given by the ops manager and staff. They couldn't even credit the food deposits for another night
Had a fantastic night at the new refurbished Jazz cafe. We went to see Hypnotic Brass Ensemble who once again blew the crowd away. The venue has improved immensely, the new owners have done a great job. I will definitely be going back but I'll probably restrict myself to one drink per gig as the bar prices seem to have have gone up to pay for the refurbishment! As a Londoner and a person who likes to try out various drinking establishments, I don't think I have seen so many people have a look at their bill or question the staff after they had bought a round of drinks. Noticeably, very few returning for refills. Overall if you are aware of the prices then I can't recommend this place enough.

This iconic venue in Camden has recently been taken over and renovated so we were very excited and intrigued to see the transformation.
A couple of friends joined me for a night of Amy and it was our first experience of watching a band whilst dining.
The restaurant is perfectly laid out on the first floor with tables overlooking a balcony so you get a good view of the performance on stage down below.
The menu has a Fusion style to it and there is so much variety that you just really want to get a taster of everything that's on offer. So we ordered 4 starters to share with the Chilli Squid being the highlight and most mouth- watering. Highly recommended!
For mains I went for the Salmon. It's sourced from Scotland and I was so impressed from the first bite with the way it was cooked. So crisp on the outside, tender and juicy on the inside- The best I've ever had and I still can't get over it now.
Our bellies were so happy and full by the end of our main course, there wasn't room for more however our waiter AJ managed to tempt us with afters. I can only describe it as breakfast in a dessert form- Milky ice cream sprinkled with crispy cornflakes and served with a side of cold coffee. Compliments to the chef as they have really pulled off a stunning menu.
The service is excellent and the staff are very attentive and knowledgeable of what's on their menus.
The cocktail menu seems to be your favourite classic cocktails but with a Jazz cafe twist. If you're looking for an after dinner drink, go for the Espresso Martini. With a hint of chilli, it really is something to shout about!
We loved Amy Winehouse so it was so nice to see a tribute act perform her songs so well. I'm a big fan of Amy's raw sounds on her first album Frank and the band absolutely nailed it. The lighting and sound is on point which made it a faultless gig experience.
Really looking forward to returning to Jazz cafe, we had a lovely time!
One of London's iconic music venues has been given a good deal more than a lick of paint. The newly-refurbished Jazz Cafe looks and sounds spectacular. I have always liked this venue , and was concerned that new owners might spoil its character. I should not have been worried. They have invested to enhance and improve. New bars layout has increased the capacity , and made the stage visible from all areas. The upstairs still offers table seating and dining. The stage itself is ample for full-band sets with a crisp sound and cool lighting. This old lady of Camden is about to find a whole army of new fans.
I have been to many rising stars gigs and as usual the artists did not disappoint. The Jazz Cafe in Camden is when the gig was held and is a great location, and the drinks are reasonable for London and no matter where you stood you get a good view of the artists. If you haven't been before it's a great night out.
Thanks a lot Timeout for such at event. I had a great time. Bands were super talented!!
The Jazz Café is well known for a reason – it attracts a wonderful roster of talented & popular jazz, blues and soul musicians from across the world. I've had a number of memorable nights here and it's definitely worth a visit if you're ever in Camden. You're able to enjoy dinner at the restaurant upstairs overlooking the stage or you can dance the night away downstairs…. Highly recommended.
Had a great night here the other night with Time Out Rising Stars. Max Stone was awesome! I couldn't stay for Tankus the Henge, but have seen a couple of videos and am gutted to have missed them...'totally nuts' just about covers it! Looking forward to the next one...
Fantastic evening. All four bands were great in their own way, but Greasy Slicks stole the night with their great musicianship- the drummer had a great voice too- and Tankus the Henge were great all round entertainment.
Went there last night with a Time Out Card event to see Rising Stars of the London rock scene. Awesome sound, great atmosphere and good view from upstairs. Tankus the Henge really gave a lot of energy to everyone attending!
The Jazz cafe is great, really small and intimate venue! I saw a really great ska band there and it was really intimate and so much fun! Really easy to get to and there is also a balcony area where you can get dinner!