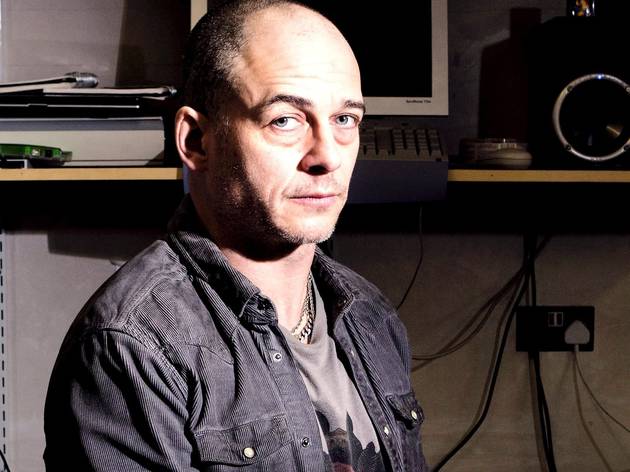 Dinos Chapman interview
The iconoclastic visual artist has struck out alone to make an album in his basement. We enter his east London lair...
As you might expect from someone who keeps an original Hitler canvas in his recording studio (albeit turned to face the wall), Chapman's LP is a provocative statement – an avant-techno adventure that owes a debt both to Eno and to Eastern European fairytales. Its 13 atmospheric, anxious tracks are dark and restless – like Chapman himself, whose eyes are shadowed by insomnia. 'I didn't sleep at all last night,' he admits while picking through the basement clutter.
'It feels naughty,' he says of making music in the middle of the night. But Chapman also recognises that, in London, he's not alone in filling a makeshift creative space with Midi controllers and drum pads.
'I hid in my basement and made what I wanted to make regardless of what was going on at street level. It turns out a lot of other people are doing exactly the same. It's quite a relief to realise that if it's a waste of time, there are an awful lot of people wasting their time doing it… I think really we've done away with that virtuosity thing that was keeping everybody in their place.' Pop hegemony makes an appearance on 'Luftbobler' in the form of a familiar voice: 'I found a recording of Kylie Minogue talking about plastic surgery. And I tried to push it to the point where it still is recognisable but in no way sounds like her. I think she's a very processed persona, which I quite liked.'
The pop pixie is one of a few lurking presences in Dinosworld – where normal things always point to scarier possibilities. 'Luftbobler' is actually the name of an Aero-like Norwegian chocolate bar. Chapman chose it because 'it sounds more romantic than it actually is'. On the record, and all around him at home, the commonplace its stretched to its scariest and most magical limits: garish art clashes with family life; half-finished sketches of imagined monsters sit next to bags of sensitive-stomach dog food.
'If [the music] starts to do something I'm not really in control of I'll leave it there rather than rein it back into anything,' Chapman says in the tone of someone more used to musing obscurely about art. The tracks, he adds, 'are always a bit sculptural. For me, they don't exist as sounds so much as things that present themselves as sound but allude to something else.'
And what about the werewolf-like creature on the album cover? What does his presence allude to? 'It's the classic misunderstood swamp thing,' explains Chapman. 'Tragic, but slightly comical as well.' But what does it represent? 'It's death, impending death. Pop music is there to allow you to pretend it's not there, for a bit. I'm just reminding people, you can dance but you're still going to die.'
'Luftbobler' is out on Feb 25,
order the album here
.