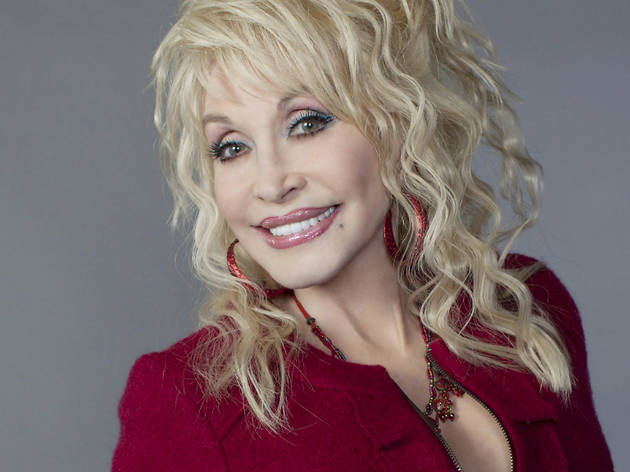 Dolly Parton: 'It wasn't that long ago since I went skinny-dipping'
On the release of her forty-third album, the queen of country bears her soul to Time Out
Just when you thought all hope was lost – with climate change going into overdrive and America's nuclear codes almost in Donald Trump's reach – salvation is at hand. Dolly Parton sang herself out of poverty to become one of the biggest stars and best songwriters in the world. Her new album, 'Pure & Simple', is a back-to-basics paean to love that's so stripped down and soothing that listening to it is like being wrapped in a blanket woven from Dolly's hair. It's just what we need in these desperate times, and not a moment too soon. So we called her up to say thank you.
Your new album's very nostalgic. On 'I'm 16' you talk about feeling like you're still a teenager. Is that true?
'Well, I don't only write from my own experience. I write through the people I'm close to; I feel all their emotions. I had a sister who'd had a couple of bad marriages and she was sure she was never gonna love again. Then she met someone who had been through similar things, and they fell head over heels in love and acted like they were 16 years old.'
Is it about you as well, though? It's quite specific. You sing about Cherry Coke.
'I do feel like I'm 16. I still feel like I'm as excited about my dreams and my career as I was then. I put in all of my thoughts of my teenage years, of skinny-dipping and sneaking out of the house, doing all the things that teenagers do.'
When was the last time you went skinny-dipping?
'Oh, it wasn't that long ago since I went skinny-dipping! My husband and I, we've been married 50 years. In fact, that's one of the things that inspired me to write the love songs for this album: I tried to go back and recreate all the feelings we had as we were growing up. We've got a farm and a swimming pool, and it's not unusual at all for me and the old man to go skinny-dipping!'
The album kind of feels like escapism: a safe place from all the awfulness in this world.
'Well, that's good. The times being so hard, I think people are looking for anything positive. We need more love. This is a love album, and I would be glad to take people into my world for a little bit, 'cause I get myself lost in it too. It gives me a lot of opportunities to go into different little worlds while I'm writing these songs, so it is a way of escaping.'
Your 2014 Glastonbury set is included with this album. What does it mean to you two years on?
'Glastonbury is the gift that keeps on giving. Everybody keeps talking about it, and it was the biggest audience I ever had: it got so much publicity worldwide and so many positive things came from it. People go there to drink and to smoke and to laugh and have fun, and I wasn't sure my music would even fit in that particular type of festival, because a lot of my things are slow, and I talk and tell stories. But it turned out so great. I was so pleased they did accept it.'
I read that on your current tour you've replaced your drummer with a $47 drum machine.
'Ha ha! Well, I have this show really broke down: it's just three guys on a stage and me, and we have a little rhythm machine for the times when I want to have a little bit of rhythm. I joke about the drummer I would have had – that he thought because I called the tour "Pure & Simple" I was gonna get rid of my fancy hair and rhinestones and make-up. Instead, I fired him and got this $47.50 drum machine.'
You've always been a positive force in people's lives. Recently you spoke out about the anti-transgender 'bathroom bill' in North Carolina, and you've always been a vocal supporter of LGBT people. Do you get emotional feedback from that community?
'Oh yes, but I also get crucified sometimes from all these people that are supposed to be loving and Christian, supposed to be accepting, to love your neighbour. I just say what I feel in my heart: I love everybody. A lot of my friends cancelled shows [in North Carolina], but I thought I could do more with my presence than my absence. People know how I feel. I just love and care about everybody.'
'Pure & Simple' is released on August 19th.