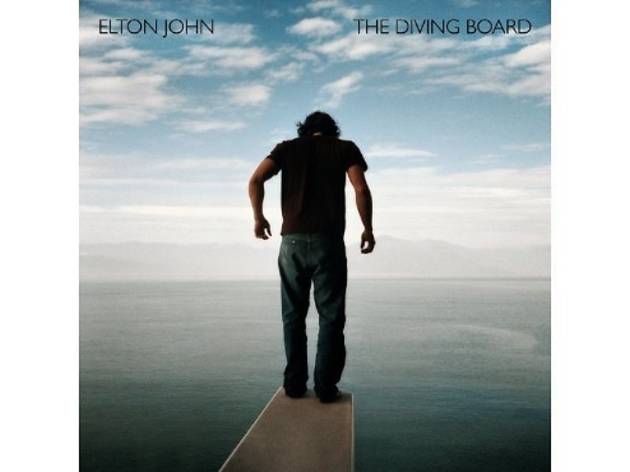 Elton John – 'The Diving Board' album review
It's too long and a bit comfy, but there are still some classic Elton moments here
It would be wonderful to report that 'The Diving Board' is a work of startling vitality like David Bowie's remarkable comeback effort from earlier this year,
'The Next Day'
, but in reality this is another comfortably classy modern-day Elts album like the three he made in the noughties: 'Songs From The West Coast', 'Peachtree Road' and 'The Captain & The Kid'. Producer T-Bone Burnett encouraged John to rest his regular backing band to keep the focus squarely on singer and piano, and the result is a record that often feels intimate, but also a smidge safe and one-paced. John, still spunky enough to call Madonna a 'c**t' in a TV interview last year, only really shows his playful side on the bar room blues of 'Mexican Vacation (Kids In The Candelight)'.
The lion's share of the album – which is rather too long at 57 minutes – goes to stately piano ballads which nod to gospel, country and sometimes John's own back catalogue. 'Can't Stay Alone Tonight' feels like a loose sequel to 'I Guess That's Why They Call It The Blues', while the piano melodies of 'Voyeur' contain echoes of both 'Don't Let The Sun Go Down On Me' and 'Candle In The Wind'.
So there probably isn't a song here that will make anyone's Elton Top Ten, but that's not to say John and his longtime lyricist Bernie Taupin are all out of magic. When John wraps his oaky baritone around 'Home Again's killer couplet - 'We all dream of leaving, but wind up in the end / Spending all our time trying to get home again' - it grows from a truism into a truth. At times like these, 'The Diving Board' isn't just comfortably classy: it's affecting, too.
Buy this album here
What are your thoughts? Let us know in the comments box below or tweet us at @TimeOutMusic.