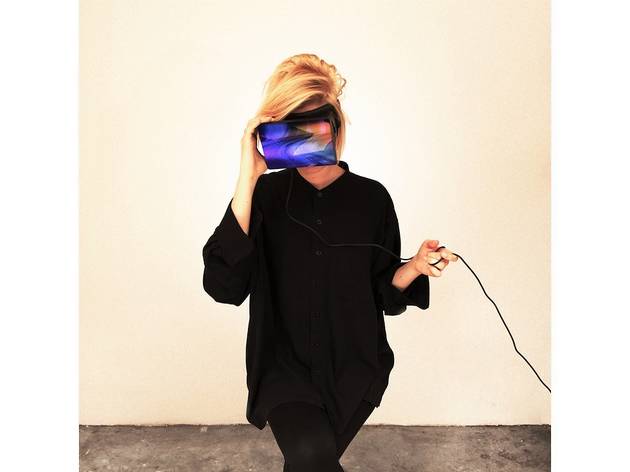 EMA – 'The Future's Void' album review
Taking a dystopian turn, the LA singer-songwriter's latest is as coruscating as anything she's done so far
Her brilliant 2011 debut album was a visceral voyage through a gloomy fjord of feedback. Her comeback single 'Satellites', a paranoid industrial number referencing surveillance under the Iron Curtain, was trailed with a video in which the singer and guitarist pawed at an analogue modular synth while a cat messily ate a bird. She is, even at her poppiest, a lyrically intense sculptress of noise. Get in line, BMW and Nokia! No pushing at the back there, American Express!
It's fair to say, though, that living in LA will make you weird about fame – even if you only moved there, from South Dakota at the age of 18, because you loved Guns N' Roses' 'Welcome to the Jungle'. And on her second album 'The Future's Void', EMA vents some mighty hang-ups about the hollowness of success. Its catchiest track, the abrasively lilting grunge-pop number 'So Blonde', even feels like something from Hole's 'Celebrity Skin'.
'3Jane' sets the agenda as, over a mounting electronic wash, she sings in softly spooked tones about an industry that encourages her to fracture her identity across the internet. 'I don't want to put myself out and turn it into a refrain,' she finishes, 'it's all just a big advertising campaign' (emphasis there very much on 'pain').
Just as you're starting to feel bad about that nice little preview you once gave her for an early gig at the Macbeth, 'Cthulu' takes a different tack. It's a multi-stage, Muse-sized epic touching on the search for perfection and redemption on which she hurls her voice around with the centripetal force of an Olympic hammer thrower.
Then we're back on topic for 'Neuromancer', a song about the packaging of individuality whose propulsive metallic clanging quite possibly represents passage through the media machine. The album ends with 'Dead Celebrity', drum thuds landing like mirthless punchlines over a sweet organ melody and celestial synths as Anderson hymns: 'When you found out it was over, tell me what you want to see / When you click on the link of the dead celebrity.'
Who'd have thought such a pained and coruscating attack on our fucked-up relationship with fame would come from such lo-fi quarters? 'The Future's Void' is not an easy, or a universally satisfying, listen. It reflects the confusion and stress evident in some of EMA's recent interviews, and doesn't always benefit from a reading list that seems to have included the gothic sci-fi of HP Lovecraft and William Gibson. You might hear PJ Harvey. You might hear Garbage. You might hear Marilyn Manson.
But what this album does brilliantly is drive home some chilling facts – not least of which is that you don't have to be an LA celebrity, or even a widely-blogged indie heroine, to have your soul eroded. Facebook is doing that for us all.
What do you think of 'Here and Nowhere Else'? Let us know in the comments box below or tweet us at @TimeOutMusic.


Buy this album on Amazon | Buy this album on iTunes