Franz Ferdinand interview: 'It's great to trigger hatred'
Indie heroes Franz Ferdinand are back with an eccentric fourth album. We meet them at their Hackney studio to find out why they've been flying under the radar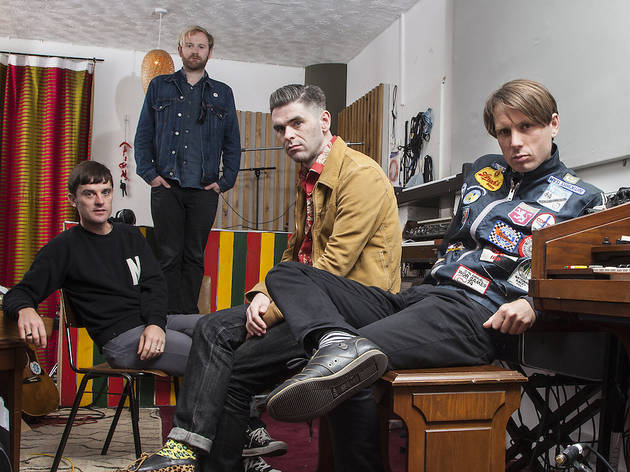 'Everyone was desperate to know what we were working on and what our ideas were,' explains guitarist Nick McCarthy. 'We deliberately decided not to talk about anything.' Alex Kapranos, the band's impossibly gangly singer, chips in: 'Some people can talk endlessly when there's nothing to say. We're pretty shit at it. To me that's the difference between being a celebrity and being a musician – we don't feel very natural doing the celebrity thing – but if you're not in the public eye, you feel like you can do fucking anything you want.'
Things have changed, then, since Franz Ferdinand fantasised about being interviewed by Terry Wogan on their 2004 single 'The Dark of the Matinée'. Sir Terry never came calling, but the four-piece did win Brit and Mercury awards, sell millions of albums and – for a while – could legitimately have been called the biggest band in Britain.
They look like they've enjoyed their break from the spotlight, however, as they down coffee and brownies at Sausage Studios just off Well Street in Hackney. Kapranos sits hunched on a piano stool, with Paul Thomson (drummer, gap-toothed, grinning) and the affable McCarthy (the studio's owner) beside him: bassist Bob Hardy is running late. It's here – surrounded by vintage organs, a Bond villain-style spinning leather chair and an enormous stuffed lion – that Franz Ferdinand have spent much of the last year making their fourth LP,
'Right Thoughts, Right Words, Right Action'
.
'It's a pretty quirky record,' Kapranos says. 'There are some odd moments that you probably wouldn't do if you were consciously trying to make a very commercial-sounding record.' He's not wrong: the LP couches the usual earworm riffs and funk bass in creepy organs and lo-fi production, together with some of Franz's most introspective lyrics. At points, 'Right Thoughts' sounds more an eccentric first album than Franz's radio-friendly, self-titled debut did. The band puts this down to their intense gigging schedule around the album's recording: 'When you play live, it brings out a different part of you,' says Kapranos. 'It's the difference between being a house cat and a cat that goes out.' 'The last year has been more like the first year of the band,' adds Thomson.
In reality, it's a decade since their debut single 'Darts of Pleasure' was released. The band won't be marking the occasion: 'We've always been extremely anti-nostalgia,' Kapranos drily comments, 'so let's just give that a nod of acknowledgement and move on.' But still, it's a good moment to reflect on Franz's remarkable trajectory from the art squats of Glasgow to the heights of rock fame, including a surreal performance at the 2005 Grammy Awards – 'sandwiched between Gwen Stefani and The Black Eyed Peas,' Thomson recalls in disbelief. They were even popular enough to cause a backlash among so-called 'real rock' fans, including at a nu-metal festival in New Jersey: 'It was us and Papa Roach and Korn,' says Thomson, 'and 20,000 bros all shouting, "You suck!"' Not that Kapranos minded: 'I actually loved it. It's great to trigger hatred among people you don't particularly like.'
So, still thriving on friction, the band are almost ready to reveal some of the oddest music of their career. Perhaps this time they'll even get that Wogan interview. Or perhaps not: 'I don't think he has any interest in us,' grins Thomson. 'It would be a bit of a ball-ache all round, really.'
Snap up exclusive discounts in London
Time Out's handpicked deals — hurry, they won't be around for long...