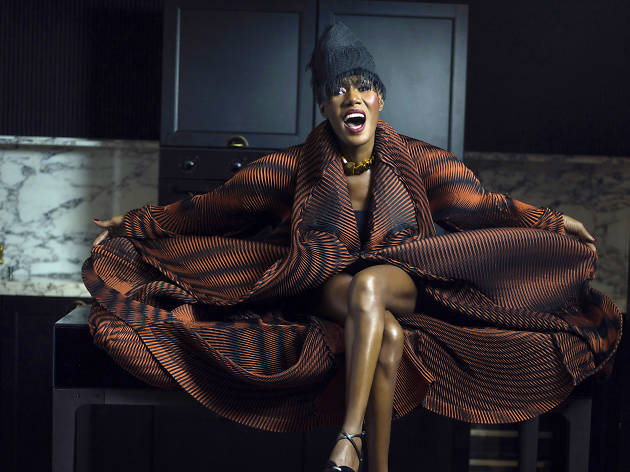 Grace Jones: 'Maybe I'm maturing'
New documentary 'Grace Jones: Bloodlight and Bami' gives a glimpse into the personal life of an absolute icon. We chat to the superstar about having champagne for breakfast, being a nudist and her love of Rafa Nadal
Grace Beverley Jones is a walking, talking, hula-hooping 'fuck you' to every preconception under the sun. That's what screamed out at me after talking with a grandma who also loves raving till dawn, a model who's also intensely smart and a creative genius who's also a hard-ass businesswoman. Soon, you'll see for yourself how this legendary figure has consistently defied perceived wisdom in an extraordinary new film called 'Grace Jones: Bloodlight and Bami'. Director Sophie Fiennes accompanied Jones over many years, observing intimate moments from her nomadic, often hedonistic, always driven lifestyle.
Most people know Jones as the androgynous Bond star, the disco queen or the lady who battered that talk show host in the '80s. Fans know her as a towering queer icon who inspires generations with her intense visual identity. But Fiennes's film magically unmasks the woman behind the expertly curated image. We finally see a strong figure who's also capable of vulnerability, a supposedly uncompromising artist who's actually considerate and flexible. Finally, we're able to see just how much of a superwoman Grace Jones is. A funny one too.
In one scene she's shown prising a hard-to-open oyster and saying 'I wish my pussy was this tight'. In another, she tries to persuade people half her age to go clubbing then ends up hitting a gay club and tearing it up by herself. There are unpleasant depths too; notably when family discussions dwell on the appalling beatings doled out by her religious zealot grandfather. Sadly, our interview also had a sorrowful undertone. Grace's beloved mother Marjorie passed away a few days before our chat. Ever the professional, Grace was adamant that we should still talk. So, by way of light relief, we chatted about some of her favourite things – bums, champagne and, er, Rafael Nadal.
The film is a revelation. It's amazing that it exists. Was it something you always wanted to do?
'Not really. It wasn't until I met Sophie that I thought of doing it. I loved the films she'd done before, and we hit it off. So then and there, I said: "We should do this." It just popped out. Nothing was forced or unnatural – she was just in the right places at the right times.'
Yes, it seems like there were no walls between you two at all. Even to the point where you're filmed naked in your hotel room at one point.
'Well, what can I say? I'm a nudist. Anybody who knows me gets used to that. When I do shows, I'm always naked around my crew and my manager, and when I was a model everyone would be naked backstage. There was a lot more nudity in the film, but things had to get cut.'
'I'm a nudist. Anybody who knows me gets used to that'
The film shows you with lots of starstruck fans, 
but when was the last time you were starstruck?
'I think probably the last time was meeting 
the Queen. She was very funny. She was expecting me to be in the same costume that I performed in, but it was cold so I'd taken my costume off when she came backstage. And she said "Oh no, you've changed" with a disappointed look. And I said: "I didn't want to meet you with my ass hanging out." And she totally cracked up – she laughed the biggest laugh, with the biggest grin on her face.'
Speaking of asses, the question most of my friends wanted me to ask you was: how can we 
get a butt like Grace Jones's?
'Oh my goodness. Well, I swim, I cycle. I do soft sports now. And of course it helps if you're born with it too. I don't do weightlifting any more, though. I used to be addicted to it. I was doing it every morning and every evening. Don't forget I was working out with Arnold Schwarzenegger and Dolph Lundgren. These are serious bodybuilders. Nowadays, I just have to make 
sure I can still pull up my whole body by myself.'
Staying on asses for a bit longer, in your book 
'I'll Never Write My Memoirs', you say you 'want 
to fuck every man in the ass at least once'. 
How's that going for you?
'Oh, I'm definitely still working on that, don't 
you worry.'
Gotcha. My other favourite thing in the book is when you say: 'An obsession that alienates some new boyfriends is making jigsaw puzzles.' 
What kind of man hates a jigsaw puzzle?
'That's true. I always have one going on, wherever I am. I think guys get jealous of my jigsaws. They think it takes my time and attention away from them. It's the same with tennis, especially if 
Rafa Nadal is playing. I know they think: 
God I hope he loses.'
I would never have had you down as a massive fan of Nadal.
'Oh baby, I was totally starstruck by Rafa Nadal. He was one of the most humble, sweetest boys I've ever met. I go to Wimbledon every year and when he sees me he's like, "Hola, Grace, cómo estás?" '
'I have to party by myself. I don't like to talk at parties'
'Bloodlight and Bami' shows us how important a part family plays in your life. It even captures you meeting your granddaughter for the first time. How old is she now? What do you do with her?
'She's eight and she's so much fun. I didn't want to have a daughter [Jones has one son, Paulo], but I love having a granddaughter. She goes into my closet, puts on my clothes and does fashion shows with her friends. I don't have a problem with it, but I tell them "You're old enough to fold everything back please, ladies."'
The film reminds me of just how brilliant an album 'Hurricane' is. What's coming up next for you? Is there any chance of more music?
'Yes, we've been working on a new album, for about the last five years or so. We did it in Jamaica, and some of it was done in Africa too. So we hope to have that out next year. And a film of my autobiography too – I've been asked by Hollywood people, so I think with the right director it could happen. Who would play me? Well, people have suggested Lupita Nyong'o. But I dunno. I'm really glad we did it. Even more now, because my mom is in there a lot. It was a journey.'
There's a moment in the film when you're about to perform on a tacky French TV show. They want you to go on stage with a female dance troupe who you say make you look 'like a madam in a whorehouse'. But you don't cancel it. Why?
'I understand that whole side of things. I respect all artists, and I know that it wasn't those women's fault. Had I got there before, I probably would have dressed them in suits. It would have been a lot more me!'
But it's interesting that you stand down. 
It reveals an unexpectedly mellow side to you.
'I hadn't really thought of it like that. Hmm, well I definitely have walked off shows like that before. 
I guess I have mellowed. Maybe I'm maturing…'
Related to that, do you regret hitting talk show host Russell Harty in the '80s? And becoming lazily stereotyped by some as a 'crazy lady'?
'Hell no, I wish I'd turned his chair over and made it even more of a disaster for him. I used to have no patience: I would hit people, especially when they were being rude. One time at a club in London, the lady on the door made us wait. She was just so rude, letting other people enter but having us just standing there. Finally we decided to leave, but before I did, I fired one off in her face. She didn't see it coming. By the time her head turned around again, I was gone. I couldn't get away with stuff like that now, I'd be in jail.'
Either in jail or all over social media?
'Of course – which I hate. I shouldn't say hate, as it has its good sides, but it's an awful way to live if you have no privacy. I don't go on it at all.'
'

I was totally starstruck by Rafa Nadal'

The film shows you partying hard at various points. Are you glad you had the chance to party for so long without being asked for selfies?
'Oh definitely. But I have to party by myself. I don't like to talk at parties. Dancing is the most important thing for me. I tell people: "Don't try and talk to me, let me dance!" I've always been like this. I used to go to Tramps in London years ago with, y'know, Duran Duran, Christopher Walken and De Niro. I'd just tell the DJ what to play and dance.'

You play lots of festivals in the UK. Do you party at those or just vanish in a car straight after?
'No way. What's the point? No, I always stay. Friends can always come backstage as long as they take their shoes off; I can't deal with mud and I have to have my own bathroom. But I share my champagne with everybody. I always take a bottle for myself when we're done, though – so I can have it for breakfast the next morning. With my eggs. Then I go back to sleep.'

'Grace Jones & Friends Live' will be in cinemas nationwide for one night only on Wed Oct 25 and 'Grace Jones: Bloodlight and Bami' opens on Fri Oct 27. For more visit gracejonestickets.co.uk
The best Grace Jones quotes
Music's most original figure Grace Jones has always been refreshingly honest in interviews and unafraid to discuss race, equality and sexuality with a brilliant frankness. Here's ten of her best quotes: