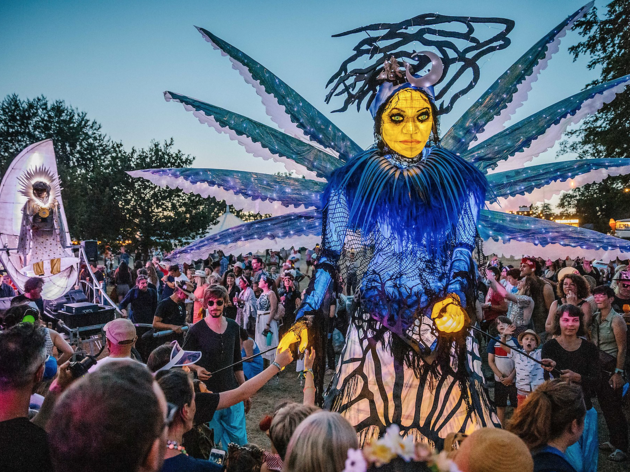 How to get the best out of Wilderness Festival
Whether you've already booked or are considering bagging a last-minute ticket, here are 12 things to do at the Oxfordshire all-rounder.
1. Dance till dawn at the festival's new late-night venue, the High Ground, with Little Gay Brother, Hannah Holland and Eats Everything, plus a takeover from grassroots Tottenham club The Cause.
2. Head to The Remedy Bar, where you'll find the best espresso martinis and margaritas on tap, soundtracked by DJ takeovers from the likes of Dalston's Brilliant Corners.
3. Help yourself to an Italian takeaway breakfast from Angela Hartnett's Café Murano. If you're looking for fine dining, it has a small number of walk-ins available for its banquets. Head down early to get on a waiting list.

4. Into wild foraging? Eating berries to survive? The man-made apocalypse is closer than you think! Swot up on your forest skills and drop in at the Greencrafts Village area for workshops and talks, or join a gorgeous free woodland hike.
5. Surf the jazz wave at The Level stage. Soak up the atmosphere and become part of the performance with electrifying Deptford collective Steam Down. For maximum boost, check out the enigma that is Ghanaian dance maverick Ata Kak.
6. Watch acting royalty at The Atrium with Letters Live. This is a Wilderness institution where previous guests have included Benedict Cumberbatch, Ben Kingsley and Olivia Colman.
7. Try an alternative sound bath with sub bass instead of gongs and crystal bowls. The Hustle host a Sunday afternoon session of low-end theory in comfy surroundings. It's the perfect binaural experience to heal an aching head.
8. Go wild to main stage acts that include the incredible Robyn, Groove Armada and George FitzGerald. Extend that buzz with a session in the woods at The Valley with Honey Dijon.
9. Absolve your sins, blast away that hangover and fulfil your mermaid/merman potential with a dip in the lake. If you're a nervous swimmer, head to the jetty for moral support.
10. Join Extinction Rebellion's Action Camp and get clued up about climate change by attending thought-provoking workshops, open discussions about declaring a climate emergency and film screenings.
11. Get a little closer to your fellow festival goers as part of the World's Largest Spooning Cuddle. Feel warm and secure knowing that snuggling up with strangers could make you a bona fide record breaker.
12. Expand your palate with food and drink pairings at The Dining Room. While prestigious chefs Meriel Armitage, David Carter and Ed Brunet take care of foodie delights, sommeliers Charlotte Wilde and Ruth Spivey will be picking the perfect plonk.
Wilderness Festival is at Cornbury Park, Oxfordshire. Thu Aug 1-Sun Aug 4.
Check out more top festivals taking place all over the UK here.