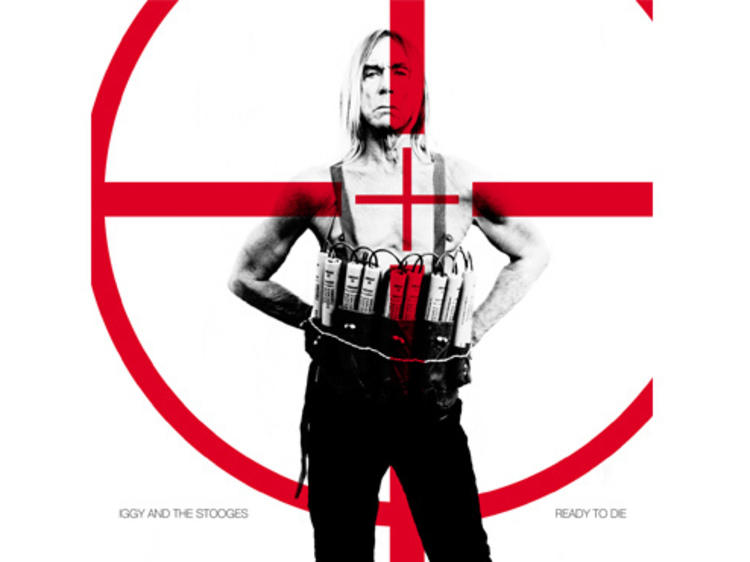 Iggy And The Stooges – 'Ready to Die'
With David Bowie back in the headlines, it seems like an appropriate time for his old Berlin drinking buddy Iggy Pop to also put out a new record. After all, if the Thin White Duke can release an album in 2013 that's on the same level as 1973's 'Aladdin Sane', maybe Iggy can match his group's Bowie-produced masterpiece from that year, 'Raw Power'?
That's not some insane and impossible hypothetical task, by the way: it's exactly what the man born James Osterberg Jr has apparently set out to do with 'Ready to Die'. After the death of original Stooges guitarist Ron Asheton in 2009, Iggy re-recruited James Williamson, who played lead guitar on 'Raw Power', and renamed the group. And so, whereas the first two Stooges albums (and 2007's plodding comeback 'The Weirdness') were released by The Stooges, 'Raw Power' and 'Ready to Die' are by Iggy And The Stooges. It's a bit of a technicality, but it means that the new album is officially billed as the follow-up to 'Raw Power' – 'a time capsule to 1973', according to the press release.
Well, there's good news and bad. On the plus side, 'Ready to Die' is better than 'The Weirdness'. It feels a bit more alive, more dangerous, more unhinged – that amphetaminic energy which was always The Stooges' USP has been turned back up a notch. Several songs on the new album rock out pretty convincingly, especially the title track and the big-business-as-Faustian-pact stomper 'Dirty Deal'. Williamson slashes and burns with his guitar as impressively as always.
Now here's the downside, which shouldn't come as a surprise: 'Ready to Die' is nothing like 'Raw Power' II. It may be better than 'The Weirdness', but it's still nowhere near as exciting as it could or even should be, and it certainly doesn't sound like The Stooges at their best In fact, it more often sounds like Iggy and Williamson's tame late-'70s collaborations or Iggy's patchy 2012 country and chanson album 'Après. It's a shame that this isn't an Iggy Pop record, because it would have been his best solo album in years.
But the record sleeve doesn't say 'Iggy Pop', or even 'Iggy Pop & James Williamson' – it says 'Iggy And The Stooges'. 'Ready to Die' is a failure because it's been entered – possibly cynically – into a category in which it can't possibly compete. 'The Departed' quotes and name-drops two classic Stooges tracks, 'I Wanna Be Your Dog' and 'Death Trip', and looking back to the glory days – when Iggy could convincingly claim to be 'a street-walking cheetah with a heart full of napalm' – doesn't do the new material any favours. Hearing the first few bars of 'Raw Power' feels like plugging yourself straight into the mains, whereas listening to 'Ready to Die' is just that: you, sitting there with your headphones, cringing slightly as Iggy sings on 'DDs' about how much he loves big boobs.
Just so we're clear: Iggy Pop is an unbelievable performer, songwriter and artist; The Stooges are undoubtedly one of the greatest bands in the history of rock 'n' roll; their live show is totally incendiary; and they've earned the right to make a new album that justifies their artistic need to keep making new music. But why would you ever listen to it, when you could just spin 'Raw Power' one more time?