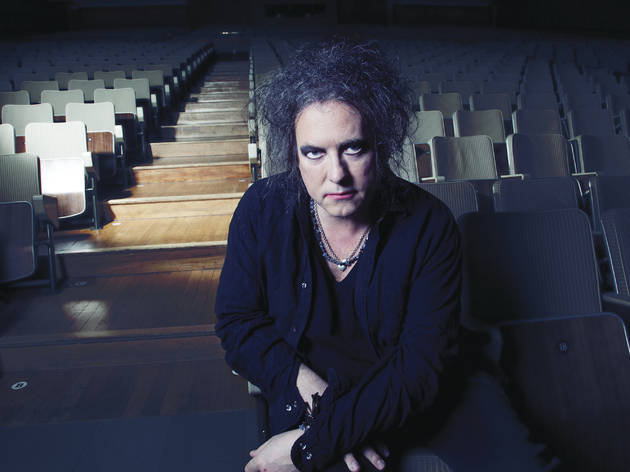 Robert Smith: 'One day my hair will fall out and I won't look gothic any more'
Robert Smith, frontman of The Cure, is curating this year's Meltdown. He waxes lyrical about the line-up, the make-up and why he's never been a goth, actually.
It's World Goth Day and Robert Smith is wearing make-up for the first time in 18 months. 'I don't go out like this,' notes the singer, songwriter and only constant member of The Cure. 'I couldn't even find my make-up yesterday to come up here.'
'Up here' is London – brought up in West Sussex, Smith has lived quietly on the south coast for years now. More specifically, 'up here' is a function room high up in the Royal Festival Hall. Smith has dug out his lippy and driven up to town today because he's the latest musical demigod to curate the Southbank Centre's annual Meltdown festival, a task that's previously fallen to David Bowie, John Peel, Patti Smith, MIA and Smith's '80s nemesis, Morrissey.
Robert Smith is famous for three things: wearing make-up, having big hair, and writing and singing some of the loveliest songs in the English language. His festival line-up includes Placebo, Nine Inch Nails, Deftones and My Bloody Valentine. It's a who's who of what he's described as 'alternative popular music': a generation inspired and influenced by The Cure's dreamy, spiky pop. After all, who'd turn down an invitation from the guy who wrote 'Boys Don't Cry'?
Meltdown is why Smith is doing press: this is only his second interview in the last five years. Not that he's reticent. In fact, he's a talker – voluble, combative, nostalgic, even occasionally blokey – despite being worn out after a (relatively) early start. 'These aren't my hours,' he warns. 'I normally go to bed between five and six in the morning and get up between one and two.'
I'd half-hoped he'd show up in a white tracksuit and aviators, but no: apart from the voice, you'd struggle to pick him out of a line-up of Robert Smith lookalikes (of which there are many). Lipstick? Check. Eyeliner? Check. Massive nest of frazzled black hair, slightly greying? Oh yes. Big black overshirt, silver earring, crystal bracelets, heart pendant... basically, it's a very Robert Smith outfit. Some call him The Gothfather. Not that he's having any of it.
You've had a rocky relationship with the word 'goth'. Does it have anything to do with you?
'Not really! We got stuck with it at a certain time when goths first started. I was playing guitar with Siouxsie And The Banshees, so I had to play the part. Goth was like pantomime to me. I never really took the whole culture thing seriously.'
But you're a goth icon! You've spent the last 35-plus years wearing black outfits and make-up!
'It's just a theatrical thing. It's part of the ritual of going on stage. Also there is the prosaic reason: I have ill-defined features and naturally pale skin. I mean, not at the moment, because I unfortunately fell asleep in the sun yesterday – very un-goth.'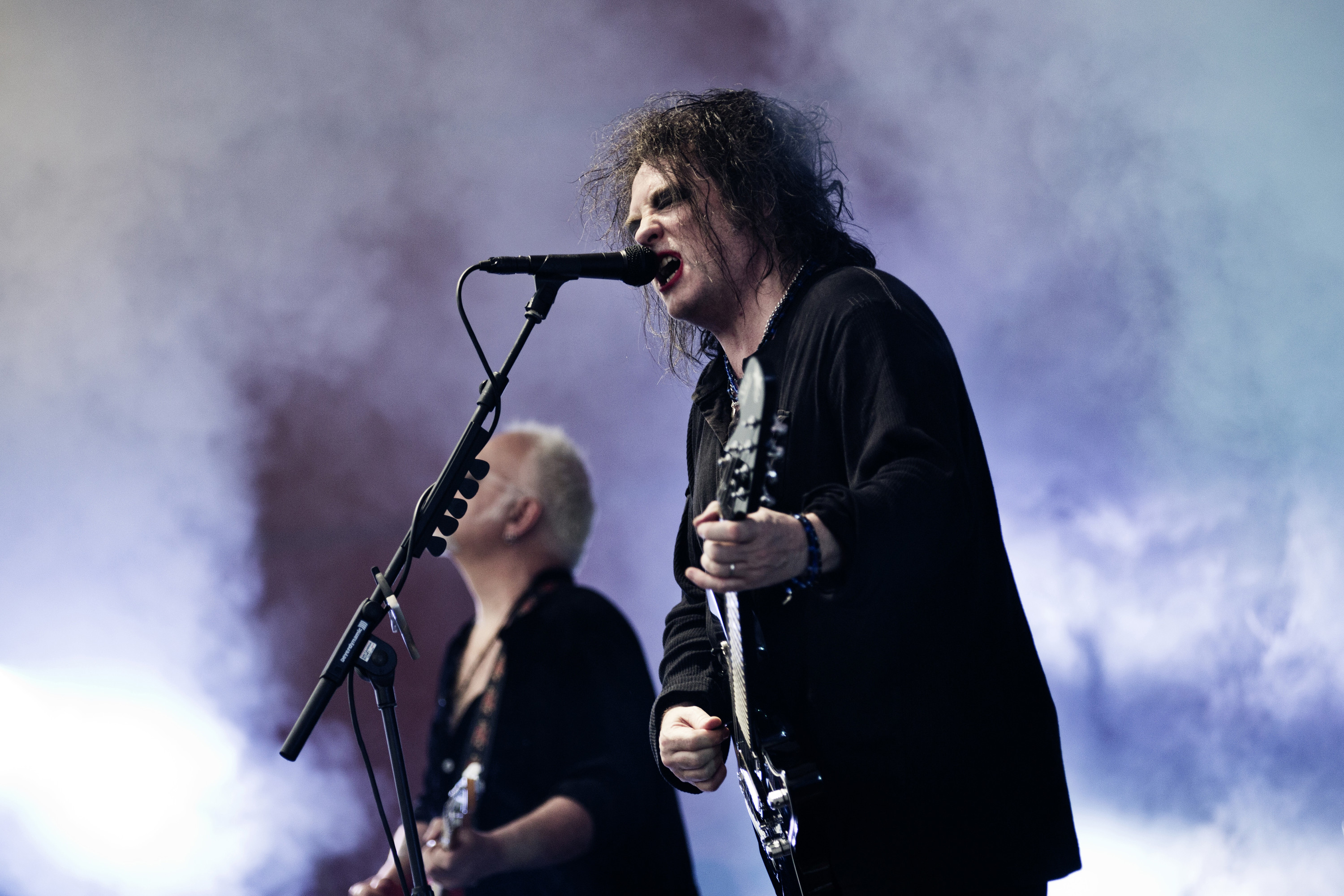 What about all your fans who do identify as goths?
'Every goth I've ever met has been very nice, you know? As a subculture, I think it's full of wonderful people. But I have never liked what's classified as goth music.'
If you went to a proper goth club, you definitely wouldn't hear 'The Love Cats'.
'No. When it first started up, I used to go to [seminal goth club] The Batcave with Steven Severin [co-founder of the Banshees and Smith's bandmate in side project The Glove]. But I only went a handful of times, mainly because the bar was open till two in the morning.'
You lived in London back then, right?
'Yeah, I lived in Maida Vale for a few years in the '80s. I was young enough to enjoy it, but I equated London with a particular lifestyle, which wasn't a very healthy lifestyle. When I wasn't touring I needed somewhere that was very quiet and sort of retirement home-y. I got married in 1988 and moved to the south coast, and I'm still there. There are certain aspects of London I miss: the late-night stuff, the cultural side of living in a big, international city. But I'm not moving back!'
Does being in the city mean you get approached more by fans?
'I kind of expect it when I go out. Living where I do, I've got out of the habit of being on my
guard, because I've become part of the furniture. But sometimes if I want to go and see something and be part of the audience, it becomes difficult. I went to the London Dungeon with one of the younger ones [Smith's nephews and nieces] and I became part of the entertainment. They sort of drew me into the show.'
Let's talk about Meltdown. Have you been to Meltdown shows as a fan before?
'I came to see Bowie when he put on his Meltdown [in 2002]. I saw all his [Meltdown] shows, actually. And I saw Tricky one year. I think the curator was… Oh, I'm terrible. Reggae bloke, wears a tinfoil hat.'
Lee 'Scratch' Perry?
'Yes! I saw Tricky at that festival. It was one of the weirdest backstages I've ever been to in my life – you could cut through the smoke with a knife. So yeah, I've been to a few over the years, and it's an honour to be able to put it together.'
Does it feel weird doing something like this solo, not as The Cure?
'I've never done anything this public where it's just me. It wasn't how I intended it at all – it was going to be The Cure's Meltdown. But this big Hyde Park show came up at the same time and they were very iffy about exclusivity, so it became my Meltdown. It's actually a good thing, because it would have been utterly impractical to have a five-piece curating a festival. We can't even agree what to listen to on a tour bus.'
A lot of the bands you've picked are from the same sort of era and genre. Was that deliberate?
'I wasn't trying to be everything to everyone. I listen to loads of stuff, and none of it's suitable for Meltdown – if I started to bring it all in, it'd be a right hotch-potch. So I limited it to bands that were really great live bands. I've always been drawn to more emotional music, and they all wear their hearts on their sleeve.'
They're major acts too.
'I went on Wikipedia and looked at everyone else's line-ups and thought: Right, I'll just aim ridiculously high. So my first invitation was to The Rolling Stones. They knocked me back,
but my next shortlist of acts all said yes, which I was incredibly honoured by.'
You announced Frightened Rabbit for the line-up a month before the tragic death of their frontman Scott Hutchison. How did that make you feel?
'It's awful. They were one of the bands that I was really, really looking forward to seeing. I've been listening to them for ten years. I've never met him, but I feel I know him because of his voice.'
I've heard that you want to watch every single band at the festival. Is that possible?
'Theoretically it's possible. I'm not sure if it's physically or mentally possible, but I intend to try. How I will feel by day six, I'm not sure.'
And what are you planning for your own show: Curætion 25?
'The show that I'm constructing for the final night is utterly different to anything we've done for a long time. There was something on the website saying the audience is encouraged to stand. I was like, hold on! I'm putting together a show that is utterly morose! Hyde Park's a big festival vibe, Meltdown's going to be two hours of doom and gloom. We probably won't be playing the big singles.'
Did you expect to still be playing shows at all, at nearly 60?
'No. If I had ever been intent on being the number one band in the world and was still relentlessly banging my head against that particular wall, I would hopefully be dead – and if not, I would just be a moron. The process was what I enjoyed: to be an artist, if I want to be poncy about it. Everything The Cure's ever done is purely selfish. I've only got one life, and I should really be doing stuff that brings me satisfaction. Anyway, one day my hair will all fall out and I won't look gothic any more. So just wait for that.'
Robert Smith's Meltdown is at the Southbank Centre. Fri Jun 15-Jun 24.
Read more about Meltdown Festival
Curated by the grand master of gloom himself, Robert Smith, the Southbank Centre's twenty-fifth annual Meltdown festival is a heady celebration of alternative music in all its kohl-eyed glory.
Support Time Out
We see you're using an ad-blocker. Ad revenue is Time Out's main source of income. The content you're reading is made by independent, expert local journalists.
Support Time Out directly today and help us champion the people and places which make the city tick. Cheers!
Donate now