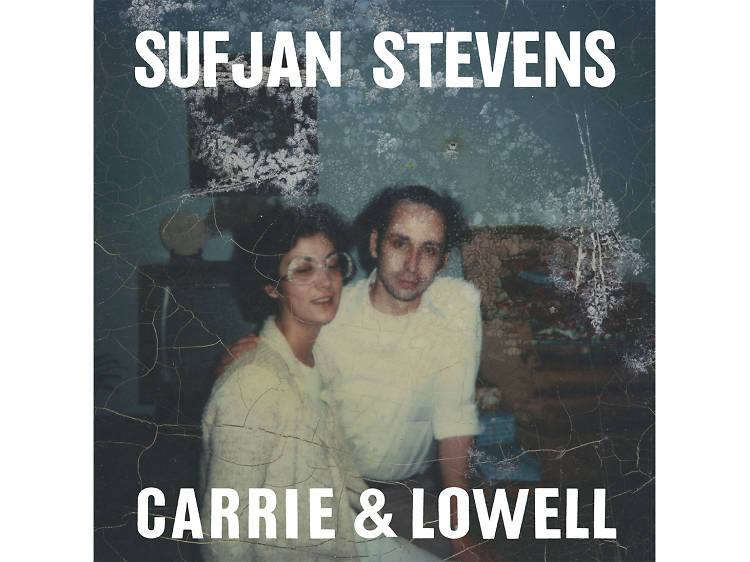 Sufjan Stevens – 'Carrie & Lowell'
They say you can't go home again, but on the face of it Sufjan Stevens does exactly that on seventh album proper, 'Carrie & Lowell'.
It's a return, of sorts, to the one-man indie-folk that was his bread and butter before the sumptuous 'Illinois' and flailing electronic lunacy of 'Age of Adz'. And it's also a record inspired by home and memories of it: 'Carrie' is Stevens's late mother, whose life and death haunts the album (Lowell, his stepdad, is a more ephemeral figure).
'I forgive you mother, I can hear you… you'll never see us again,' he coos on opener 'Death with Dignity', over brightly plucked acoustics. It is an unbearably sad moment, and not the last on the album, yet 'Carrie & Lowell' isn't the magnum opus of stripped-back bleakness you might be bracing for.
For starters, it's only superficially a folk record. It's a quiet record on which acoustic instruments tend to be the loudest thing. But beneath the sparkling guitars lurk lush electronic disturbances: distorted pianos, pulsing machine percussion, eerie ambient washes. At its most out there, as on 'Fourth of July', 'Carrie & Lowell' sounds closer to Tim Hecker or Pantha du Prince than it does to Stevens's own 'Michigan' or 'Seven Swans'.
And though death informs it, it never overwhelms it: tunes like 'Should Have Known Better' or 'Eugene' are more excavations into hazy childhood memories of Carrie than laments for her passing. And Stevens's sense of whimsy blunts the bleakness: the presumably allegorical 'Fourth of July' sees him breathily mourning a series of deceased animals, while the suicidal lyrics to 'The Only Thing' are delivered with a breathy, wide-eyed wonder.
There's also plenty of characteristically lovely coyness about his religion and sexuality, with the rather startling line 'you checked your texts while I masturbated' (on 'All of Me Wants All of You') surely destined to be quoted in every review. Despite soul-baring moments, it almost feels like we learn more about Carrie than we do her son; he remains a beautiful enigma.
Buy 'Carrie & Lowell' on iTunes | Buy 'Carrie & Lowell' on Amazon