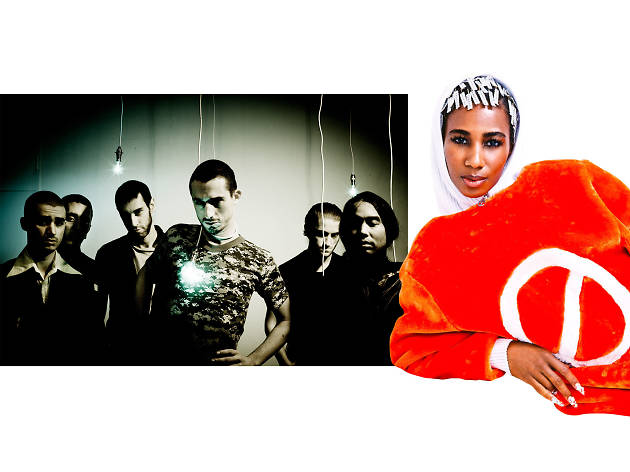 Tough times: why it's never been harder to make a living from music
Low revenues from streaming and sky-high rents present enormous new challenges for musicians, say NYC's Santigold and London's Fat White Family
Santigold
When Santigold declares herself 'pretty major' on new single 'Can't Get Enough of Myself', it's hard to disagree. Brooklyn-based Santi has been away for a few years, but her new album '99¢' is a striking return for a woman responsible for some of the past decade's most intriguing pop. '99¢' is a canny dissection of consumerism and creativity – right down to the shelf-ready Santi on the sleeve. It's also one of the most giving, hooky and effusive and playful records since Tune-Yards's 'Nikki Nack' in 2014.
Why is the album called '99¢'?
Santigold: 'Because a lot of the songs are about commercialism, consumerism and narcissism – basically all the "isms" that sum up where our culture's at. Everything's become so disposable and undervalued. Social media means we approach our daily lives like marketing. So I decided to put myself shrink-wrapped on the cover and call it "99¢". I made myself real cheap!'
What do you think has caused this disposability?
S: 'There's too much information out there, which makes our attention spans real short. Streaming is a factor: having every song imaginable at your fingertips definitely takes away some of the specialness. I totally understand why people love it, it's a great convenience. But streaming isn't fair right now. It's not paying musicians properly and that makes it really challenging to make a living.'
As an artist who doesn't score Rihanna-sized hits, how do you make a living?
S: 'Honestly, mostly from licensing and syncs. I have a lot of songs on commercials and TV shows and movies.'
'I make more money from private gigs that my fans don't even get to see'
How about touring?
S: 'I don't make tremendous income from touring. I make more money from private gigs that my fans don't even get to see. Music is in a really strange place. You have to scramble to be an artist now.'
With licensing, where do you draw the line? Is there any advert you'd turn down?
S: 'I draw the line at fashion brands I don't like. And I don't wanna be on an ad for, like, yeast infection medicine or constipation medicine!'
Do you think social media helps you as an artist?
S: 'I really struggle with it because it's not my natural instinct to share everything I'm doing and package it like I have the funnest life in the world. But I'm gonna try harder. That's what my new song "Run the Races" is about: knowing that if I want to succeed as an artist in this era, I've got to play the game. I've gotta be better at social media or else I'll just write myself out of the equation.'
You should set yourself achievable goals. Maybe three tweets a day?
S: 'Three tweets? What the fuck do I have to say to the public three times a day? Most days I'm just struggling to stay above water. I've got a one-and-a-half-year-old baby and a record coming out. If I can squeeze in a shower, that's a great day.'
'99¢' by Santigold is out on February 26.
Fat White Family
If you've witnessed one of their frenzied live shows, winced at their hilariously queasy videos or marvelled at the sheer, ragged effrontery of their art school-meets-crack den ambience, you'll know that south London urchins Fat White Family are the best rock 'n' roll band in London. Their new album. 'Songs for Our Mothers', sounds ever so slightly cleaner sonically, yet builds on the levels of attitudinal squalor they're known and loved for – taking in, as it does serial killers, murderous totalitarianism or the deadly consequences of austerity. But, as FWF frontman Lias Saoudi points out, the lack of an underground scene in London means it's hard to imagine many more great London rock bands in their wake.
Was 'Songs for Our Mothers' meant to be so timely in its themes?
Lias Saoudi: 'It's just a description of an environment and a way of validating yourself within that environment. It's partly incidental that it ties into things happening now. But it's inevitable: there's so much landfill indie and crap industry fodder at the moment. All these horrible bands like Slaves and Peace and Wolf Alice. All this absolute drivel for angry nine-year-olds. I just wanted to write for adults. Although I don't want to diminish angry nine-year-olds!'
Does art have a duty to disturb on some level?
LS: 'I would argue that those bands I mentioned are irresponsible. They've got a chance to engage with difficult stuff like slavery, free market capitalist fundamentalism, the dilapidation of the NHS… We're creeping into a world of pure agony and I think it's time those ideas were explored. Particularly in a medium like pop music because it's accessible. I was in fine art, but I got disillusioned because the structure was so limiting in terms of who you reached. In music you can just do gigs in a pub. Bands have a chance to be about something.'
'If you're poor, you basically don't exist'
The concept of 'underground' seems to have shrunk away in London, doesn't it?
LS: 'You have to have money and backing now. There isn't a nicely festering underground any more. It's hard to invest the time it takes. Spending a few years on the dole helps. It makes you understand why you want to do it. And that period of abject uselessness is still very fresh in the memory. Even just a few years ago, there was a healthy squat culture and bars that you could play in. But increasingly, if you're poor, you basically don't exist. Money's now the only thing that matters here. That anger had been building and building and building inside me and the rest of the group. So as soon as we had a bit of a platform, we just wanted to make as much mess as possible. I guess self-abasement is my business!'
How optimistic are you? Do you see any change on the horizon?
LS: 'I've seen London change more dramatically in the last three or four years than it did in the previous ten. It's accelerating. I don't think the tide will turn. I think it's changed for good. It'll be like Paris: a cultural grey spot with all the people who serve the coffee and wipe the arses living in ghettos on the outskirts.'
'Songs for Our Mothers' by Fat White Family is out on January 22.
The best of Bowie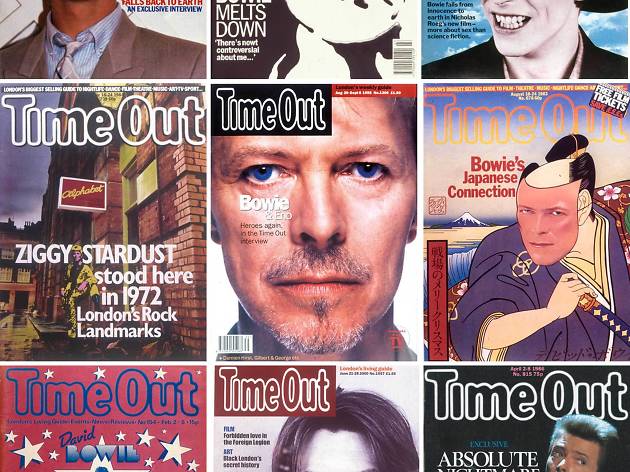 Ever changing, eclectic, irreverent and always one step ahead: in so many ways, David Bowie was the quintessential Londoner. His death this week sparked sorrow and tributes across the world but it was especially poignant for London. We pay homage to one of our most treasured Londoners.