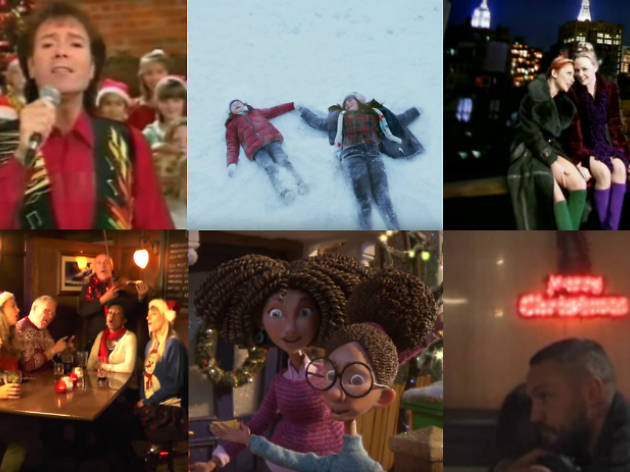 What will be the Christmas Number One? Here's a clue...
...just look for the song that exudes the most Britishness, as we approach our first Brexitmas
Let's face it, this year has been a bit rubbish – but fuck it, it's nearly Christmas, and that means one thing: the rosy glow of the Christmas Number One.
One of the best things about the Christmas Number One battle is its predictable unpredictability. It's an exercise in what Brits are both best at (buying stuff) and worst at (voting).
Recent Christmases have seen the Lewisham and Greenwich NHS Choir and The Justice Collective (who raised awareness of the Hillsborough football disaster) crowned festive champs. But rewind back to 2009, in a glorious foreshadowing of the bitterly scuppered Boaty McBoatface fiasco, when the British public rallied to stop yet another X Factor winner, by placing possibly a song containing zero goodwill for all men on the top spot: Rage Against the Machine's 'Killing in the Name'. Or 2000, the year of Bob the Builder's 'Can We Fix It?' – when real-life British adults spent real-life British pounds sending a fictional brickie to the coveted Christmas Number One slot.
Given all that, we can't possibly predict the result, right?
But wait. There's a red, white and blue thread running through the festive tastes of us Brits. What links the NHS, football, rooting for an underdog against an established elite and Bob the Builder? They're British! British through and through. Fish & chips, pie & mash, holidays in Spain, Union-Jack-tattoo-on-the-back-of-your-sunburnt-calf kind of British. What we love to see most of all at Christmas is the idealised image of Britishness radiated back at us. With sleigh bells.
So, in the year that witnessed the return of nationalism to the global stage, from Britain and Trump to the various populist nationalisms on the continent, only the most dyed in the wool, cut-me-and-I-bleed-tea Christmas song can emerge victorious. Here's our round up of those vying for Brexit Britain's Christmas Number One.
Vaults – 'One Day I'll Fly Away'
The John Lewis Christmas advert is one of the season's major events, responsible for catapulting Gabrielle Aplin and Lily Allen to the top of the tree, thanks to a combination of well-known pop covers and heart-rending festive narrative. This year Vault's cover of Randy Crawford's '80s hit 'One Day I'll Fly Away' soundtracks the tale of Buster the Boxer, who makes all the right doggy noises whilst other critters enjoy a trampoline, before getting the first bounce on Christmas morning.
John Lewis has gone for the pet angle – a strong choice. We Brits love our pets more than our extended family, and probably more than our siblings. John Lewis has slipped off the pace in recent years following two number ones before Christmas in 2012 and 2013, but could this be their year?
James Corden – 'The Greatest Gift'
Teaming up with Sainsbury's to soundtrack the oh-so-relatable story of an overworked guy with a bitch of a commute who wants to clone himself to have more time with his family at Christmas, James Corden is going in hard for the naww factor. But will the boy-done-good who ran away to America still be able to win over British hearts? No, because the song itself sucks. The crappy hook – 'The greatest gift that I could give is me' – makes anyone singing it sound like a prick. Added to that, it's just not memorable, and if listeners don't know the words after the first play, a song is doomed to Christmas oblivion.
Then again it does have that 'Me, Myself and I' attitude that the voting public deployed to such spectacular effect this summer.
M&S has told the tale of the under-appreciated Mrs Claus, plus included a joke at Australia's expense and without a doubt cast Helen Mirren lookalike Janet McTeer in the lead role to evoke that other British passion: Her Maj. As British as it is, however, without lyrics, the soundtrack hasn't got a chance of achieving Christmas glory. Sorry, Liz.
James 'Shinny' Davenport – 'Christmas Number 1'
Mancunian Davenport is going for Christmas Number 1 with this ambitiously titled festive single. The song seems to be about getting smashed, having a blazing row with your other half, waking up feeling rough as houses, before getting smashed again the next day and making up. Though us Brits love an underdog, the sloppy production on the track gives Davenport slim-to-no-chance of getting airplay. Alas, whilst Shinny scores top Brit points for distilling a quintessentially British weekend, the song is just too cheesy. And cheese is probably French and didn't we just vote ourselves out of all that stuff?
Okay, okay, the winner hasn't been announced yet, but if Boaty McBoatface has set any kind of precedent, it will be Honey G. After all, given a choice of options, the British public loves voting for the most enduringly painful option. Anyway, what has been announced is that Ed Sheeran will be penning the winner's song this year. Mr Sheeran is the image of an awkward British sixth former, and probably still has one of those weird shell necklaces guys used to wear with flame-decal baggy jeans and blonde-tipped hair back in the noughties. Us Brits adore awks – it's our national sport – so what could be better for the top spot than a Sheeran hit, performed by a posh recruitment consultant pretending to be a rapper from 'Norf Wheezy'?
The proud British public loves nothing more than seeing desperately untalented people trying to sing, act, dance or do anything on a screen. We also adore ordinary (meaning weird) people getting off their arses and taking action, so the catchy, sleigh-bell filled 'JC 4 PM 4 ME', recorded by Jeremy Corbyn activists, might just be in with a chance.
Q: What's more British than the Spice Girls? A: A Facebook campaign to get their 1995 Christmas hit '2 Become 1' back to festive glory, 20 years after it first topped the charts, that's what. For Brits, everything was better 'back then', and that goes for everything – even if it's knowing whether your neighbours have an outside toilet. Nostalgia is our modus operandi, and in the year when the public decided that decades of post-war European cooperation was a complete waste of time, perhaps that unthinking national nostalgia will send our beloved Spice Girls back to the top spot?
Gareth Malone – 'A Great British Christmas'
Gareth Malone is back, and he's brought a shitload of choirs with him to tackle the Christmas spot once again, following the success of his 2011 collab with Military Wives, 'Wherever You Are'. This year he's recording a whole album – 12 bites at the cherry, right? – and, whilst the lead single is still under wraps, you can bet your oversized red sock that Malone will be in the running for the Christmas crown.
Malone is the kind of person that, if he was your brother, you'd hate him: he looks like he doesn't drink, smoke, swear or listen to anything with drums in it. But he's perfect for Christmas: he's the kind of guy who'll stay with nana when everyone else is busy getting sloshed. He's the kind of guy who'll wear a festive jumper without a trace of irony. He's the kind of guy who will make tea for everyone, every time. He's the kind of impossible guy that doesn't get anyone a gift card for Christmas – not one single niece – and probably does all the washing up on the big day.
The verdict:
Under the logic we've revealed here, our ideal Brexitmas Number One will be something like: a choir of overworked cabbies waiting for a delayed train, singing about their pet dogs, taking shelter in a red phone box because it's pissing it down. They're all on the way to visit their nans at the seaside, where they'll get fish, chips and mushy peas and wear a little Union Flag sun hat tied in a knot in all four corners even though it's winter. They'll go down the Red Lion and talk about how they got burnt over summer 'even right here, in the UK!' They'll call off the big move to Alicante and shout 'Gawd bless' to Her Maj for frustrating the knavish tricks of villains the world over and guiding us to Brexit, making it home just in time to wrap little Timmy's Basildon United football shirt and stick it under the tree on Christmas Eve.
In the absence of such an opera, it'll probably be one of those adverts, won't it?
But what about classic Xmas songs...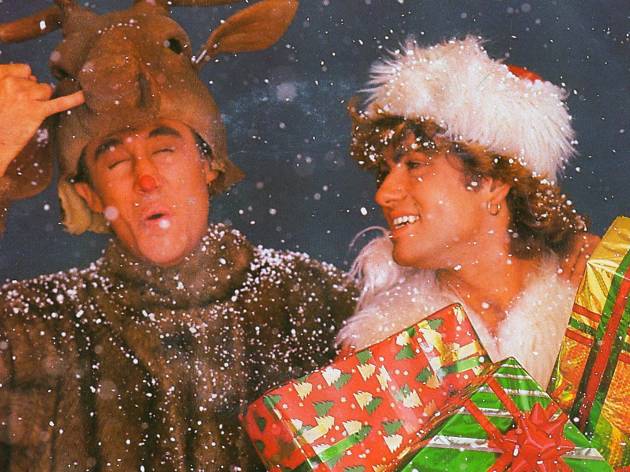 As Noddy Holder once screeched dementedly: it's Christmas! You might have heard some Christmas songs enough times to make you want to perforate your eardrums with a candy cane, but many festive pop songs are great works of art.