The best and worst James Bond movies: a ranked list (slide show)
In celebration of the new Skyfall, we return to all 22 official James Bond films in search of the perfect spy cocktail, rating the best and worst Bond girls, 007 theme songs and leading actors with the license to kill.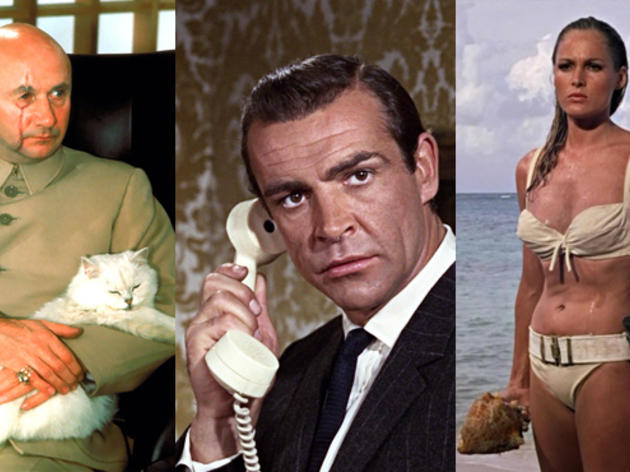 1/23
It's been 50 years of James Bond: five decades of gadgets, glamour and the coolness of a concept that shows no signs of dying. But does one installment tower over them all? Time Out's film critics have revisited childhood memories and six swarthy, eyebrow-arching actors—from Sean Connery's iconic pioneer to Daniel Craig's tough remodel—to consider all 22 of the official Eon entries (we're omitting 1967's intentionally silly Casino Royale and 1983's independently made Never Say Never Again, a semiremake of Thunderball). How do all the Bond girls stack up? How about those syrupy theme songs? (Delve into our Spotify playlist for an aural taste.) We give these components a shaken-not-stirred "Martini rating," as well as an overall ranking for the movie itself. In celebration of the new Skyfall, join us as we count backward toward number one with a bullet. And if your favorite spy hasn't gotten enough love, tell us in the comments. Click the right arrow on the image above to see our rankings of all 22 James Bond films.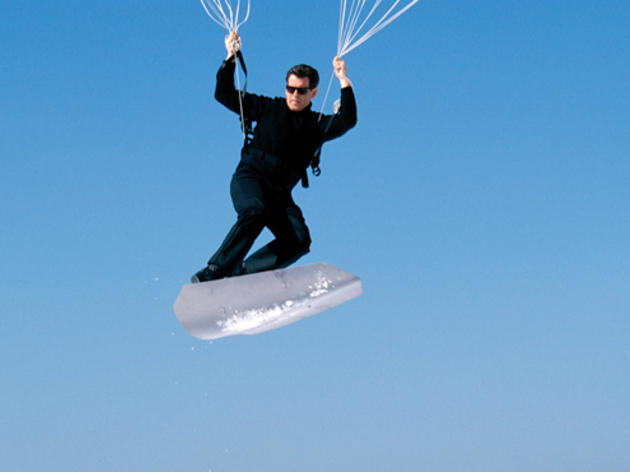 2/23
22. Die Another Day (2002) Pierce Brosnan bids farewell to Bond with a stinker that can fairly be called the franchise's Batman & Robin. There's a kernel of an interesting idea in the plot, about a North Korean general—who remakes himself through surgery as a white Anglo businessman—with plans to harness the sun's rays for a destructive laser. Actually, no: There's nothing not ridiculous about that, whatsoever. Ceaseless digital spectacle (parasailing on a tidal wave is a series nadir), barrel-scraping gadgets (an invisible car?) and quite possibly the worst Bond girl ever make this a cringingly tough sit. When Madonna is your most likable performer (she cameos as a fencing instructor), you know something is majorly off. Theme song: A few eye-rolling lyrics aside ("I'm gonna avoid the cliché"—more like milk it, hon), Madonna's blood-pumping title tune is one of the film's few saving graces.Martini rating:           The Bond girl: Halle Berry's Jinx, a sassy NSA agent, is 100 percent arch line readings and calculatedly sensuous poses without a shred of genuine allure.Martini rating:           The killer moment: Moneypenny consummates her flirtatious relationship with our polyamorous secret agent using Q's virtual-reality simulator.—Keith Uhlich  Watch this James Bond movie now on iTunes Watch this James Bond movie now at Amazon Instant Video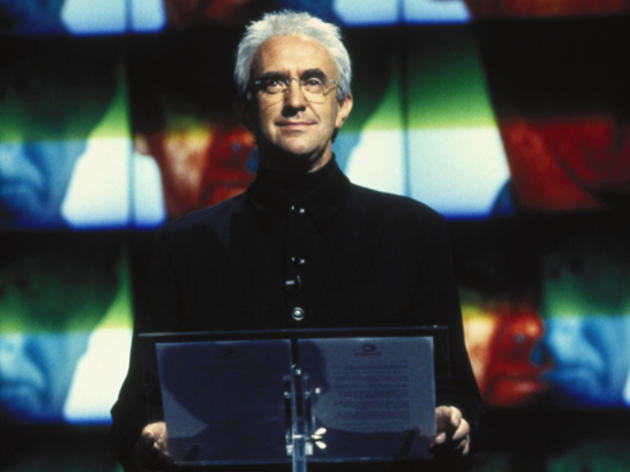 3/23
21. Tomorrow Never Dies (1997) The second Brosnan Bond was a troubled production, with numerous script rewrites, openly unhappy performers (Teri Hatcher took her frustrations to the press) and the absence of hands-on producer Albert R. Broccoli, who'd recently passed away. So it's kind of a miracle the movie is as watchable as it is, even though it's still a pale shadow of Brosnan's inaugural GoldenEye. Monomaniacal media mogul Jonathan Pryce is a splendid villain—an unholy amalgam of Rupert Murdoch and Bill Gates—who's out to use his headline-blaring influence to start a war between Britain and China. And there's a terrific central action scene, just the right mix of comedy and thrills, involving a motorcycle-helicopter chase through Saigon's slums. Theme song: A bizarre mix of torch song, soaring ballad and coffeehouse improvisation, the lackluster title tune by Sheryl Crow immediately dies, and not tomorrow either.Martini rating:           The Bond girl: Hong Kong martial-arts superstar Michelle Yeoh is more equally matched with her male counterpart in terms of brain and brawn than past heroines, and she's got a hell of a roundhouse kick.Martini rating:           The killer moment: Bond and his leading lady descend the outside of a skyscraper with the aid of a behemoth billboard of Pryce's baddie.—Keith Uhlich  Watch this James Bond movie now on iTunes Watch this James Bond movie now at Amazon Instant Video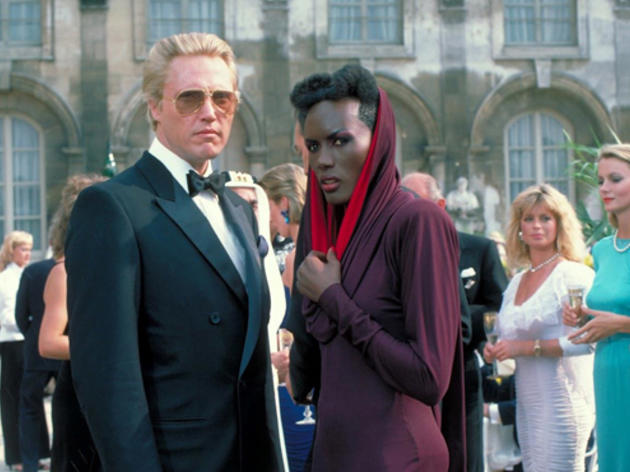 4/23
20. A View to a Kill (1985) How do you screw up a Bond film in which both Christopher Walken and Grace Jones plot to flood Silicon Valley by blowing up the San Andreas Fault? Here's your blueprint. The constant quips of 58-year-old Roger Moore come off like ossified shtick, and his chemistry with Bond girl Tanya Roberts is nonexistent. Then there's Walken's bleach-blond Nazi superman, Max Zorin, who's more of a petulant child than a terrifying psychopath. Aside from a vertigo-inducing climax involving a zeppelin and the Golden Gate Bridge, the action scenes are a mishmash of shoddy stunt-doubling and eyesore rear projection. Not the best note to go out on, Rog. Theme song: The only Bond theme to go No. 1 on the Billboard Hot 100, Duran Duran's "A View to a Kill" is a glammy, delirious piece of '80s cheese.Martini rating:           The Bond girl: Roberts's bland geologist pales next to the snarling, statuesque Jones, who can kill with a camptastic glare as much as a poisoned fishing rod.Martini rating for Jones:           The killer moment: Bond snowboards down a mountain to the Beach Boys' "California Girls"—a cheeky summation of the Moore era if ever there was one.—Keith Uhlich  Watch this James Bond movie now on iTunes Watch this James Bond movie now at Amazon Instant Video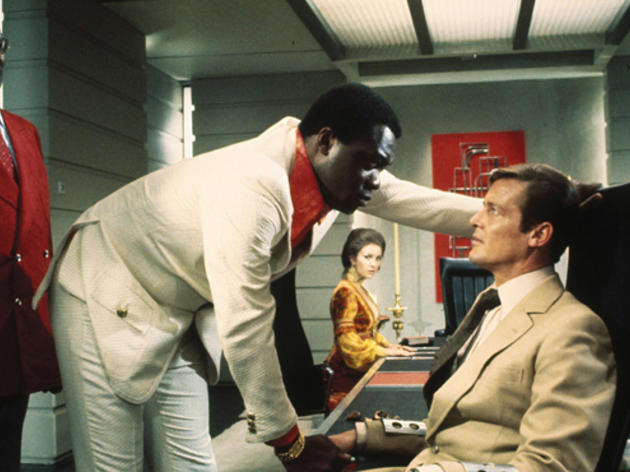 5/23
19. Live and Let Die (1973) Roger Moore started playing secret agent Simon Templar on TV's The Saint in 1962, the same year that Connery ordered his first onscreen shaken-not-stirred martini. In fact, Moore had been suggested as a potential Bond from the get-go. So the London-born actor would seem like a wise choice to take over the reins—a notion that his disastrous first Bond film was apparently hell-bent on disproving from start to finish. Moore's interpretation of 007 as a mobile cardboard cutout isn't helped by the fact that the producers decided to turn his inaugural entry into a blaxploitation movie, spiced with offensive ooga-booga voodoo scenes and cringeworthy comic relief. We'd have been happy to let this one die, frankly. Theme song: It's ironic that one of the worst Bond films has one of the franchise's best theme songs, courtesy of Paul McCartney and Wings in full pop-genius mode.Martini rating:           The Bond girl: Could Jane Seymour's psychic tarot-card-reader Solitaire be any sexier? No. Could she be a little less bland overall? Definitely.Martini rating:           The killer moment: A fellow agent encounters a parade of New Orleans mourners: "Whose funeral is it?" "Yours!"—David Fear  Watch this James Bond movie now on iTunes Watch this James Bond movie now at Amazon Instant Video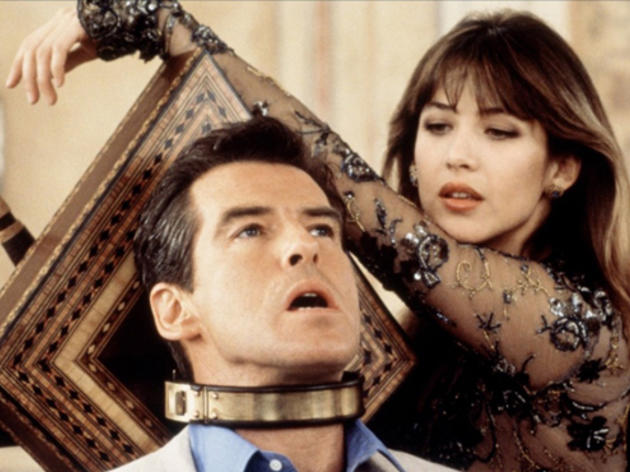 6/23
18. The World Is Not Enough (1999) Having exhausted the novelty factor of a new 007 by this point, you can feel the producers straining to come up with ways to keep viewers interested in Bond 19: Here's an even more extreme version of a ski chase, one with helicopters, too. Our oil-pipeline plot is torn straight from today's headlines. Look, there's a new Q, and it's John Cleese. Pierce Brosnan brings a feline grace to the role, but even with Robert Carlyle playing an unfeeling terrorist—literally, as the bullet in his head means he can't experience pain—this is a Bond film on autopilot. An above-average entry would have been enough. Theme song: Garbage's alt-rock take on what otherwise sounds like a typical Bond theme is passable but wanting.Martini rating:           The Bond girl: Sophie Marceau's bad girl brings the right mix of exotic beauty and predatory danger; the less said about Denise Richards's nuclear physicist (?!?), the better.Martini rating:           The killer moment: The precredits set piece has Bond chasing down a comely assassin via speedboats and an explosive hot-air balloon.—David Fear  Watch this James Bond movie now on iTunes Watch this James Bond movie now at Amazon Instant Video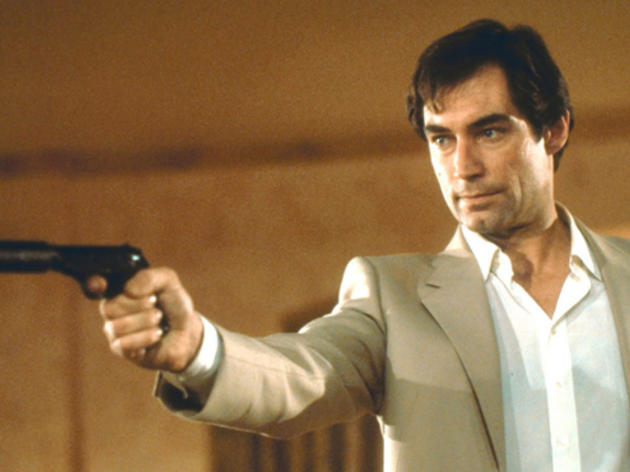 7/23
17. The Living Daylights (1987) Roger Moore recedes into a mild, safari-suited haze; Timothy Dalton arrives to fill the tux. There's no denying the vigor Dalton brings to the action sequences (he did many of these stunts himself), and an aging franchise suddenly feels high-octane. But couldn't the dour actor have found his way to a little charm? No one leaves the theater shaken or stirred. Real-life world events have since transpired to make this movie's endgame laughable: Bond joins with heroic mujahideen forces in the Afghanistan desert (pay no attention to those long beards and terrorist intentions) to foil a Soviet counteragent. Theme song: After the global success of Duran Duran's "A View to a Kill," producers thought it wise to go with Norwegian pretty boys A-ha, but the resulting title number (composed with John Barry in a reportedly spiteful collaboration) sounds thin.Martini rating:           The Bond girl: Bobbleheaded Maryam d'Abo, playing a Czech cellist and bedroom pawn, never seems comfortable with Dalton's hard-ass 007 (is it even possible?), plus she's especially helpless during the chase sequences.Martini rating:           The killer moment: Bond and an evil henchman hang off the back of a cargo plane's open hatch while soaring thousands of feet over the desert. Oh, and there's a bomb onboard.—Joshua Rothkopf  Watch this James Bond movie now on iTunes Watch this James Bond movie now at Amazon Instant Video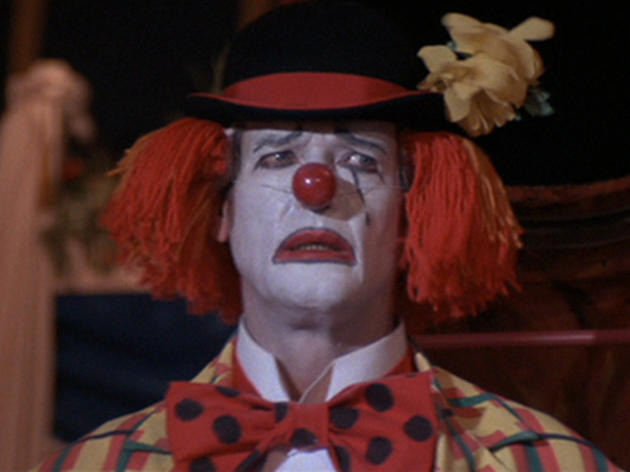 8/23
16. Octopussy (1983) Merely the idea of a movie named Octopussy proved more suggestive than watching the final product, a formative sexual disappointment for many '80s teens. This was the vehicle that put Roger Moore's Bond in a clown costume (redundant?) and also had him running around India searching for priceless Fabergé eggs and the jewel thief who might precipitate a nuclear war. Tennis pro Vijay Amritraj makes for an inert sidekick, while Gigi's Louis Jordan brings such a swishy suavity to his villain that the whole movie threatens to cave in on its own masculinity. For the first time in franchise history, Bond seemed thoroughly exhausted on every front. Theme song: Adult-contemporary crooner Rita Coolidge moans her way through series embarrassment "All Time High," a song with lyrics so awful, Broadway legend Tim Rice should have returned one of his Tony Awards in shame.Martini rating:           The Bond girl: It's a tribute to Maud Adams's timeless glamour and good nature that this was her second Bond film, almost a decade after The Man with the Golden Gun. Still, her character is a relic of diaphanous female intrigue.Martini rating:           The killer moment: Undeniably, thrills arrive with Bond's daring escape via personal mini-jet; he pilots it through an open hangar at 150 miles per hour.—Joshua Rothkopf  Watch this James Bond movie now on iTunes Watch this James Bond movie now at Amazon Instant Video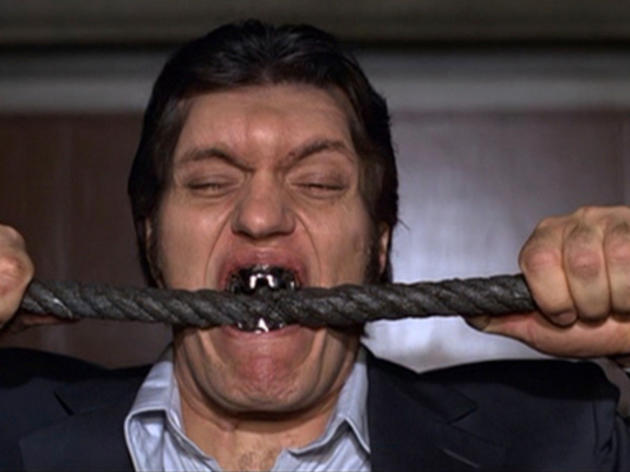 9/23
15. Moonraker (1979) Cashing in on the Star Wars craze, Bond heads to outer space to foil the plans of an apocalyptic industrialist (Michael Lonsdale) who wants to repopulate the world with Barbie and Ken dolls. Dozens of jumpsuited bad guys dangle from zero-gravity wires, yet the movie rarely gets off the ground—here's where Roger Moore's arched eyebrow becomes campier than a pitched tent. Still, the movie inspires awe in its massive metal sets, designed to be exploded (why have merely one space shuttle launching from a secret Brazilian hangar when you can have six?), while composer John Barry unleashes some of his grandest orchestral swells. Theme song: After Kate Bush declined the gig (damn you, cruel world), Shirley Bassey returned to the franchise for her third outing, following Goldfinger and Diamonds Are Forever. Alas, she never gets the chance to truly vamp.Martini rating:           The Bond girl: Lois Chiles, playing an undercover CIA agent, benefits from a flinty demeanor and some women's-lib speechifying, yet she's seriously undermined by her character's name, Holly Goodhead.Martini rating:           The killer moment: High above Rio de Janeiro's Sugarloaf Mountain, Bond and returning baddie Jaws (Richard Kiel) grapple while hanging from some shoddy-looking cable cars.—Joshua Rothkopf  Watch this James Bond movie now on iTunes Watch this James Bond movie now at Amazon Instant Video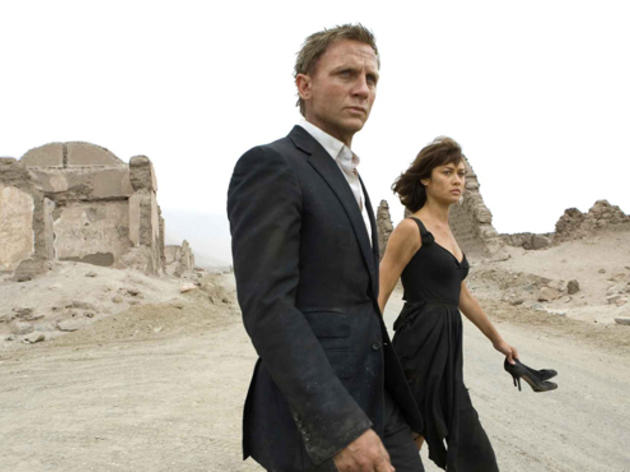 10/23
14. Quantum of Solace (2008) Daniel Craig's second go as a more bruised and battered Bond suffers from being intricately connected to Casino Royale: Even though it's a strict continuation, the movie is simply not as fresh. Out to avenge his beloved Vesper Lynd, Bond follows the trail to evil environmentalist Dominic Greene (Mathieu Amalric). Unlike the clean, cohesive Casino, the action sequences here look like jumbled rejects from one of Paul Greengrass's Bourne movies (don't get us started on that phony-looking parachute drop). And the aching emotional undercurrents that Craig brought to the role his first time out are almost entirely absent—the better, we suppose, for the character to laughably seduce the head-slappingly-named Strawberry Fields (Gemma Arterton). Theme song: The individual elements of the Jack White–Alicia Keys duet "Another Way to Die" are catchy (throbbing drums, fluttering piano, pounding guitar), but make for strangely unharmonic bedfellows.Martini rating:           The Bond girl: Olga Kurylenko's score-evening Bolivian operative looks great next to Craig's brooding Bond, but arm candy is as far as she goes.Martini rating:           The killer moment: Judi Dench's M: "Bond, I need you back." Bond: "I never left."—Keith Uhlich  Watch this James Bond movie now on iTunes Watch this James Bond movie now at Amazon Instant Video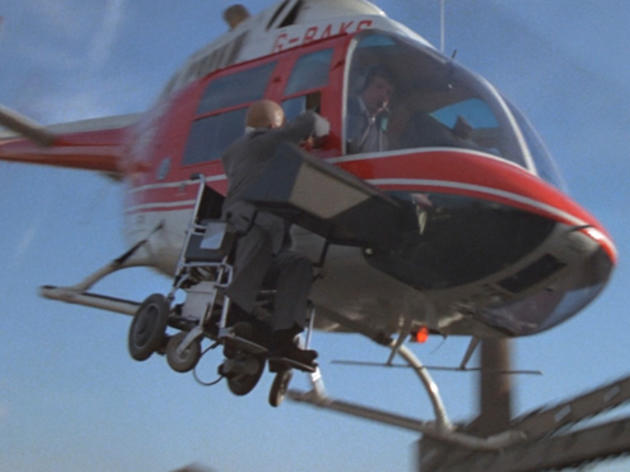 11/23
13. For Your Eyes Only (1981) The ass-cheek-laden poster was more memorable that the movie itself (those are a pair of panties worn backwards, actually). Still, after the space-junky Moonraker, there's relief in this film's return to the basics. Roger Moore's Bond searches for a nuclear sub's tracking device, lost in a wreck at sea. En route to reclaiming what looks like a portable Blaupunkt stereo, he skis over some innocent Italians' picnic lunch, takes out thugs in a hockey rink and scales a mountainside in a windy suspense sequence. Few of the Bond movies approach this film's sunny Mediterranean allure, with beautiful location work in Greece (plus Fiddler on the Roof's Topol as a robust, pistachio-loving comrade). Theme song: Equal parts synth cool and romantic gush, Sheena Easton's title number fits the mold perfectly, subtly modernizing the gig for future New Wavers.Martini rating:           The Bond girl: Fashion model Carole Bouquet is almost certainly the only Bond girl to have worked with Luis Buñuel. Moreover, she has a real character to play: a nostril-flaring hottie avenging the murder of her parents via her wicked crossbow skills.Martini rating:           The killer moment: In a pre-plot amuse-bouche, the opening sequence has Bond dropping wheelchair-bound villain Blofeld from a helicopter into a factory's smokestack.—Joshua Rothkopf  Watch this James Bond movie now on iTunes Watch this James Bond movie now at Amazon Instant Video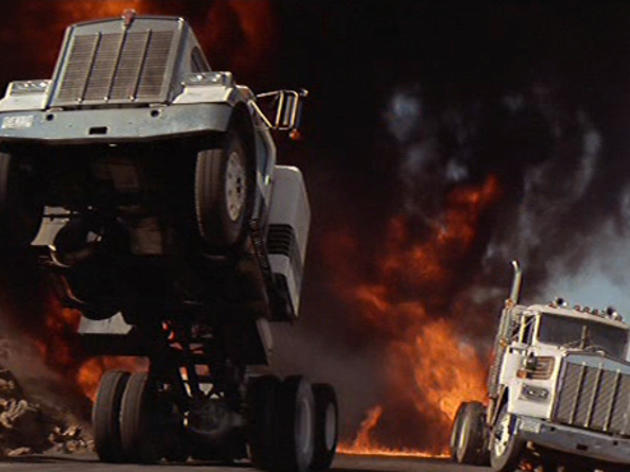 12/23
12. Licence to Kill (1989) Timothy Dalton came into his own with his second and final take on Bond. Licence follows our determined operative as he goes rogue, hunting down a Latin American drug lord (Robert Davi) who literally fed Bond's FBI confidant to the sharks. Dalton's agonized performance (fueled by the character's undying loyalty to his friend) anticipates the darker turn the series would take with Daniel Craig; this is one of the few entries where Bond seems truly physically and emotionally vulnerable as opposed to a pun-toting cipher. Almost every action scene—from the opening skydiving sequence to the finale's gobsmacking truck-convoy assault—is cream of the crop. And a young Benicio Del Toro (playing a henchman) too? It's a sorely underrated entry. Theme song: The Empress of Soul, Gladys Knight, goes straight for our hearts with this soaringly goofy title ballad. Her attempt to out-Bassey Bassey is a sheer guilty pleasure.Martini rating:           The Bond girl: Though hotly pursued by the drug lord's concubine, Bond only has eyes for CIA informant and pilot Carey Lowell, whose salty vocabulary and way with a gun are her most distinctive traits.Martini rating:           The killer moment: A slimy henchman meets a head-popping end in a ship's decompression chamber.—Keith Uhlich  Watch this James Bond movie now on iTunes Watch this James Bond movie now at Amazon Instant Video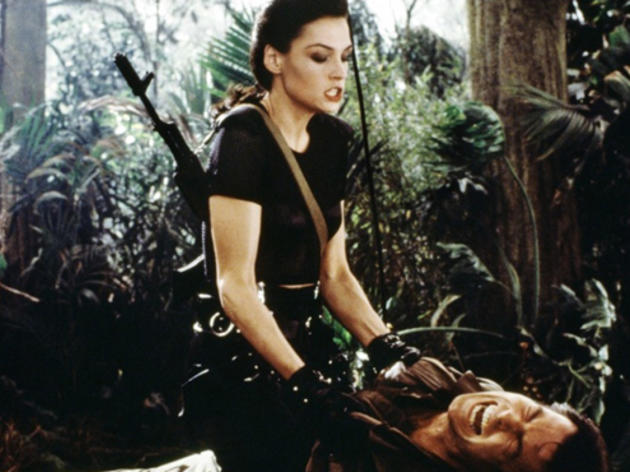 13/23
11. GoldenEye (1995) Pierce Brosnan was originally set to take over 007 duties when Roger Moore was hanging up his Walther PPK in the '80s, but he was unable to get out of his Remington Steele contract. When he finally did step into the role with this 1995 entry, the Irish actor immediately established himself as the perfect bridge between the old and the new: sophisticated enough to sell the franchise's vintage martini-and-tuxedo concept of style, yet sleek and savvy enough for the cyberespionage age. Even the creaky plot involving rogue agents, Cold-War rejects and a remote-controlled satellite seems thrilling and fresh with Brosnan at the helm. Theme song: Tina Turner does her best Shirley Bassey impersonation, but her contribution (cowritten by Bono and the Edge) is less than golden.Martini rating:           The Bond girl: Never mind Izabella Scorupco's mousy computer analyst; we're all about Famke Janssen's Xenia Onatopp and her killer thighs.Martini rating:           The killer moment: Bond deftly avoids a ricocheting bullet without batting an eye—a single gesture that sums up Brosnan's cool.—David Fear  Watch this James Bond movie now on iTunes Watch this James Bond movie now at Amazon Instant Video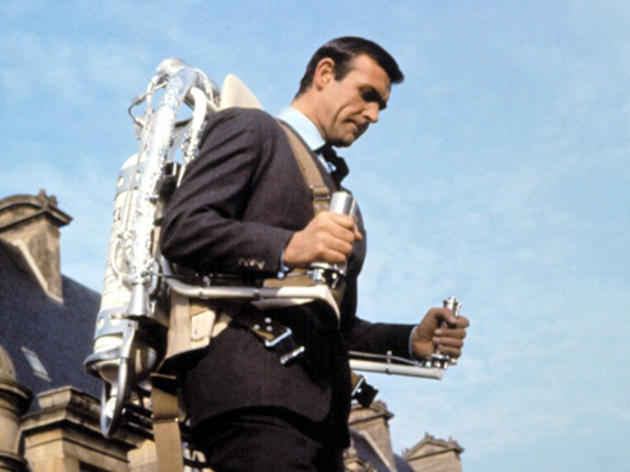 14/23
10. Thunderball (1965) Following up Goldfinger was no picnic, but Sean Connery's fourth outing demonstrated the series' durability, cementing a brash, Playboy-era formula that yielded huge box office (it's still the highest-grossing Bond, adjusting for inflation). Return to it now, and the effort is painfully obvious: Yes, we love spooky underwater sequences involving the conveyance of stolen A-bombs, but must there be endless minutes of them? Regardless, you've got some essential stuff here: the electric chair that incinerates an underperforming villain at a meeting, the swimming pool with sharks, the widescreen luxury. Theme song: Tom Jones, already riding high in 1965 with his theme for What's New Pussycat?, croons an electrifying if schlocky spy song, heavy on John Barry's brass and ominousness.Martini rating:           The Bond girl: Stronger and more sun-kissed than most of her kin, Claudine Auger's Domino represents an early evolution of the archetype, handy with a harpoon gun and a playful match with Connery.Martini rating:           The killer moment: The effect is largely achieved via rear projection, but why do we watch Bond films if not for jet packs? This one launches our hero off a chateau, landing him only feet away from his Aston Martin.—Joshua Rothkopf  Watch this James Bond movie now on iTunes Watch this James Bond movie now at Amazon Instant Video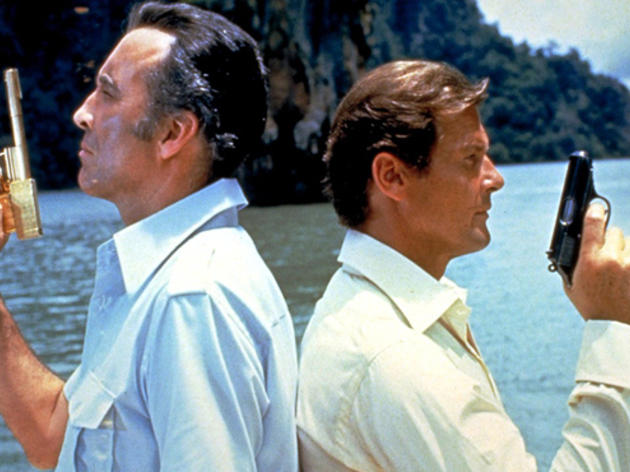 15/23
9. The Man with the Golden Gun (1974) We don't want to say that the Bond films were experiencing franchise fatigue by the time this ninth entry hit theaters. But given its concessions to in-vogue film fads—notably a martial-arts academy sequence lifted from Enter the Dragon—and the return of Clifton James's embarrassing redneck from Live and Let Die, it's clear that the series was beginning to show its age. The campiness that characterized much of the Moore era here becomes a fixture, slowed only by the presence of Christopher Lee as Scaramanga, the world's deadliest assassin. He brings a sense of malevolence to his killer-for-hire that almost makes up for the film's overall softness. Theme song: When was the last time you started humming Lulu's manic theme song? Our point exactly.Martini rating:          The Bond girl: Maud Adams would deliver a better Bond-girl performance in Octopussy nine years later; thankfully, Britt Ekland's Girl Friday picks up the slack.Martini rating:           The killer moment: A final showdown in Scaramanga's trippy funhouse ends its cat-and-mouse game with a Bond "mannequin" that springs to life.—David Fear  Watch this James Bond movie now on iTunes Watch this James Bond movie now at Amazon Instant Video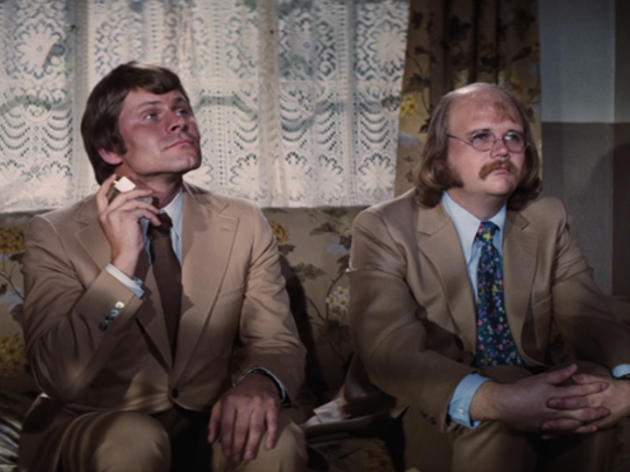 16/23
8. Diamonds Are Forever (1971) With the promise of a 1.25-million-pound payday, Sean Connery returned for another go at the character he had helped turn into a cinema icon. He slips back into the role with ease, a little older but still effortlessly charismatic, even as many of the characters and incidents around him are too camp for comfort. Rocky Horror legend Charles Gray is perfectly, primly malicious as our agent's recurring nemesis Blofeld (this time with a few carbon-copy doubles in tow), though queer-coded assassins Mr. Wint (Bruce Glover) and Mr. Kidd (Putter Smith) are shamelessly perverse. Theme song: Series staple Shirley Bassey belts out this defiant title song like a ravenous tigress who had Goldfinger for breakfast.Martini rating:           The Bond girl: Gem smuggler Tiffany Case (Jill St. John) is as blandly interchangeable as her many multicolored wigs; she should go straight to the bottom of the pool.Martini rating:           The killer moment: Our secret agent meets his match at the dextrous appendages of acrobatic femme fatales Bambi (Lola Larson) and Thumper (Trina Parks), the original Fembots.—Keith Uhlich  Watch this James Bond movie now on iTunes Watch this James Bond movie now at Amazon Instant Video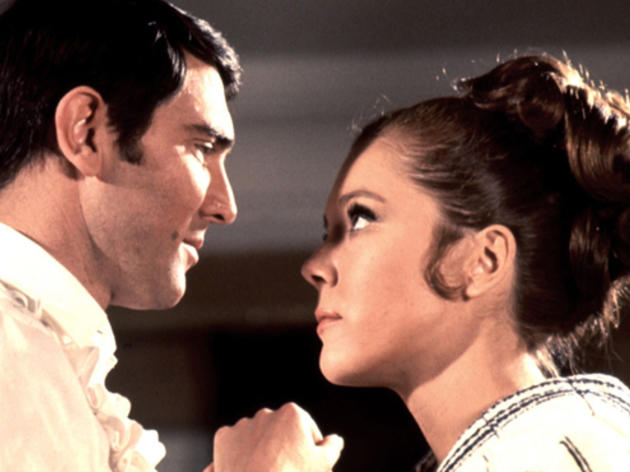 17/23
7. On Her Majesty's Secret Service (1969) Don't feel bad for odd-Bond-out George Lazenby (the unknown Australian was drafted when Connery got cold feet); his sole 007 film is actually one of the series' finest. Darkly adventurous and romantic, the plot swirls with classic elements: Telly Savalas as the murderous Blofeld, brainwashed babes waging biowarfare, an amazing ski sequence and—most notably—the first sign of our hero's emotional vulnerability (for the right woman). Also bar none, this is signature composer John Barry's most extraordinary Bond score, bursting with psychedelic rock and lush, orchestral menace. Theme song: "We Have All the Time in the World" has become a standard for its lovely simplicity; it was the last vocal Louis Armstrong recorded before his death.Martini rating:           The Bond girl: Already a well-regarded toughie on British TV in The Avengers, classy Diana Rigg was more substantial than any previous Bond counterpart—and set a standard that's rarely been met.Martini rating:           The killer moment: After heroically saving Rigg from drowning—and then fighting off goons—only to have her tear off in her car, Lazenby jokes directly to camera, "This never happened to the other fellow."—Joshua Rothkopf  Watch this James Bond movie now on iTunes Buy this James Bond movie on Amazon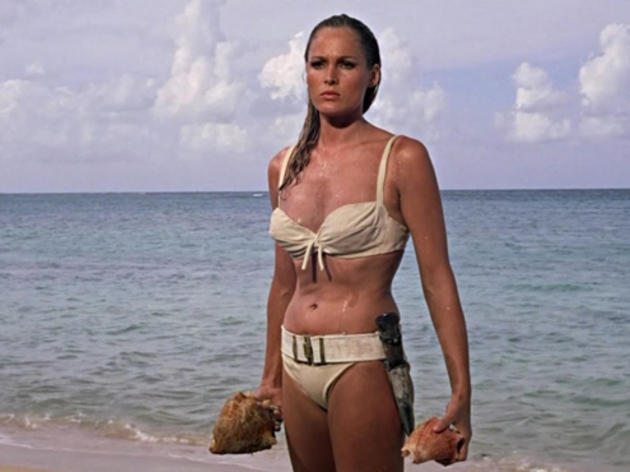 18/23
6. Dr. No (1962) Series producers "Cubby" Broccoli and Harry Saltzman were still working out the kinks of translating Ian Fleming's books to the big screen when they launched this first entry. Yet from the moment Sean Connery first utters the words "Bond…James Bond," we know we've entered a world of glamorous women, grandiose danger and globe-trotting derring-do. This is where everything starts, from that signature spy-a-go-go theme to Maurice Binder's mind-blowing credits sequences. Also introduced here are centerfold-ready romantic interests and colorful megalomaniacs (Joseph Wiseman's titular villain deserves more than two scenes). These elements would get refined over the years, but you couldn't ask for a better introduction to Fleming's international man of mystery. Theme song: The memorable tunes wouldn't start for a while, so we have to make due with a so-so calypso ditty, "Underneath the Mango Tree."Martini rating:           The Bond girl: You can actually hear the sound of male hormones surging when Ursula Andress's Honey Ryder walks out of the sea in that white bikini.Martini rating:           The killer moment: Bond cold-bloodedly confronts a friend who's betrayed him: "That's a Smith & Wesson. And you've had your six," says 007, before reminding us he has a license to kill.—David Fear  Watch this James Bond movie now on iTunes Watch this James Bond movie now at Amazon Instant Video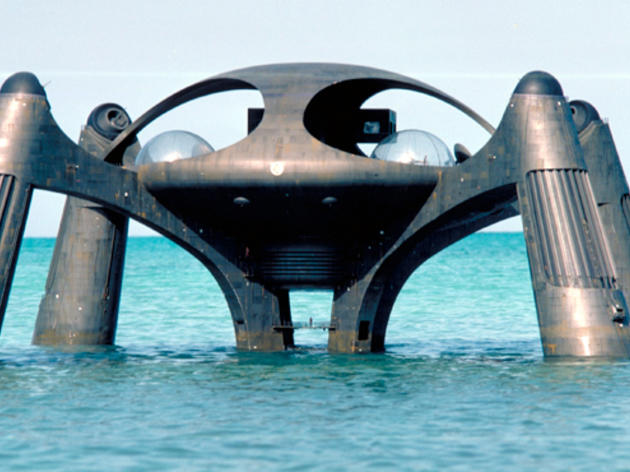 19/23
5. The Spy Who Loved Me (1977) Roger Moore's glib brand of Bond is routinely slagged these days, but if the guy had a high point, it's right here. Set to the disco-fied strains of a Marvin Hamlisch score, Moore's white-funky superspy outwits pursuers in a Lotus that turns into a submarine, travels to Egypt to wrestle with metal-toothed Jaws (Richard Kiel) and battles with a nuke-crazy nut who hopes to survive the fallout underwater. Most impressively, here's money: tons of it spent on cavernous sets (an entire new soundstage was built for this movie) and an amazing spiderlike hideout that rises from the ocean. Theme song: Carly Simon's California cool was an uncanny match for Hamlisch's "Nobody Does It Better" (with lyrics by Carole Bayer Sager), a staggeringly sexy torch song. Don't take our word for it—here's Radiohead.Martini rating:           The Bond girl: Barbara Bach looks exotic enough to play Soviet agent "Triple X" (that's the humor, folks), but her role is largely one of adornment.Martini rating:           The killer moment: Maybe the best one of the whole franchise: Bond (legendary stuntman Rick Sylvester) skis off a mountain, falling for an uncomfortably long time, until—surprise!—the ripcord is pulled and his parachute sports the Union Jack.—Joshua Rothkopf  Watch this James Bond movie now on iTunes Watch this James Bond movie now at Amazon Instant Video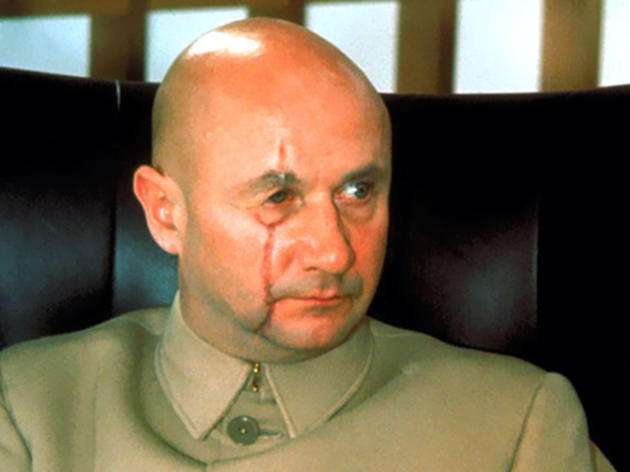 20/23
PF1
4. You Only Live Twice (1967) Bond heads to Japan in a witty screenplay by Charlie and the Chocolate Factory's Roald Dahl. The space race is afoot (capsules go missing) and tensions run high between superpowers. Why not tip the balance into chaos? Finally, kitty-lapped supervillain Blofeld gets his close-up: the cosmetically scarred scowl of Donald Pleasence. (If one Bond film has inspired the Austin Powers series the most, it's this installment.) Meanwhile, during his semi-off-hours, Connery's Bond learns about docile Japanese women, drinks sake at the correct temperature and discovers a giant fake volcano. Theme song: Recently used in the season finale of Mad Men, Nancy Sinatra's voluptuous ballad is the singer's most persuasive effort, boasting gorgeous support from John Barry's strings.Martini rating:           The Bond girl: Mie Hama is spunky enough as Kissy Suzuki; don't blame her for the sexism that has her walking around in almost nothing.Martini rating:           The killer moment: Quietly, Bond strolls the streets of Tokyo; neon signs glint, the orchestral score blooms and a movie does double duty as eye-opening travelogue.—Joshua Rothkopf  Watch this James Bond movie now on iTunes Watch this James Bond movie now at Amazon Instant Video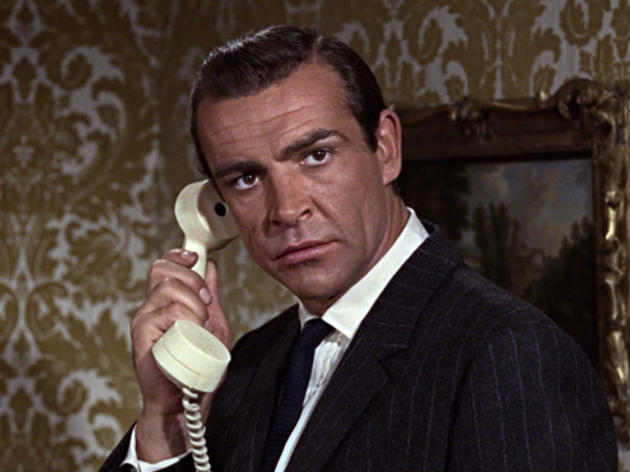 21/23
3. From Russia with Love (1963) The first of many sequels drops the MI6 operative into a tried-and-true plot: A decoding device is stolen, and only Bond can retrieve it—which is what the cat-stroking Blofeld and his SPECTRE comrades are counting on. Though the movie is best known for giving us Robert Shaw's juggernaut villain and Lotte Lenya's shoe-knifing henchwoman, this is one of the franchise's purest espionage entries—it suggests an alternate universe in which Bond was closer to a John le Carré spook than a gadget-wielding action hero. We love that latter version, of course, but Russia proved that a straightforward spy thriller equally suited the secret agent. Theme song: The number shows up briefly sans lyrics in the credits and as background noise later—which, given Matt Monro's faux-Sinatra crooning, is probably a good thing.Martini rating:           The Bond girl: A former Miss Rome, Italian starlet Daniela Bianchi makes for a convincing Russian ballerina-turned-mole—though she's drop-dead gorgeous in any language.Martini rating:           The killer moment: The fight between Shaw's blond superthug and Bond in a tiny train compartment is one of the most brutal set pieces in the entire series.—David Fear  Watch this James Bond movie now on iTunes Watch this James Bond movie now at Amazon Instant Video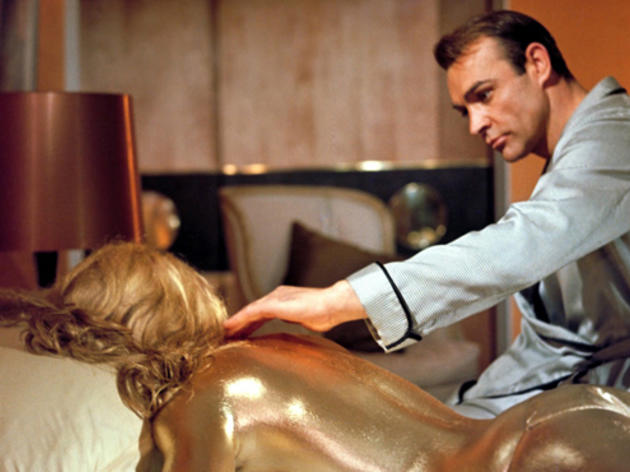 22/23
2. Goldfinger (1964) The Bond series already had two films under its belt by the time 007 matched wits with Gert Fröbe's precious-metal obsessive, but the third time was the charm. This was the movie that perfected the template for what we consider a proper Bond movie: tricked-out sports cars and spy gadgets, eccentric supervillains and quirky sidekicks (the hat-throwing Oddjob), a name-dropping opening song and a fun, flirty, tongue-in-cheek version of Fleming's hero. The earlier movies established Bond as Her Majesty's most resourceful secret agent, a lover and a fighter. Goldfinger, however, made him a pop-culture icon that's endured for decades. Theme song: It simply doesn't get any better than Shirley Bassey's window-rattling tribute to the "man with the Midas touch," punctuated by those slinky horn blasts.Martini rating:           The Bond girl: Honor Blackman's rough-and-tumble romantic interest made a good match for Connery's Bond and had a name that launched a thousand playground jokes: Pussy Galore.Martini rating:           The killer moment: Strapped to the laser table: "Do you expect me to talk?" "No, Mr. Bond, I expect you to die!"—David Fear  Watch this James Bond movie now on iTunes Watch this James Bond movie now at Amazon Instant Video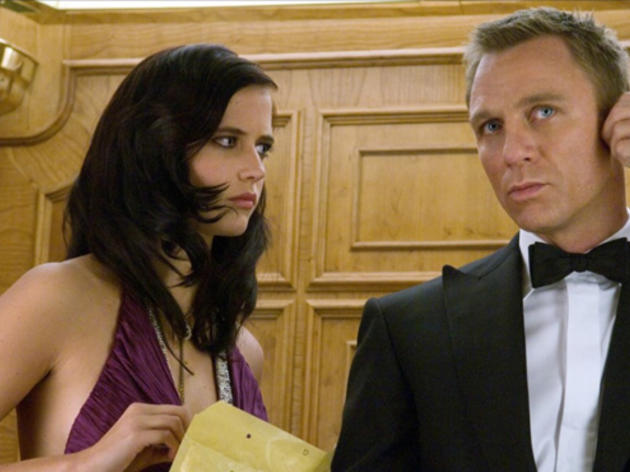 23/23
1. Casino Royale (2006) There were plenty of howls of protest after Daniel Craig was announced as the newest Bond ("The name's Bland, James Bland" blared the London Daily Mirror). But he quickly put the naysayers to rest with his enthrallingly feral take on the secret agent. This is a Bond for the modern era, even more deliciously drool-worthy than his leading ladies (he's the lust object rising from the sea in a cheeky homage to Dr. No's Ursula Andress) and emotionally jagged in ways that none of his predecessors ever approached. Several peak action scenes (a wowzer of an opening parkour foot chase), a terrific villain in Mads Mikkelsen's terrorist banker Le Chiffre and poker games as suspenseful as any explosive set piece easily make this our overall favorite. Theme song: The best Bond film unfortunately has one of the franchise's more unmemorable theme songs, "You Know My Name," sung by Soundgarden's Chris Cornell­—a hard-rock shoutfest that inspires shoulder shrugging as opposed to head banging.Martini rating:           The Bond girl: Intelligent, feisty Treasury agent Vesper Lynd (Eva Green) melts Bond's cold heart, only to shatter his fragile soul.Martini rating:           The killer moment: Bond orders a vodka martini. "Shaken or stirred?" His cool reply: "Do I look like I give a damn?"—Keith Uhlich  Watch this James Bond movie now on iTunes Watch this James Bond movie now at Amazon Instant Video