Weekend getaways: What to do in Santa Barbara
What to do in Santa Barbara during your weekend getaways, from a daily farmers market to the mother lode of Monarch butterflies.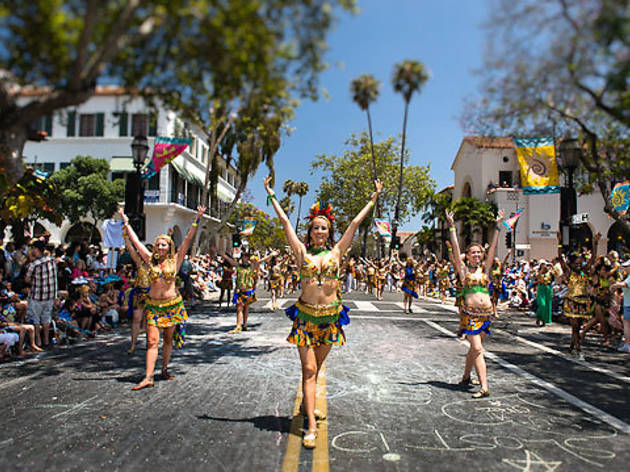 Regardless of whether you're a beach person, you'll never be at a loss for what to do in Santa Barbara during your weekend getaway. State Street is perfect for a stroll (or a bike ride, or rollerblading, or skateboarding...), and the area's hiking can't be beat. Check out the city's stunning botanical garden alternative, or watch thousands of Monarch butterflies in migration. There's also an abundance of wine tasting rooms right in the heart of downtown, as well as funky shops, surf lessons and—of course—great beaches.
Recommended:See more in Santa Barbara
If you're looking for fresh seafood, head to Stearns Wharf in the early morning hours to wait for the fishing boats to unload their catch. You can buy straight from the boats and take your fish home with you on ice—it's cheaper, fresher and way more fun. Although the pier (home to California's oldest working wharf) offers wine tasting, a touch aquarium for kids and lots of shopping and dining options, avoid it after mid-morning—it tends to become a bit of a tourist trap as the day goes on. Tip: If you're picking up fresh catch, don't miss Santa Barbara's famous uni and spotted prawns.
Read more
Lisa Frank ain't got nothin' on Santa Barbara: One of the most beautiful sights in SoCal (and, arguably, in the world) is the city's Monarch Butterfly Grove. In the late 1800s, a man named Ellwood Cooper grew olives, walnuts, grapes, almonds, oranges and lemons on his ranch in Goleta. Butterflies flocked to this bounty during their yearly migration, and still arrive in droves every year from mid-November through mid-February. Visits to the Ellwood Mesa, where the Grove is located, are free—there's an abundance of hiking trails, as well as beach access and public restrooms in the parking lot. Tip: The pretty creatures are most abundant on cool, early mornings, but most active on warm afternoons.
Read more
If you want a weekend of wine tasting, but also want to stay near the beach/can't afford a trip into the hills/don't want to pick a DD, Santa Barbara has options. Enter the Urban Wine Trail, created by a group of local wineries that decided to open tasting rooms downtown, offering tipples, bottles for purchase as well as info on the vineyards and wine-making process. There are 17 wineries to choose from, all within walking (or biking, if you prefer) distance from each other. We suggest Kalyra for some rowdy fun, Kunin for stellar tastes (although it does get crowded), and a hidden gem not on the website: Drake, which hosts monthly pinot-paired chicken and waffle nights for members. An abundance of good wine, sans the snobbery and all-day car rides.
Read more
You know a city takes its Farmers Market seriously when said market happens every day of the week, every week of the year. There are more than 125 certified growers that contribute to the market, along with vendors and craftspeople. As you can imagine, that means there's tons of produce every day (if not a ton of variety sometimes). The Downtown markets are the main events—most chefs go on Tuesdays to pick up fresh ingredients, and Saturday is when most of the locals (and tourists) stop by. Other days of the week, the market visits Goleta, Solvang, Carpinteria and Montecito. Pick up a snack for your trip to the beach, a souvenir jar of local honey or crate of tangerines to take back home with you.
Read more
Lotusland, also known as Ganna Walska Lotusland, is a public garden extending across more than 35 acres on what was once the private estate of Madame Ganna Walska, a Polish opera singer and socialite who dedicated the last 40 years of her life to cultivating spectacular collections of exotic plants. After her death in 1984, Lotusland became a non-profit botanical garden and opened to the public in 1993. There are over fifteen seperate gardens here, including an aloe garden, a blue garden (consisting only of plants with a blue or silverish hue), a butterfly garden, a fern garden, a Japanese garden... the list goes on and on. There's also an orchard, a water garden (to display the attraction's namesake flower) and a topiary garden featuring 26 animals, chess pieces, geometric shapes and a hedge maze. Note: Because Lotusland is located in a residential area, advance reservations are required to tour the grounds.
Read more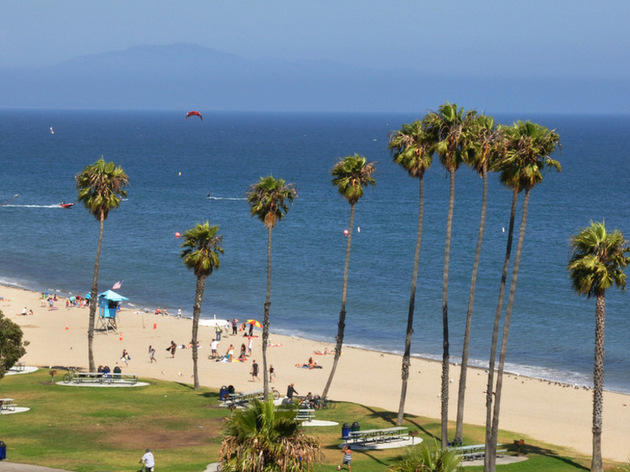 For a popular sunning spot: Leadbetter Beach
Leadbetter Beach is one of the busiest in town. This long strip of sand runs right next to downtown and offers beachside dining, outdoor showers, restrooms, and a grassy picnic area for visitors. The light surf here makes it an ideal spot for swimming, sailboats, and beginner surfers and windsurfers. You can rent just about any watersport accoutrements right on the beach, and it's easy to find lessons if you're uncomfortable going out alone. If you're looking for privacy, this isn't the beach for you—a regular crowd is the spot's only potential downfall. Tip: Try to be there at low tide, when you can walk around the point to a pretty, more isolated strip of sand.
This funky shop on State Street is home to a unique collection of goods from Indonesia and India, including antiques, clothing, furniture and jewelry, as well as textiles and home furnishings. Find a pair of intricately embroidered slippers, an ikat-dyed bedspread or the perfect housewarming gift for your hippie, statue-and-mask-collecting friend. The vibe is a little far out in here, so be warned, but the finds are special and a walk-through is always fun.
Read more
If you happen to be in Santa Barbara over the Summer Solstice (June 21, for those of you who need to brush up on your pagan holidays), this weekend celebration is not to be missed. Practically the whole town comes together, partaking in a gigantic solstice parade, two stages of live music (one for the kids), food and drink specials from local restaurants and a beer and wine garden. There's also a drum circle on Saturday, if you're into that kind of thing. City-wide celebrations can often be a little overwhelming, but the spirit here is contageous and the floats, costumes and general revelry are a sight to be seen. And if parades and feathered dancers really aren't your thing, you can always escape to the beach or the hills for the weekend.
Read more
If you're looking for surf, this is the place to find it. This beach is known worldwide as one of the best surf spots—nearly every big-name surf champion has ridden the waves here. A fairly large (and free) parking lot will put you on one of two paths, to either the southern point or the beach just north of the break. It's a point break here with a long right, and because there's such easy access, it can get pretty crowded on good days. If you're looking to lounge on the sand, this is probably not your spot, but if you want to watch some surfers do their thing—or get in the water yourself—there's no better place.
Read more