The 6 best hotels in Santa Barbara
There are plenty of top Santa Barbara hotels to pick from, including places with a pool and relaxing beachside spots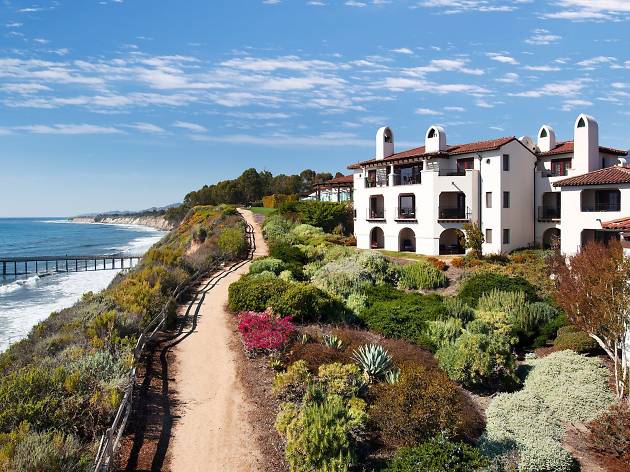 Choosing Santa Barbara hotels for a top-notch getaway can be tricky—there are lots of options, and their offerings differ greatly. Would you rather be beachside, or tucked into the hills? Is a pool a must? Entertainment for the kids? Keen to be near to the city's best things to do and tastiest restaurants? Maybe you're on a budget but can't stand the average motel vibe. Whatever it is you're looking for, we've found the Santa Barbara hotels that best encompass the city's hospitality scene.
Best hotels in Santa Barbara
1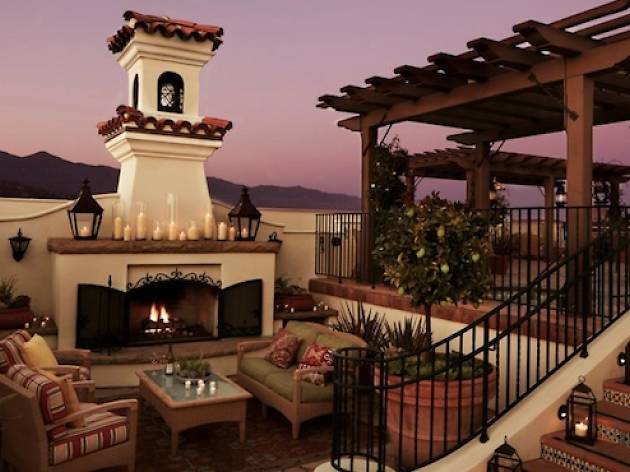 Photograph: Courtesy Canary Hotel
For splurging
Nestled in the heart of downtown Santa Barbara, this boutique hotel charms visitors with thoughtful amenities and gorgeous city views. Each intimate Spanish-style room comes with an incredibly cozy four-poster bed, hardwood floors, hand-painted tiles and—why not—a complimentary yoga mat. Hotel restaurant Finch & Fork serves delicious shareable tapas such as fish tacos and lamb burgers that can also be enjoyed in your room or on the roof terrace. The rooftop is the true gem of the hotel—lounge by the pool and admire the 360-degree views from mountains to sea, or cozy up by the outdoor fireplace for stargazing. The Canary is also very pet-friendly, without additional fees or restrictions. With this kind of hospitality, you might find it hard to leave.
Quick stats: Pool, spa, pet-friendly, walking distance to downtown, walking distance to beach
2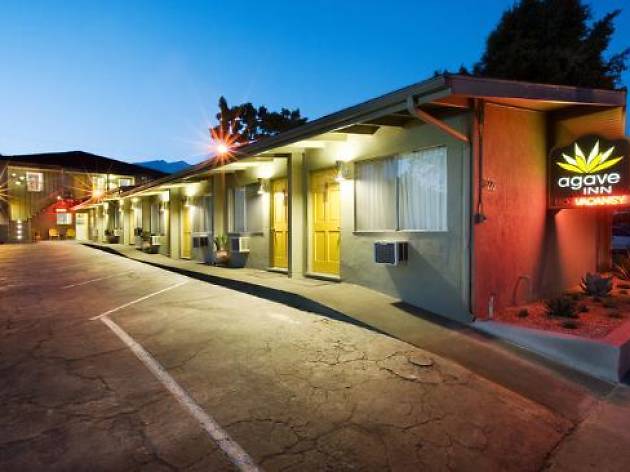 Photograph: Courtesy Agave Inn
For those on a budget
The Agave Inn, one of four properties that make up the Shelter Social Club, is a reasonably-priced, hip boutique motel with bright colors (think lemon yellow doors and turquoise or teal accent walls) and stylish details such as Mexican movie posters, painted tiles and lots of cacti. Along with all the regular amenities (fridge, microwave, flatscreen, etc.) there's free Wi-Fi and morning coffee, and it's just a short walk to the restaurants and groceries on State Street. If you're looking for oceanside digs (or even a pool), this might not be the spot for you—but if you like your cheap room rates with a healthy side of charm, Agave will do.
Quick stats: Pet-friendly, walking distance to downtown
3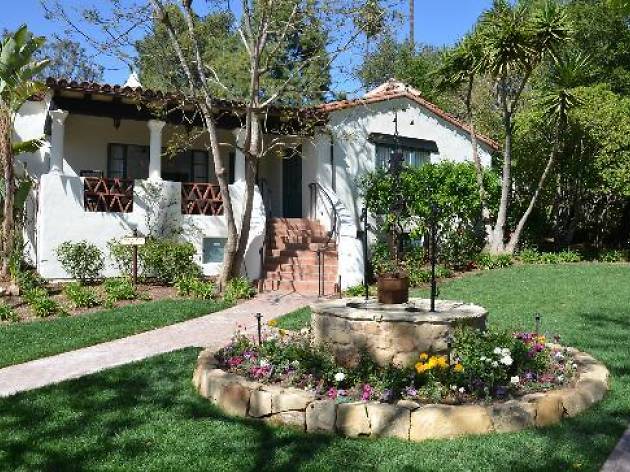 Photograph: Courtesy El Encanto Hotel
For lots of privacy
Marvel at the stunning views and serene privacy in this historic hilltop hideaway. Built in 1918, El Encanto is Santa Barbara's oldest existing hotel and has hosted everyone from Clark Gable to Barbra Streisand. The newly renovated site features updated cottages with modern tech amenities, an infinity pool and a state-of-the-art spa. Appealing dining options include a mix of new and classic as well: A locally sourced California-French-Asian fusion restaurant with exquisite terrace views of the entire Santa Barbara coastline is perfect for a romantic candlelit dinner.
Quick stats: Pool, spa, pet-friendly
4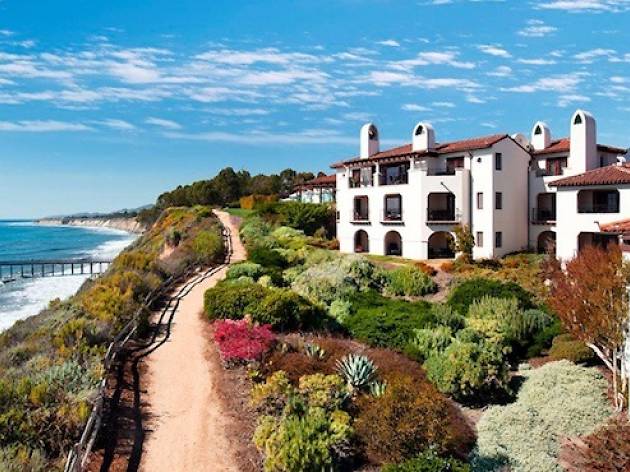 Photograph: Courtesy Bacara Resort and Spa
For an all-inclusive stay
This picturesque getaway could be mistaken for the coast of Italy, set up with Mediterranean-style villas spread out over a long stretch of beach in Goleta (a 15-minute drive from downtown Santa Barbara). Its 354 spacious guestrooms include balconies or patios with views of mountains, gardens or sparkling ocean. Guests have endless recreational activities at hand, with everything from surfing lessons and yoga at the spa to family movie screenings and fireside cocoa and s'mores. Hotel fine dining options are decidedly not the main event, but you can always opt for classic dishes at the bar instead. Extra perks include a dog-friendly policy and a supervised kids club that grants parents some quality vacation time.
Quick stats: Pool, spa, pet-friendly, kid-friendly, walking distance to beach
5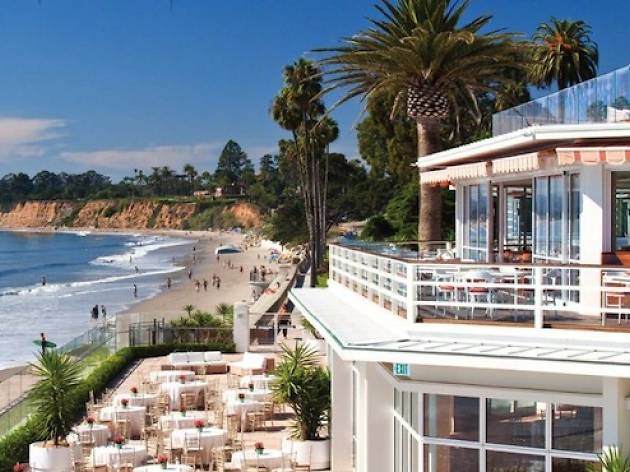 Photograph: Courtesy Four Seasons Resort - The Biltmore
Four Seasons Resort - The Biltmore
For brand-name pampering
Opened in 1927 as one of the legendary Biltmore hotels, this beautiful luxury resort's old-world charm is now enhanced with Four Seasons' signature pampering. Located on the coast of ritzy Montecito, the Biltmore includes endless amenities—a heated "jungle pool" with underwater music, world-class couples' oceanfront spa suites, fresh fruit skewers and cooled towels served poolside and a private stairway that leads straight to famous Butterfly Beach. The services for kids are just as convenient, varying from 24-hour babysitter availability to a "You Dine, We Play" program that allows parents to savor a refined romantic dinner with breathtaking ocean views while the little ones are kept full and occupied. Heavenly? You bet.
Quick stats: Pool, spa, pet-friendly, kid-friendly, walking distance to beach
6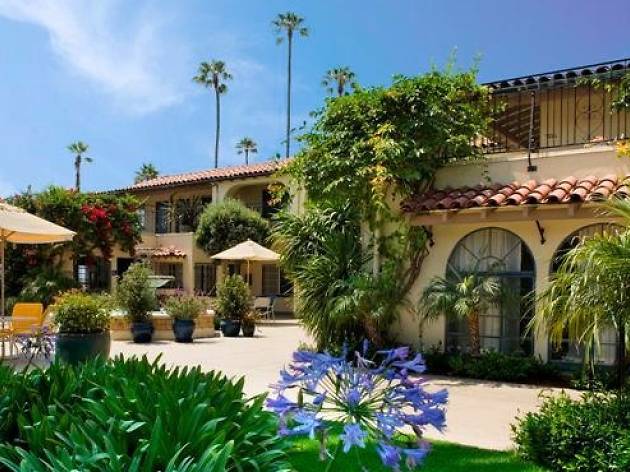 Photograph: Courtesy Hotel Oceana
For beachside partying
Across the street from the beach and a short walking distance from downtown Santa Barbara's restaurant and bar scene, Hotel Milo's location cannot be beat. While its colorful rooms are a bit faded, Milo is a good fit for visitors who prefer to spend their stay with constant access to the beach and to booze on State Street without worrying about the drive back. This quaint hotel is complete with lush tropical greenery, two pools and a jacuzzi often dominated by a young crowd. Free two-hour beach cruiser rentals almost make up for their steep $18 nightly parking fee.
Quick stats: Pool, walking distance to downtown, walking distance to beach
More of the best in Santa Barbara
Regardless of whether you're a beach person, you'll never be at a loss for what to do in Santa Barbara. State Street is perfect for a stroll and the area's hiking can't be beat—plus, there's a host of excellent restaurants to try, and a great range of hotels for those looking to stop for a while.
From swanky dinner spots by the ocean to more modest eateries serving exceptional tacos for barely more than a buck, Santa Barbara shines when meal times roll around. Ready or not, here are the best restaurants in town.
More to explore