Heads up! We're working hard to be accurate – but these are unusual times, so please always check before heading out.
10 amazing things to do in Louisville, KY
As a music-loving and bourbon-making city, there's drinking, dancing and more fun things to do in Louisville, KY
Sure, Kentucky is known for its bourbon, horce races and music scene—but even a short visit to Louisville makes it clear that the state's greatness is not necessarily confined to whiskey and honky tonk.
Downtown Louisville has an incredible art scene and is booming with independent businesses and charming shops. There is much to discover: from an art gallery and hotel hybrid to must-try restaurants and a museum dedicated to America's sport, baseball, one of the greatest music festivals in the country. So, whether you're a local looking for a fun night out or planning a trip to discover all of the the area's cultural gems, you'll want to consult our list of very fun things to do in Louisville, KY while in town.
Done something on this list and loved it? Share it with the hashtag #TimeOutDoList and tag @TimeOutEverywhere.
Find out more about how Time Out selects the very best things to do all over the world.
Best things to do in Louisville
Photograph: Jennifer Picht
What is it: This impeccable 91-room hotel doubles as a public art museum, and that's not even our favorite part (we'll get there). This is the first 21C Museum as part of it's ever-expanding franchise, and it may be one of the best. Explore the current vibrant exhibition Fall Fruit: The Practices of Everyday Life, which takes over the walls of the hotel's outstanding restaurant Proof on Main. After a delicious dinner, grab a cocktail from the bar and tour the rest of the gallery, including the glitzy and bejeweled works of the Dress Up, Speak Up: Costume and Confrontation installation.
Why go: If spending a night inside a hippie den that feels as if you're slumbering inside of a kaleidoscope piques your interest, you'd be hardpressed not to spend a night in the Asleep in the Cyclone room. The room itself is a piece of art created by two psychedelic visionaries: Jonah Freeman and Justin Lowe. The western textiles, wood-paneled walls, plush carpeting, vintage record player (with throwback LPS to play) and the multi-colored ceiling makes your slumber a surreal and heady experience you won't soon forget. (21cmuseumhotels.com)
Photograph: Courtesy Yelp/Gregg M.
What is it: A neon sign of a vintage polaroid camera with the word "meta" flickering in the night ushers folks through the doors of this craft cocktail joint. Meta bar, boasting vintage wallpaper, sconces and more illuminated signage on its walls, is known for its delicious renditions of timeless cocktails that are concocted with wildcard ingredients. For instance, the bar's old fashioned (dubbed The High Pant) is a mixture of Old Fitzgerald with fernet and ginger giving the classic a tasty new spin.
Why go: Head there on a Saturday night when a DJ spins early hip-hop and synth-pop jams that fit the drinkery's "meta" vibe perfectly.
Photograph: Courtesy Yelp/Fourth Street Live
What is it: Louisville loves to jam and some majorly talented rock stars, like Jim James of My Morning Jacket, were bred to shred in this very city. Wander downtown toward Fourth Street and you can hear the music booming as you reach a 350,000-square-foot complex chock-full of dining opportunities and live entertainment.
Why go: For the killer events hosted here, such as Full Contact Karaoke, a Cornhole League and, of course, live concerts. Listen to a wide range of tunes from local bluegrass bands to A-list celebrities such as Nelly.
Photograph: Courtesy Yelp/Huy T.
4. Louisville Slugger Museum
What is it: Since 1884, Louisville Slugger has been making some of the best baseball bats known to the world's famous hitters. Fans of the sport (and those intrigued by it) should definitely check out the bat brand's museum and factory showcasing the interesting stories and machinery used to create its products, as well as hands-on exhibits that teach folks more about America's game.
Why go: To get your name engraved in your very own Louisville Slugger. It's a grand slam of a souvenir! (sluggermuseum.com)
Photograph: Jennifer Picht
What is it: The formula for an enjoyable outdoor music festival—especially one that leaves folks itching for more—is anything but simple. Forecastle Festival, a formerly small assembly of local musicians at Tyler Park which has since relocated to a larger area that caters to its 75,000 fans every summer, makes it look easy. It all starts with the right venue, and Louisville's Waterfront Park was made for this three-day jam fest. Across five stages, including a designated after-party DJ set area called Party Cove, each one offers incredible views of the acts.
Why go: Aside from the kick-ass lineup of entertainers the festival curates every year (choice groups from 2018's event include Father John Misty, The War on Drugs, Chris Stapleton, Arcade Fire and more), the fest draws some of the best local grub in addition to more entertainment to pass the time between sets. Ride the on-site ferris wheel, taste various whiskeys in the bourbon lounge or shop from the many vendors selling vintage band posters, screen-printed shirts and more.
Photograph: Courtesy Aloft Louisville
What is it: Think of the Aloft Louisville as the cooler younger sister in comparison to the stretch of hotels inhabiting the city's main streets. Don't be fooled by its modern exterior, either. The interiors are filled with color and fun in the forms of a pool table, funky, retro-inspired seating and a spacious bar serving zesty cocktails like a Key Lime Fizz. Bright orange arm chairs with multi-color throw pillows are positioned for your relaxation throughout the spacious lobby. And heady artwork, depicting Louisville-born rockstar Jim James, is displayed on one of the walls near the bar area. This is certainly a go-to lodging option where you can get a taste of what the locals love. But the spot is especially convenient if you plan to attend Forecastle Festival. Just a 10-minute walk from Waterfront Park, this is your best option for pre-gaming or recuperating after one of the city's biggest events.

Why go: On any warm night, grab a drink and a bite at the hotel's eatery called the Corner Restaurant, which offers outdoor seating on the hotel's patio. Sip some bourbon (there are more than 60 types to choose from) and pair the hooch with some hearty bites like fish tacos, crispy brussel sprouts or the deviled eggs.
Photograph: Courtesy Yelp/Alessandra D.
7. Merle's Whiskey Kitchen
What is it: Just along Whiskey Row, the bar's name and rustic exterior suggests you're entering an authentic western whiskey hall. You certainly are—the bar's infrastructure was built in the 1920s. Many years later, the open-space spot has certainly upgraded but without losing its vintage charm.
Why go: One slow-braised brisket taco and a Kentucky Slushie (a frozen blend of Jim Beam and ginger ale) in, it's impossible not to fall in love with Merle's. Merle's is extra inviting during the warmer months; locals drink outside while playing cornhole while toe-tappers head indoors to listen to live country music as part of the Last Honky Tonk Music Series. Walk in, two-step out.
Photograph: Courtesy Yelp/John R.
What is it: Come to this cafe for your morning coffee and some finger-lickin'-good breakfast, but linger to peep the coffee shop's record wall. A tiny but mighty selection of new and used LPs from Rockabilly starlet Wanda Jackson to the indispensable Prince are displayed along six wooden shelves. Nab one for yourself along with a bag a chocolate chip cookies. A brilliant combo!
Why go: To avoid the Sunday scaries, enter this well-mannered coffee shop, order a chocolate ganache latte with a side of banana zucchini bread and relax while listening to live jazz.
Photograph: Courtesy Yelp/Gem S.
What is it: Judging by menu items like the Mr. Potato Head Casserole—the one dish you must order when you go—Wild Eggs doesn't shy away from a pun. From light fixtures resembling heating lamps one would find in a chicken coup to salt and pepper shakers shaped like—yep, you guessed it—eggs, the decor offers the same witticism but without being too kitschy.
Why go: Much like the interior of this breakfast spot, the food is eggcellent. Country grub like cheesy grits, bourbon apple crepes and egg dishes served with a tasty-as-hell everything muffin will keep you coming back for more.
Photograph: Jennifer Picht
What is it: A mural painted on the side of a black-brick building along the main stretch of bars, eateries and shops in this bonafide hip 'hood reads, "Weird, independent and proud." And, yes, the story checks out. Aside from an Urban Outfitters and Jimmy John's sandwich shop sighting, The Highlands is predominantly stacked with indie businesses.
Why go: From a cryptic throwback store (Vintage Banana) signaling passerby to "follow the bananas" painted on the cobblestones of a narrow alleyway to snag prime vintage to a less out-there but equally as cool record shop (Highland Records) or a coffee joint that hosts terrarium workshops paired with a wine tasting (Safai Coffee), there are endless spots and ways to occupy your time here.
Hungry for the best restaurants in Louisville?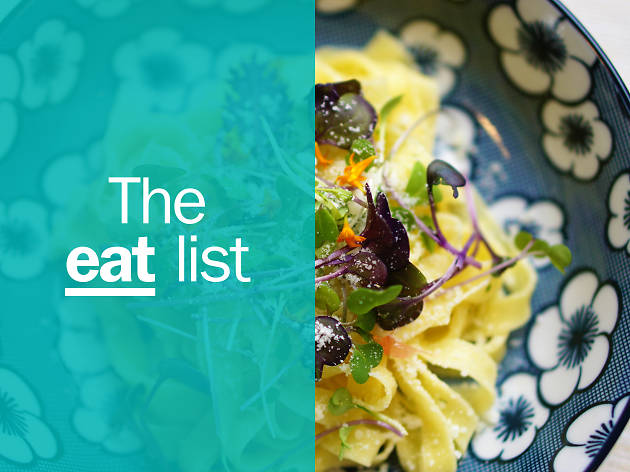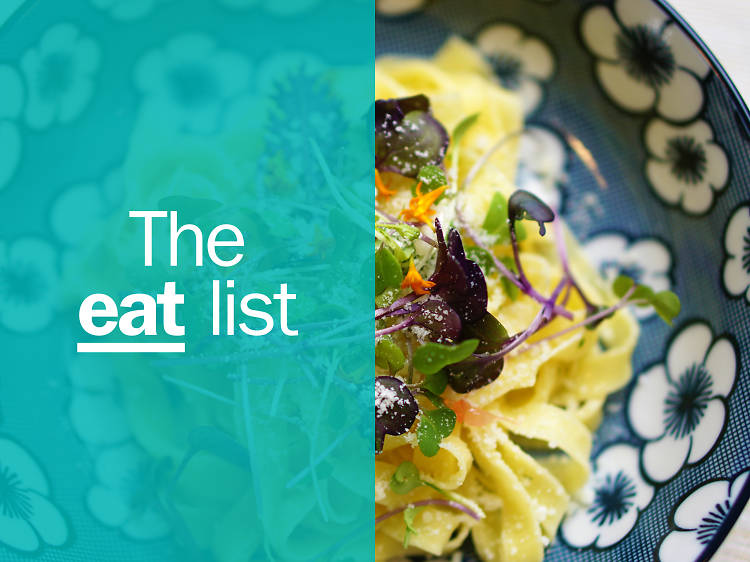 In recent years, the city's dining scene has majorly evolved, bringing in a variety of novel tastes, techniques and cultures to all the major eateries in town, effectively rendering the city's gastronomic stage one of the most eclectic across the country.