Heads up! We're working hard to be accurate – but these are unusual times, so please always check before heading out.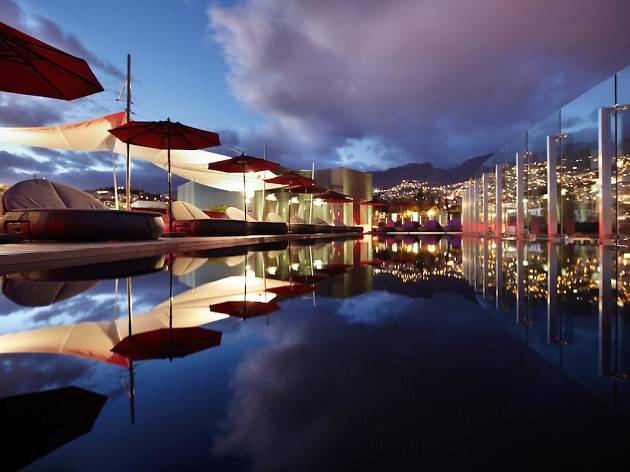 The 13 best hotels in Madeira
With classic and contemporary options all in one place, take your pick of the style with the 13 best hotels in Madeira
From landing on its famously tricky runway to hurtling down a polished hill in a wicker basket or venturing onto a glass platform almost 600 metres above sea level, Madeira really is jam-packed with thrills and fun. Add in crisscrossing walking trails across hills and mountains via a centuries-old irrigation system, a breathtaking coastline that mixes natural volcanic pools with both beautiful beaches, magical laurel forests, bountiful nature reserves, a great food scene and a gorgeous climate that fills the island with all sorts of fantastic flora, you've got a bucket-list holiday hotspot.
The hotels here reflects the many facets of the island, from sleek contemporary ocean-facing beauties to old-school old town spots set in, you guessed it, old schools. Add in Art Nouveau villas, a funky collaboration with famous local boy Cristiano Ronaldo and James Bond-style cliff-top eyries and you really do have something for everyone – which nicely sums up Madeira itself.
The 13 best hotels in Madeira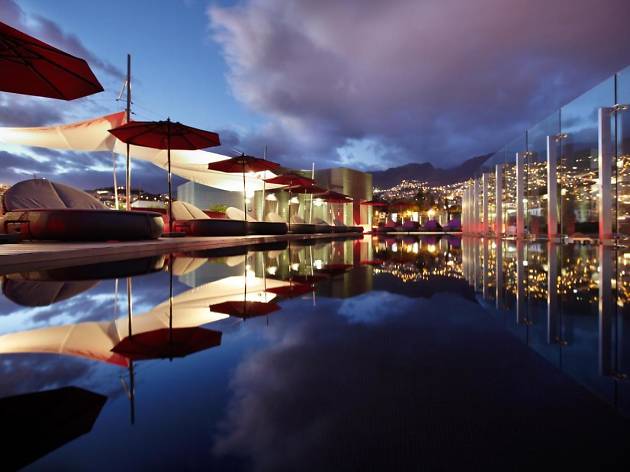 Courtesy of Booking.com
Skip past the shopping-centre setting and focus on the super-funky reception, a 21st-century sculptural space by Ricardo Bofill and João Francisco Caires. The inside sparkles with polished surfaces that are softened by elegant sofas in soothing colours that continue throughout the 70 airy rooms and suites. All of the rooms are packed with little extras to make sure you have a holiday to remember, from Acqua di Parma toiletries to a complimentary minibar. On the roof, you'll find a gorgeous view over the mountains, as well as a stunner of a pool and a bar. Just next door, the fine-dining Uva restaurant serves creative gourmet takes on traditional coastal cuisine.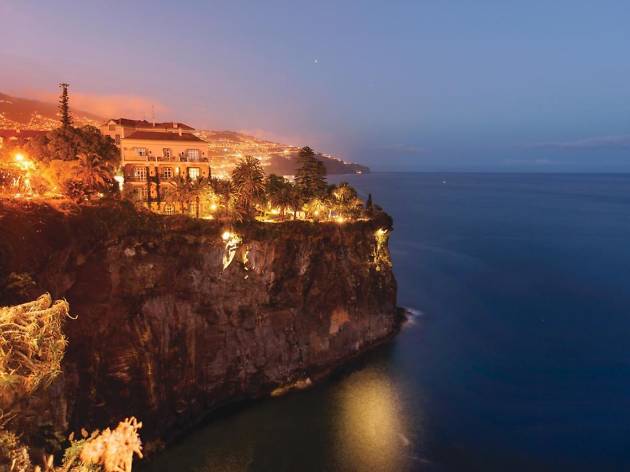 Courtesy of Booking.com
The iconic Reid's is arguably Madeira's grandest hotel, dating back to 1891 when Scotsman William Reid's vision of a high-end seafront hotel surrounded by tropical gardens came to life. A century on it's packing three pools (including a tidal seawater one), three restaurants, a Bridge room, billiards room, cocktail lounge and 158 rooms and suites, but it's still the sort of place where you expect to see a dowager dame a la Downton Abbey floating through the grand marble lobby en route the famed afternoon tea or weekly dinner dance. Despite what the old-school decor might suggest, you'll find the rooms to be light and spacious throughout.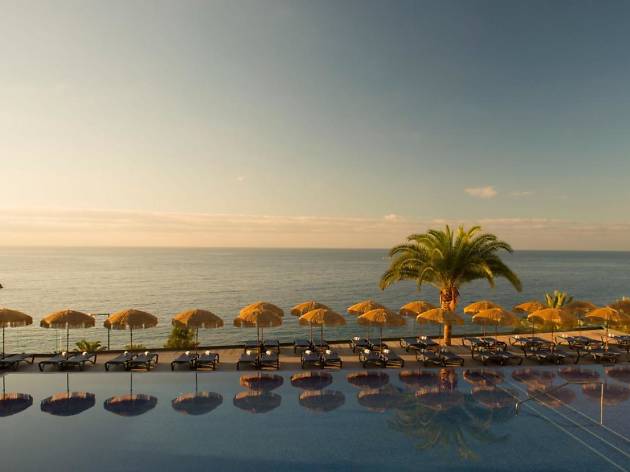 Courtesy of Booking.com
Choosing between the Baia and her sister hotel, the Alta Vista just over the road is a tough decision, but the Baia boasts the seafront and really makes the most of it with a sleek, super-bright reception, where a long glass wall shows the sea in all its azure glory. The nautical theme (wood and white with splashes of blues) continues into the 215 rooms, all of which offer verandas and sea views. A spa, gym, two outdoor pools (one for kids), two restaurants and a 6th-floor bar with live music ensure lots to do on-site, but if that's not enough for you, a shuttle bus regularly makes the 3km trip into Funchal.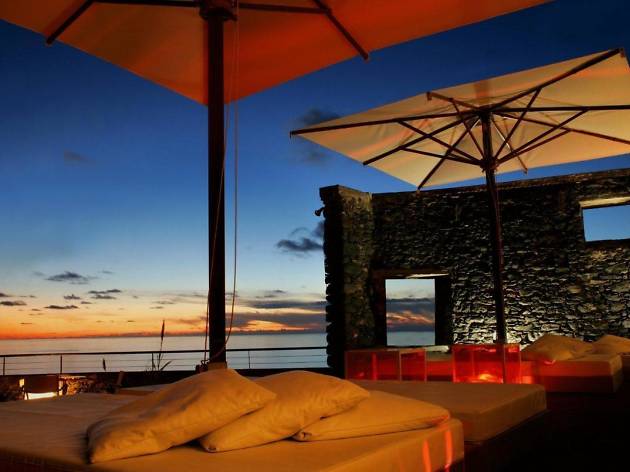 Courtesy of Booking.com
4. Estalagem da Ponta do Sol
Resting on a cliff overlooking the village of Ponta do Sol, the Estalagem is exactly what it says on the tin; a gem, from its cliff-face-climbing lifts to its super-friendly staff. From spacious, contemporary rooms in low-slung Modernist blocks, you get the experience of the beautiful surround, while the heated infinity pool (there's a heated indoor one too) has lots of loungers, so there's more than enough space for everyone kick back and relax. Resident pooches Poncha and Shaka give the place a wonderfully personal feel, and if you tire of eating in the excellent restaurant (we doubt it), you can visit the one at sister hotel Hotel da Vila, down in the village.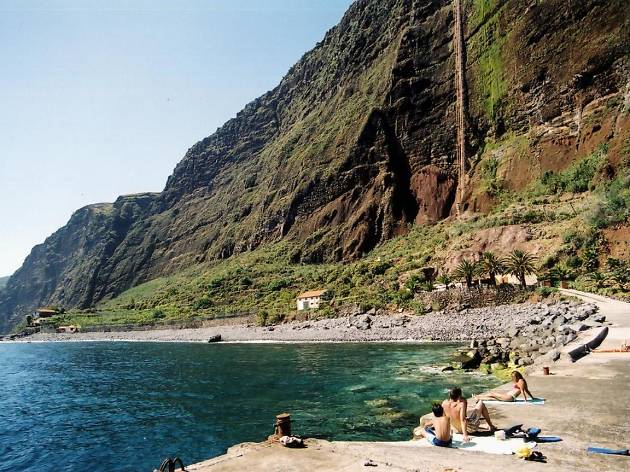 Courtesy of Booking.com
Accommodation doesn't come much more secluded than these nine nautically-themed houses on an organic farm and beach restaurant accessed only via cable car or boat. Options include a converted boat house, sailor's house, vineyard house and tiny barn, all individually decorated to create a rustic chic aesthetic that's cosy but super-comfortable. Breakfast is served at the lovely restaurant, accessed via paths winding through tropical fruit orchards and kitchen gardens; in the evening, cook to the sound of the sea, get a pre-prepared BBQ meal delivered or take a boat transfer to Funchal, some 10km away.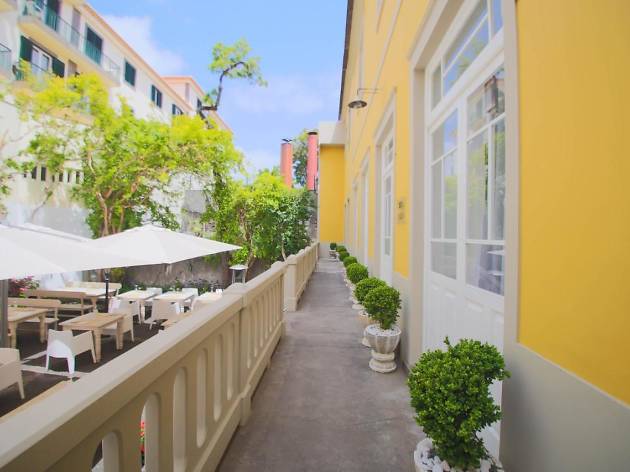 Courtesy of Booking.com
Really special hotels are few and far between in old-town Funchal, but this place is a diamond in the rough thanks to its welcoming staff, fantastic location on Rua Santa Maria, and warm, rich decor in an old school sensitively converted into a handful of rooms and suites and two 8-bed dorms. The place is immaculately clean, as are the shared bathrooms, kitchen and comfy lounge, and treated to brekkie plus afternoon fruit and freshly baked cakes. For everything else, the colourful garden restaurant is a laidback retreat, and serves a fine mix of international and local cuisine, from pizza to tasty filete de espada.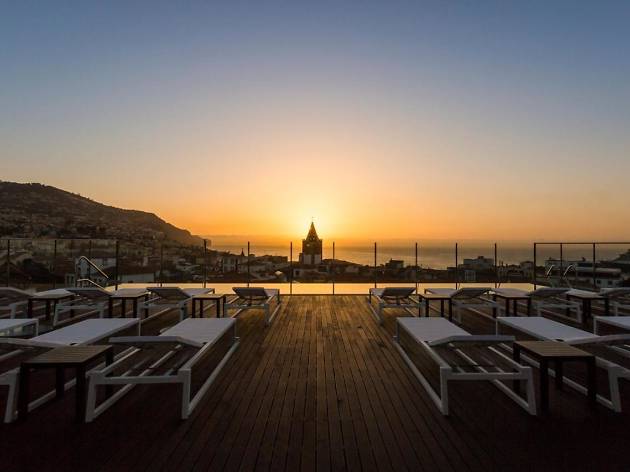 Courtesy of Booking.com
7. Castanheiro Boutique Hotel
This hip four-star hotel is in an awesome central location, set across a mashup of buildings and courtyards that span three centuries, it's a real charmer. Boasting a lovely mixture of arresting 21st-century decor with period elements, it reflects the trades of the buildings it occupies – from type studio to textile atelier. Decor zings up neutral bases with bright colours and bold patterns, and all 81 rooms and suites include individual features; boldly-patterned encaustic tiles here, exposed roof-beams there; some come with full kitchens too. For a drink and a dip head to the rooftop terrace where you'll find a pool, if you're feeling peckish after some length, three restaurants and bars complete this very appealing package.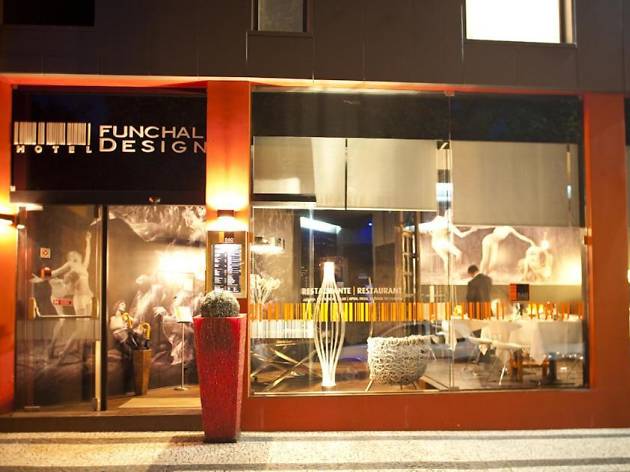 Courtesy of Booking.com
Central Funchal has plenty of old-fashioned, rather fusty and dark lodgings, but not much in the way of more modern spaces. So a big shout-out to this funky little hotel, whose 16 rooms and apartments (the latter with good kitchens) are all bright and light-filled, thanks to local designer Nini Andrade Silva's focus on striking monochrome decor zinged up with pops of bright colour in textiles and velvet cushions. On-site restaurant 560 is equally vibrant, and serves modern Mediterranean dishes.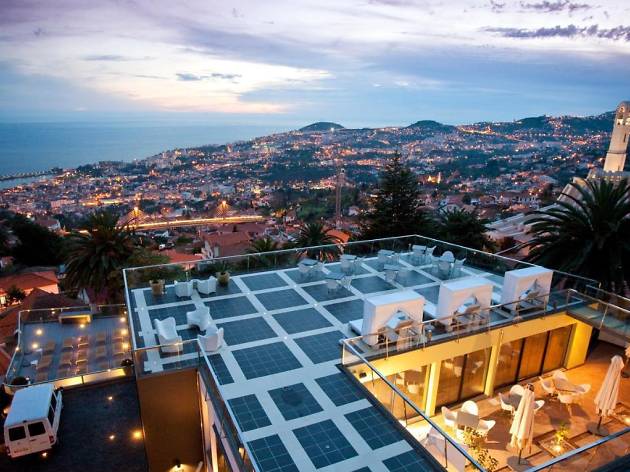 Courtesy of Booking.com
If one of the things you want to do in Madeira is ride a toboggan wicker sledge (tell us that doesn't sound great), this is the perfect place from which to do just that, as well as watch the skilled men who manipulate the baskets down using nothing but their strength and adapted tyre-soled shoes. The hotel's a beauty in its own right; a 19th-century villa with a more modern annexe set high in the hills above Funchal, so all its 24 luxe, contemporary rooms and suites offer wonderful views. Amenities include an outdoor pool, small spa with sauna, gym, billiard room, library and a terrace, so you make the most of those island views.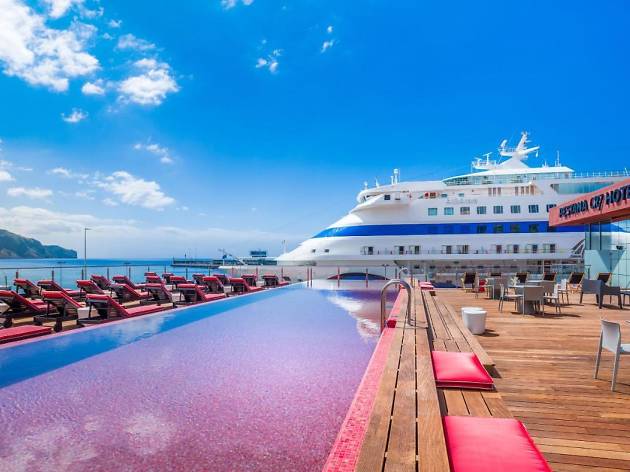 Courtesy of Booking.com
The seafront to the west of Funchal is loaded with hotels, from the Soviet-looking tower of the Pestana Palms to opulent Reid's, but if you want to mix it up a bit you need to head to the low-slung four-star Pestana CR7, a collaboration with local legend (and subject of the CR7 museum next door) Cristiano Ronaldo. Contemporary, colourful rooms with glass verandas, classic Danish furniture and bright textiles all face the sea, and outside, a rooftop infinity pool and bar, outdoor gym, restaurant and lounge bar all add up to get another winner from the football phenomenon – and there's free entry to the museum too.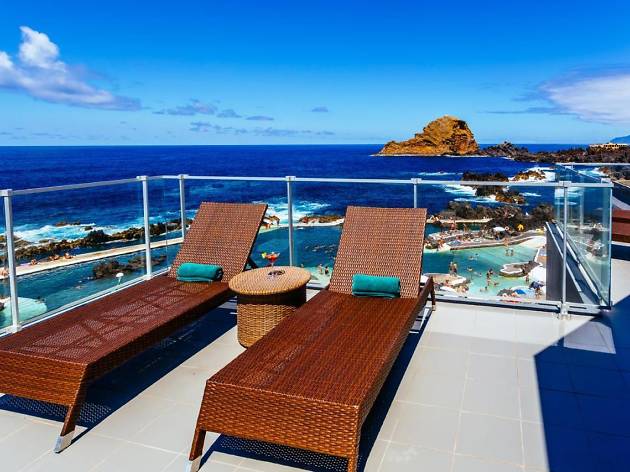 Courtesy of Booking.com
Water babies, roll up. Freed from the constraints of hotels muscling for space on the busy south coast, this diminutive Ponta do Sol hotel sprawls along Madeira's wild and remote north coast, which means all 25 rooms and suites have stunning views of nothing but the depths of the Atlantic. Their palette of green and blue echoes the natural surroundings, and outside, the amazing complex of volcanic seawater pools, bordered by a solarium area with sauna and Jacuzzi, plus birdwatching, Levada walks and the pretty village of Ponto do Sol, ensure you won't get bored.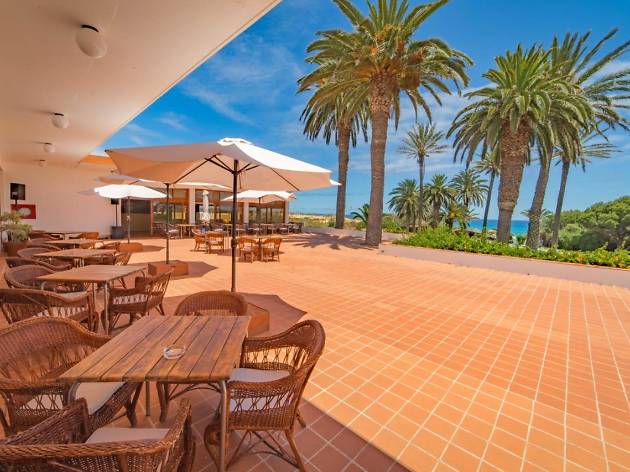 Courtesy of Booking.com
Not many visitors make it to the island of Porto Santo, which is a shame because this little slice of paradise is an amazing spot to just be – doing nothing more strenuous than hiking to a traditional wooden windmill, swimming in the turquoise waters, or exploring the haunts of Christopher Columbus. Such tranquillity begs an equally tranquil hotel, and the Porto Santo is it. With 94 modern, bright rooms set in white buildings around a pretty pool and a beach dotted with thatched umbrellas, it's an idyllic spot – and given the spa, restaurant and secluded balconies, one you may find hard to leave.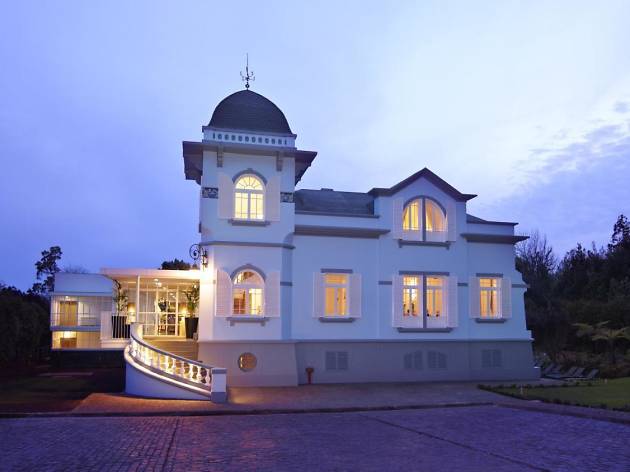 Courtesy of Booking.com
Looking for something a little different? This 1920s heritage building next to the acclaimed Santo da Serra golf course should do the trick. With just 21 rooms, the Art Nouveau villa feels like a very special home, one that's always clean, filled with interesting objects, textiles and character, and the added benefit of beautiful gardens, plus a pool, spa and gym (in a newer annexe). Book early if you want to be lodged in the main house, which has just two superior rooms and one two-bedroom suite (the remaining rooms are in the annexe), as well as a sitting room where afternoon tea is served.