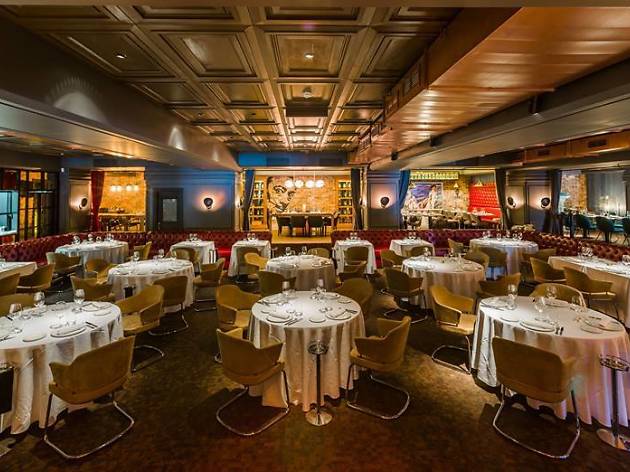 The 10 best gin bars in Madrid
Discover the best cocktail bars for drinking gin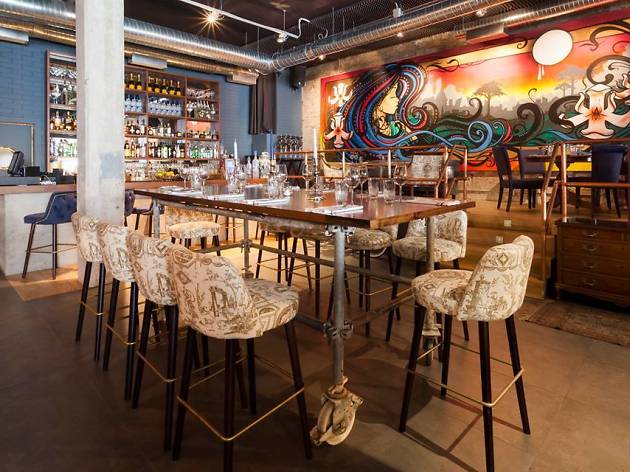 ©Julian Ribas
This is a restaurant with a calling that goes beyond the dishes on its menú. It's an art gallery where you can also get great food. It's also a place for cocktails and good music. For a little over a year, Arts Club has been combining style with gastronomy, culture and entertainment in a fantastic space in the Salamanca neighbourhood. There's a great vibe in the evenings and at night, and an artistic programme that toggles with temporary exhibitions. Definitely the current place to be.
Velázquez, 96 – Tel. 91 277 03 65
Here's a spot to see and be seen. Where you can satisfy your appetite with fresh Mediterranean cuisine, enjoy the early shift of a few drinks known as 'afterwork', or sip your first cocktails to kick off a night out. And all this in a spectacular space designed by Tomás Alía that exudes the avant-garde from every corner, and where works of art by artists such as Jacinto de Manuel, Gonzalo Lebrija and Pablo Armesto adorn the walls.
Paseo de la Castellana, 8 – Tel. 91 781 09 28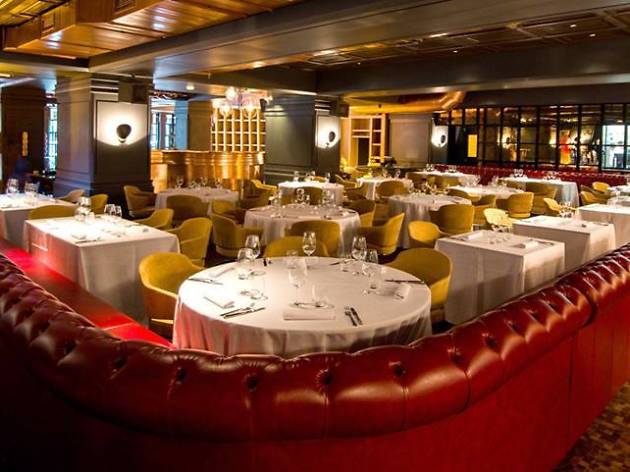 The cooking here is done with natural products we humans have always nourished ourselves with, and it's both traditional and creative. You'll also find live music, cocktails and fun. It's another great space that suits whatever you're in the mood for with various possibilities, from afternoon tea to Sunday brunch. And there's a stage show inspired by the Roaring Twenties, as well as art decorating the walls by such great artists as Dalí and Sorolla.
Paseo de la Castellana 36­-38 – Tel. 91 172 18 41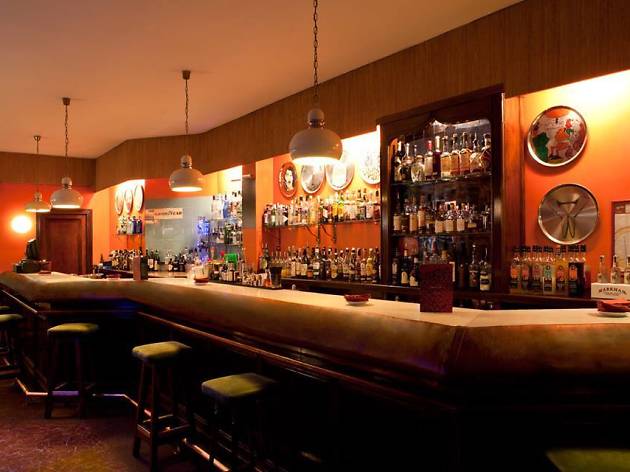 If you're looking for a classic cocktail bar that goes beyond the trendy, this is your place. You'll love its cinematography feel of another time that gives it such a personal je ne sais quoi, as well as for it's attractive cocktail menu, gin and tonics, and perfectly served mixed drinks. Well before cocktails and G&Ts had to fight for their place on the scene, Josealfredo was already serving up American classics. It's a Madrid institution.
Silvia, 22 – Tel. 91 521 49 60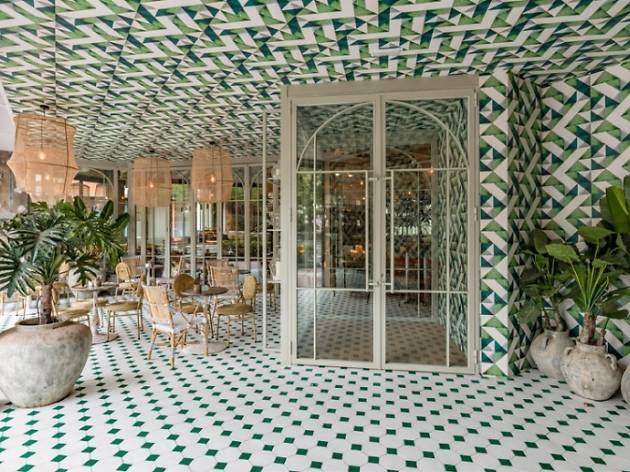 This 900 m2 venue manages to transport you to another place. A faraway place that isn't quite Madrid, where the asphalt becomes a sandy beach, and instead of traffic there's the sea. This is Perrachica: colonial, fresh and cosy. The interior design welcomes you in, and the food and drink will have you there from breakfast to cocktail hour.
Eloy Gonzalo 10 – Tel. 91 737 77 75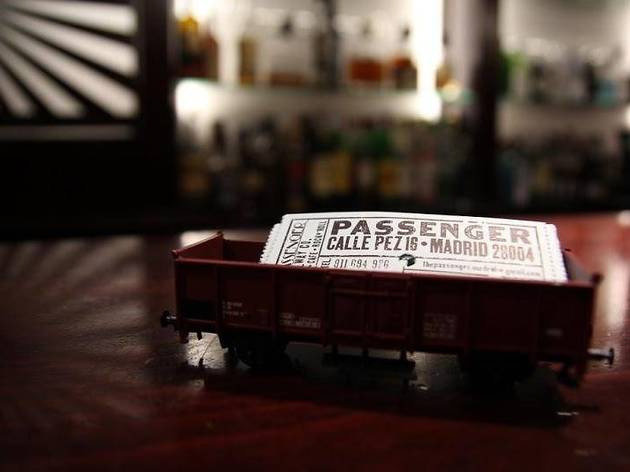 This is one of the most unusual spots to bump into someone in the Malasaña neighbourhood. As if it were an actual train, the space invites you to relax in one of its seats like a passenger and enjoy the countryside moving along out the window with a coffee, a slice of tasty cheesecake or a carefully crafted drink. The place heats up and gets livelier as night falls at weekends.
Calle Pez, 16 – Tel. 911 69 49 76
This is considered one of the best terraces in Spain, and if you head up to the the rooftop to see for yourself, you're sure to agree. It's on the roof of a landmark building in the central Plaza de Santa Ana, and it's a place where you can cool off on a summer night with dinner and drinks accompanied by a DJ. There's an exclusive bar, amazing views of the city and plenty of design touches that make one of the most chic summer spaces in town.
Plaza Sta. Ana 14 – Tel. 917 01 60 00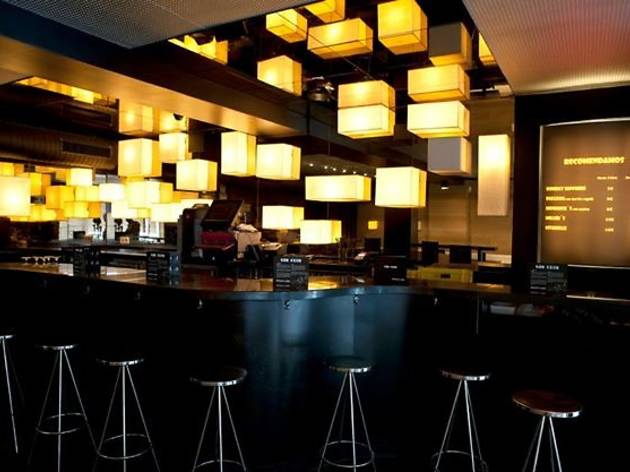 Behind the hustle and bustle of Gran Vía are some great hidden gems such as this. If you're a devotee to the best gins around, Gin Club is made for you, with their more than 40 brands that they treat with care and respect and that they mix into G&Ts with expert hands. Ambient music doesn't drown out the conversation, and you can order food from the menu of the neighbouring Mercado de la Reina, which also backs Gin Club.
Reina, 16 – Tel. 91 521 31 98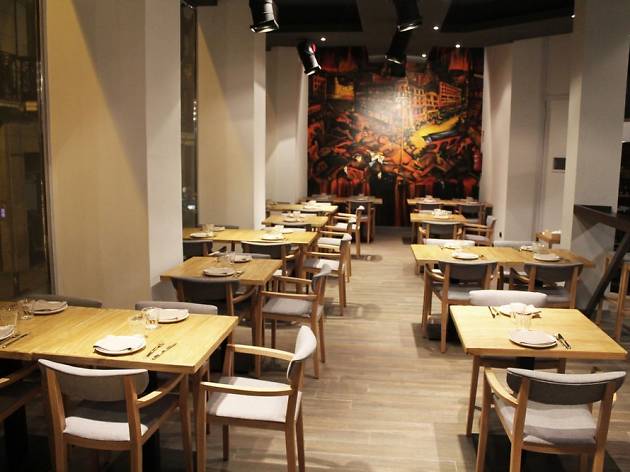 At street level you get a wine bar, and in the cellar is an American­ style bar with clandestine leanings. They're two specialities that aren't usually mixed, but come together here, with the gastronomy in common. In the wine bar you can dine on well­ updated versions of traditional recipes made with fresh seasonal ingredients. Downstairs there's an international flavour and fusion dishes, as well as classic cocktails, personal creations and a menu of more than 500 brands to order from.
Reina 4 ­- Tel. 91 521 66 78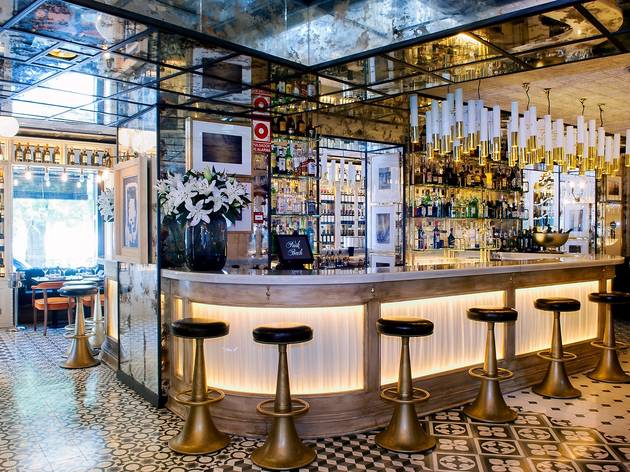 This 'brasserie' is both illustrious and a dive at the same time, and it plays with both themes in a non­stop gastronomic experience in Paseo de la Castellana. The interior is by Lázaro Rosa‐Violán, and the concept has the bar, tables and terrace sharing space, with different cuisine for each. Mirrors, avant­garde lamps, cocktails, good drinks, an ambience of cool, and a careful musical selection that changes with the time of day and night.

Paseo de la Castellana 74 – Tel. 91 562 09 63