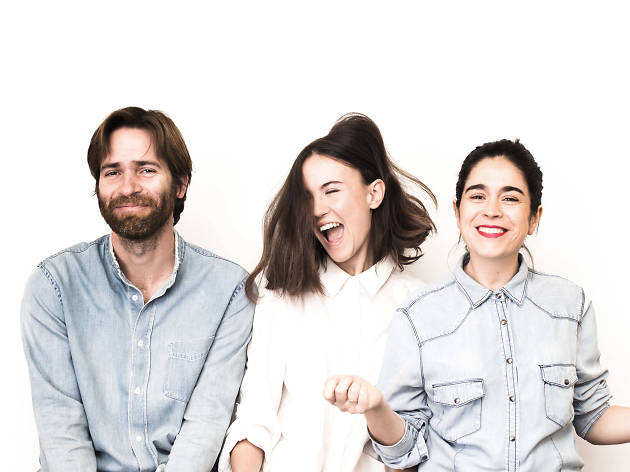 Meet the innovators
Meet the artists who now are taking their creativity to the limit
Chefs, dancers, musicians, actors... Meet the most innovative creators in the city!
Architecture
Check out eight of Madrid's most unique buildings
OK, so you've slogged up and down the Gran Vía dozens of times, you know Los Austrias like the back of your hand, worn grooves in El Retiro's paths with your Sunday strolls and seen the sunset from Temple of Debod so often it's gotten boring. We get it: you're a Madrid 'cognoscente'.
Well, you 'cognosci' all its traditional spots, perhaps. But there's much, much more on offer. So why not take a fresh look at the city with these eight captivating erections? If they don't shake you from your hipster ennui, perhaps nothing will.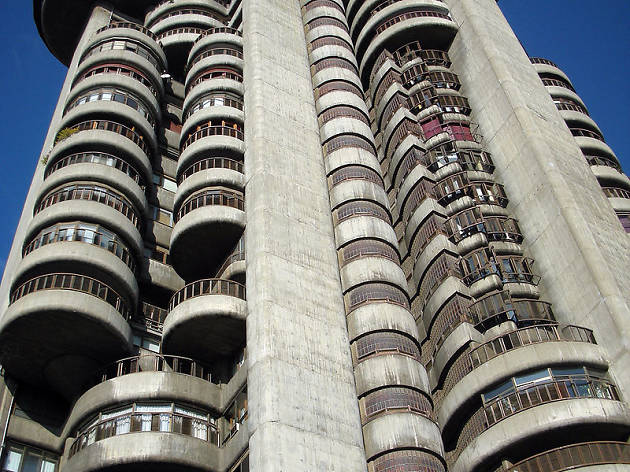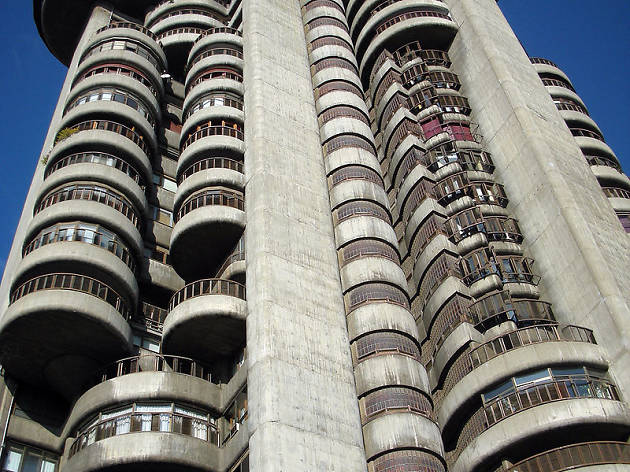 © Daniel Lobo
Torres Blancas - Avenida de América
The original (plural) name has stuck, as the original intention of architect Sáenz de Oiza was to build twin towers. However, only one saw the light of day, and even that cannot boast its expected colour: what passers by now contemplate is something akin to an enormous grey concrete tree. Its structure of vertical cylinders, with curved balconies that could be its leaves, reaches a height of 71 metres, topped by one of its most striking features: the stunning rooftop terrace, complete with pool. At the entrance, you are greeted with a charming "Prohibido pasar" (No Entry) sign, an attempt to hold back the hordes of onlookers and architecture junkies, although rumour has it that some cheekier chancers blag their way in by pretending to be potential purchasers of one of its ritzy apartments, which go for more than 700,000 euros.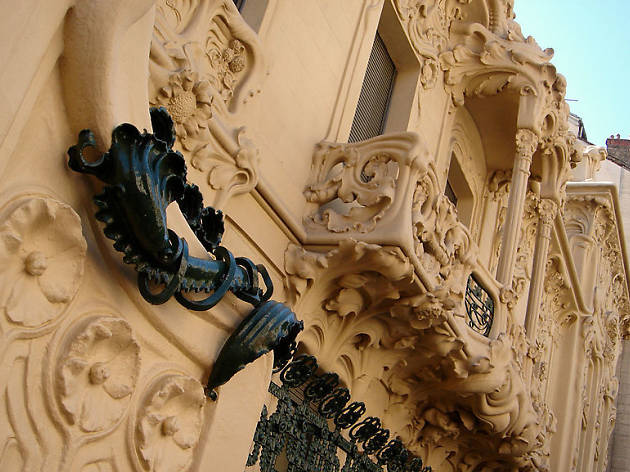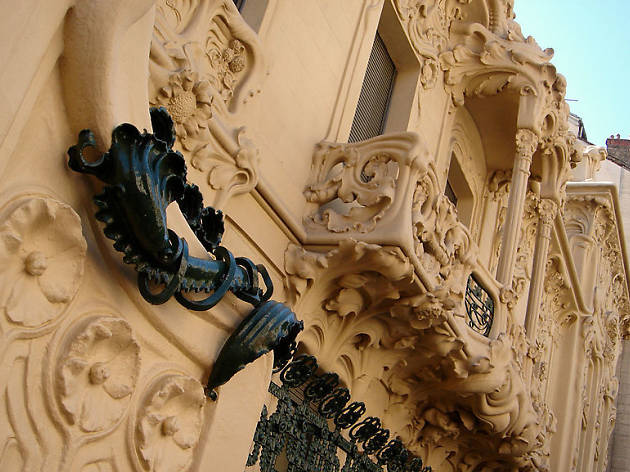 © Alex Castella
Palacio Longoria –Alonso Martínez
It may well be that some avoid the spot when they realise it is currently the headquarters of the SGAE, Spain's scandal-hit copyright collector, but it's still worth stopping off here to goggle at the abundant variety of ornamental motifs decorating this 1904 palace, described by those particularly given to flights of fancy as a huge frosted cake. Architect Grases Riera's penchant for OTT decoration can be noted on the façade, and veritably festoons the interior: particularly noteworthy are its imperial spiral staircase and, right above it, the impressive stained-glass dome.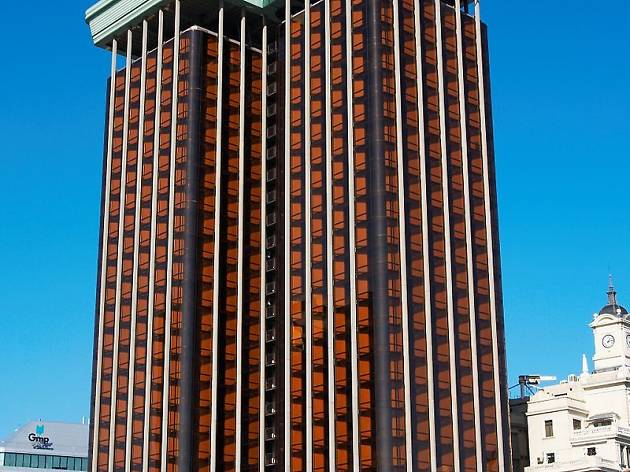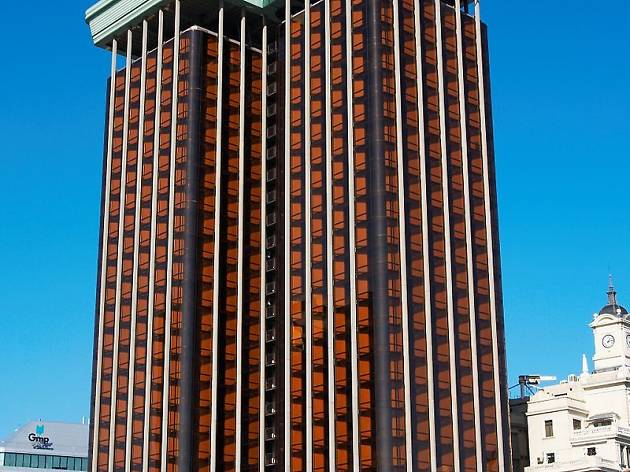 © Barcex
Spain's way of saying "putting the cart before the horse" is "empezar la casa por el tejado", starting your house with the roof. One real-life example of this can be found in the heart of Madrid. Building began on the 23rd floor, at a height of 116 metres, and concluded on the ground floor. It's popularly known as "el enchufe" (the plug) due to the two "pins" sticking out of its green roof, added to conceal the compulsory fire escapes and which now join the two identical towers like Siamese twins. It might not be the capital's most attractive building, true, but it's surely one of the oddest.
© Matadero Madrid
Alright, alright… you may have more of an idea about this one, probably because you've been to one of the countless concerts and events held here. This former abattoir and cattle market has undergone an architectural transformation that now means the site can be given over to cultural use. The buildings, the square, the water tank and even the old cold room have been converted to become a place of encounter for lovers of art, literature, music and film, without betraying their original essence.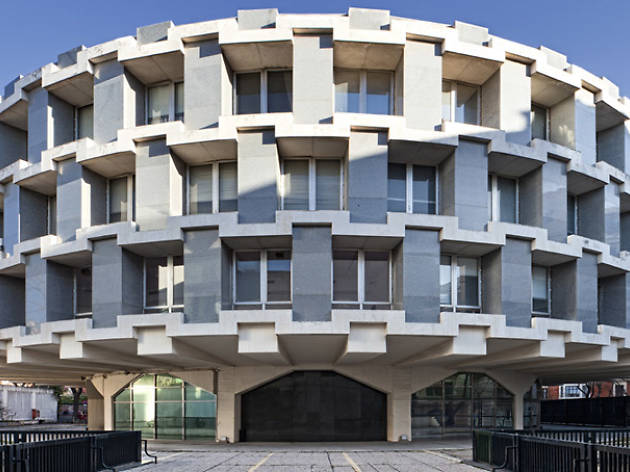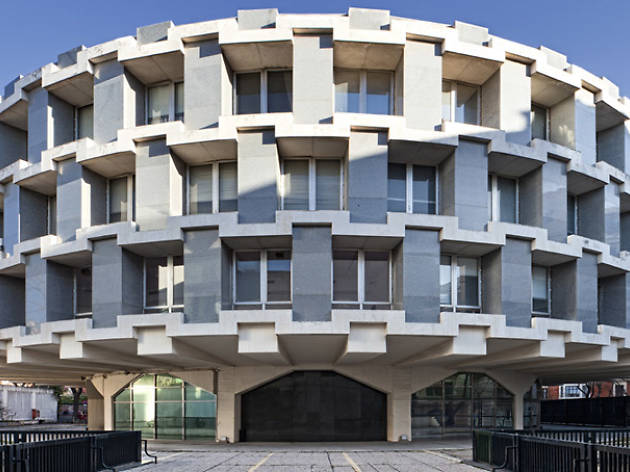 © Casa Decor
The former British Embassy – Almagro
This modern circular construction, dating from the 1960s, could well have provided the location for a James Bond movie. For 40 years, its rounded walls, with their geometric features in concrete and granite, housed the almost 90 rooms designed for the diplomatic activities of the representatives of Her Britannic Majesty, arranged over three floors and connected by circular corridors. Its spacious grounds, with their pool and bar, were used by its employees for a bit of well-deserved R&R. Since 2009, when the embassy moved to the Torre Espacio, the building has been used to host the Casa Decor interior design show.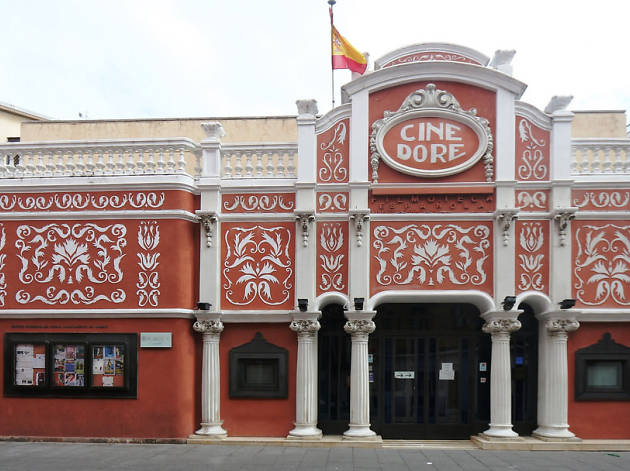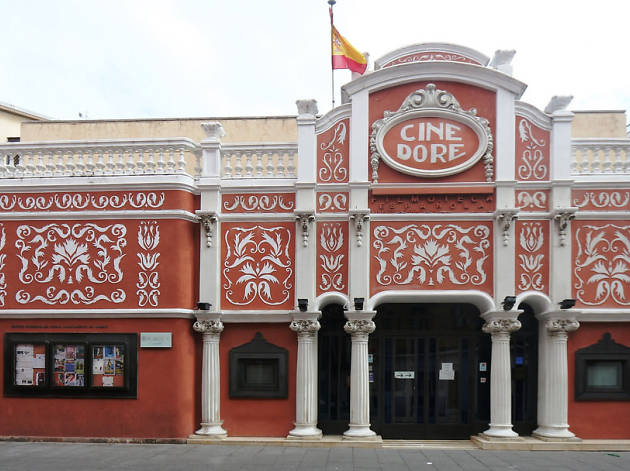 © OzinOH
This Art Nouveau building is today the premises of the 'Filmoteca Española', the country's national film archive. It retains the original architectural and decorative features dating back to 1923, although it was once almost condemned to oblivion. Closed for 20 years, in the 1980s, the Ministry of Culture realised the value of protecting its structure and, particularly, its façade. So it was that movie screenings returned to the place, whose main foyer retains the original essence of the Cine Doré: a balconied rectangular patio crowned with a skylight.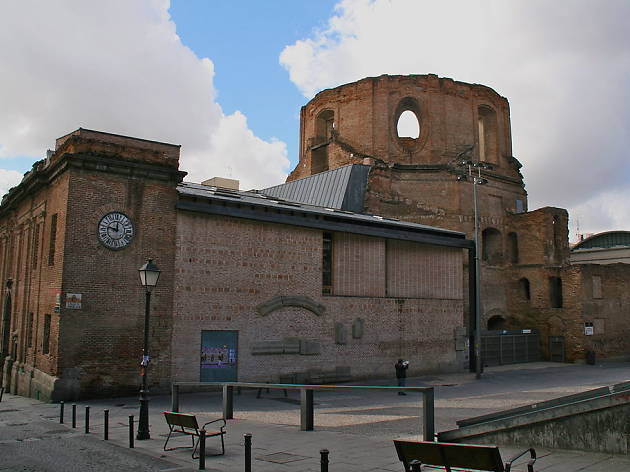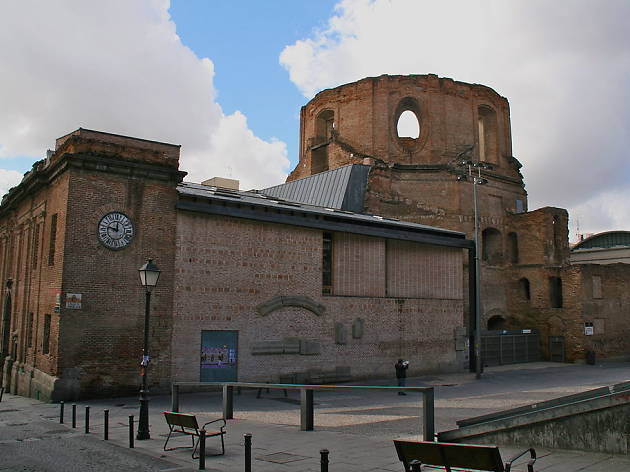 © Tamorlan7
Students at the UNED (Spain's Open University) to which this centre is attached, must love it here, although some might find it hard to concentrate on their studies in such a fantastic setting. Today a cultural centre, it is divided into university classrooms, built on the ground that once bore the Lavapiés Theatre, and the imposing library, located in the former church of the Convent of San Fernando, which was torched after the outbreak of the Spanish Civil War. Your first impression is that it is still in ruins, although closer inspection reveals that it is a well-balanced fusion of said ruins with converted, restored and new parts. It's well worth visiting the place, which is open to the public and which effortlessly combines history, culture and beauty.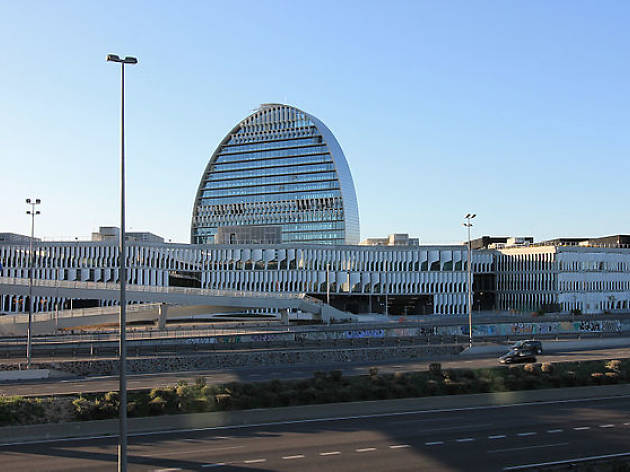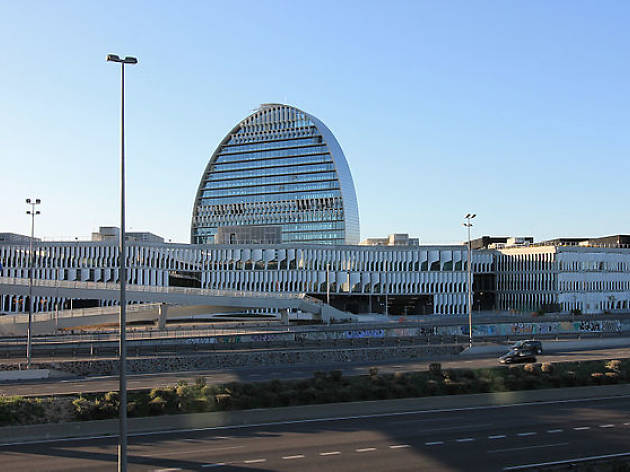 © Zaqarbal
La Vela – Ronda de la Comunicación
On the capital's northern fringes, you'll find one of its most striking—and architecturally prized—buildings, due to its complex and innovative nature: the city's main headquarters for bank BBVA. 35 bend radii give it its unmistakable shape, which the workers it houses were quick to dub "la Vela" (the Sail). Towering to a height of 93 metres, arranged over 19 floors, it is a paragon of sustainability: the 49,000 square-metre glassed façade overlooking the A-1 highway uses argon gas to insulate against traffic noise, the plates covering the areas most affected by the sun help regulate the temperature, and its structure can recycle all the water it receives.
Music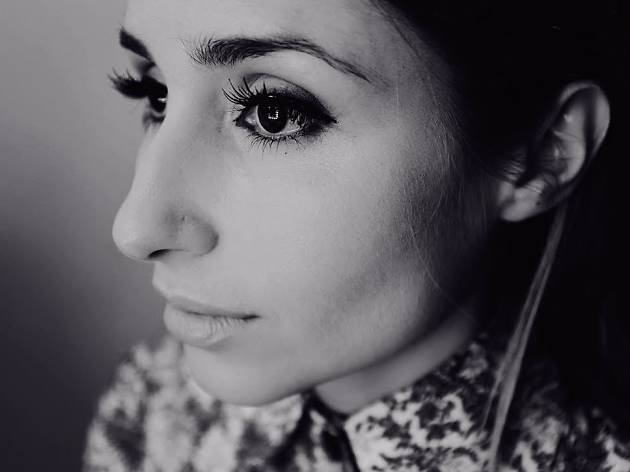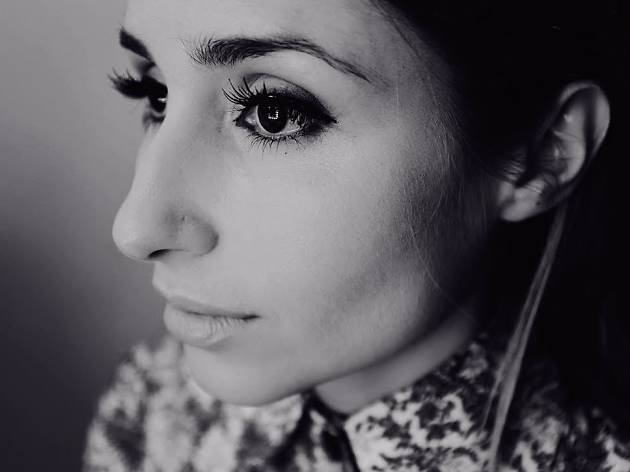 © Marina Kaysen
Zahara, the 'Khalessi' of Spanish pop
Yup, another article kicking off with a 'Game of Thrones' reference. In this case, though, it's completely justified. The gulf between the youngster who debuted on the music scene in 2009 and the Zahara of today is as wide as that between a traditional Disney princess and the 'Khaleesi' of George R. R. Martin's imaginary world.

Zahara, who was born in Jaen but has been based in Madrid since 2012, has stealthily become something approaching a real pop star here in Spain. And she's done so without resorting to family connections, despite the fact that she is Joaquín Sabina's niece.

Nope, it's all down to her maturing the bright, somewhat cutesy pop of 'La fabulosa historia de…', which even included the theme song for Spain's 2009 'Vuelta Ciclista a España'. This freewheeling ditty featured the line "I've only seen planes leaving, I trust I'll fly in them, some day…" A 26-year-old slip of a thing, but one boasting ambition and personality, not to mention a carefully curated look. These first numbers sounded fine, but Zahara seemed to be in search of a voice that was (more) her own. One that was heard to thundering effect in her second album, 'La pareja tóxica' (2012). Less flowery, bright and sweet and much bitterer, rawer and more honest: all about relationships, obviously. This journey to the dark side of love immediately won her a broader following, happy to sing along to lines like "Your amazing nights go hand-in-hand with my bleak ones, there's no dignity in the way you look at me", (from 'Camino a L.A.'). The (apparently delicate) Zahara took a step forward and, in her live performances, backed up her acoustic guitar with the support of a band. She was almost, almost a 'Khaleesi'. But the last stage of her transformation was yet to come. This would take place in Madrid, a city that welcomed her with open arms.

Her shows soon began to sell out at benchmark venues like But and Galileo Galilei. Her rise to the top was completed in 2015, when she released her third LP, 'Santa', under her own label, G.O.Z.Z Records, and it's quite a declaration of intent. Zahara thus concluded her definitive transformation, delicately balancing the light and darkness of her previous albums, the result of her steely determination and self-confidence. Present and correct are both the poppy brightness of her beginnings and the indie darkness she acquired along the way, now joined by electronic arrangements and hints of the 80s. So, now the Mother of Dragons has well and truly arrived. She jokes with the audience (a sense of humour can be a powerful weapon, and she possesses a well-stocked arsenal) and leads her band masterfully, whilst her fans scream, get pumped up and go wild for her and her snapshots of love for the Snapchat generation. "It was no sin to kiss without knowing each other, it was a miracle they'll never recognise", she claims in Inmaculada decepción, one of the tracks on this "holy" album. This new Zahara, with her image more carefully-honed and powerful than ever, is even capable of organising her very own autumn mini-festival, 'La Santísima Trinidad': three different concerts in the same city, on three different dates, ranging from solo performances, accompanied just by her own guitar, to being backed by a full rock band. Asked about her influences, she lets rip a string of names that could make for a tasty Spotify playlist: Death Cab for Cutie, Beach House, Wilco… Go to any of her concerts, and you'll see how see takes them in, embraces them and reflects them, all from the standpoint of her very personal sensibility.

So, is Zahara the great female star the current Spanish music scene needs? If you ask the legion of 'zaharers' crowding her concerts, the answer's clear. And, best of all, she's done so without following a predetermined, set script, but by simply being herself: a different woman at every point in time. "We not going to stop dancing, you'll dance, blondie, for me. You've saved my life, again, today, without knowing it, without knowing it, without knowing it…" ('Caída libre'). Zahara/Khaleesi leads and her dragons follow.
Food and drink
The new Kings of Madrid: life in the kitchen beyond Dabiz
To achieve a Michelin star, to wager for a zero mile philosophy, to revaluate products from the community and, of course, to add personality to every dish. It takes meeting a lot of requirements to carve yourself a niche in a gastronomic capital as Madrid. The exciting culinary offer of the city, origin of new talents in the kitchen, is more alive than ever and it accepts with arms wide open a new wave of bold, brave chefs that, in a short lapse of time, have made everyone talk about their feats. There are others like Dabiz Muñoz in Madrid who don't need to misspell their names to stand out. We cross the thresholds of the culinary fortresses that accommodate the new kings of gastronomic mambo.
Samy Alí, a Madrilenian of Sudanese origin, who's worked in Shanghai and Sudan, has a cuisine as eclectic as he is, even a bit punk, with powerful flavours and truly surprising food presentation. His leap to Plaza de Oriente from Valdemorillo was necessary to approach a public that was avid for culinary novelties. This is indispensable to understand the gastronomic experience, defined by the tam as "planetary fusion cuisine". To sit at the table in this small place of vintage appearance is an opportunity to see how Alí gives full rein to his imagination, his melting pot, his passion. He has no menu, but three stagings: one of six steps (if you're in a hurry), one of nine (perfect to enter his particular universe) and one of eleven, to enjoy taking it easy.

Amnistía, 10.
91 173 98 88
These are the authors of one of the biggest gastronomic successes in the last years in Madrid. Javier Goya, Javier Mayor and David Alfonso opened TriCiclo as a contemporary cuisine restaurant in July 2013, in Las Letras district. Today their tables are full, and they have a humble waiting list of many weeks to have dinner on a Friday or a Saturday. The secret of their success is but offering tasty, well-executed food. This is true for TriCiclo and for Tándem, its smaller brother, located in the same street and sharing its rebellious spirit: fresh, lively cuisine, with a more casual formula, no reservations and at a fairly affordable price.

TriCiclo. Calle Sta. María, 28. T. 91 024 47 98
Tándem. Santa María, 39. T. 91 016 80 67
After more than 10 years in the fashion world, Begoña Fraire decided to go one step further in her true vocation, gastronomy. A sector that she has known for twelve years, four of them from the management and kitchen supervision of Seis Ocho. It was at the Basque Culinary Centre that she met one of her great teachers and inspirations, Luis Arrufat, along with Ricard Camarena and Joan Roca. Simplicity, flavour and passion define this Young chef's work. Her accentuated aesthetic sensitivity is clear in artistic dishes, as if edible pictures that she "paints" with carefully selected season products, and that invite us to a travel via our palates. Pure feminine class in a well balanced, fresh and no-frills menú, but also an innovative and sustainable one.

Albasanz, 68.
91 327 36 07
Welcome the "hipsters" of Madrilenian gastronomy. In 2009 they founded the Arzábal tavern, at the Retiro district, with six tables and a bar for twenty people, a place that is still today a faithful reflection of their expectations. Tradition and modernity combine in a contemporary cuisine of classic roots that, almost by popular acclamation, took them to open, one year later, a second tavern, a few yards away from the first one. As they state, it is a dream come true in times of recession.

But they didn't stop there. After taking their taverns to a position of reference in Madrid, and establishing a new one at the Museo Reina Sofía terrace, they founded Lovnis, a re-invention of the classic bar and its one-course meals, as well as A Japanese Kirikata, a Japanese tavern with an exotic non-stop cocktail menu. All of it, with their characteristic ability to keep a high gastronomic level in a funny, informal and dynamic atmosphere.

Menéndez Pelayo, 13.
91 557 26 91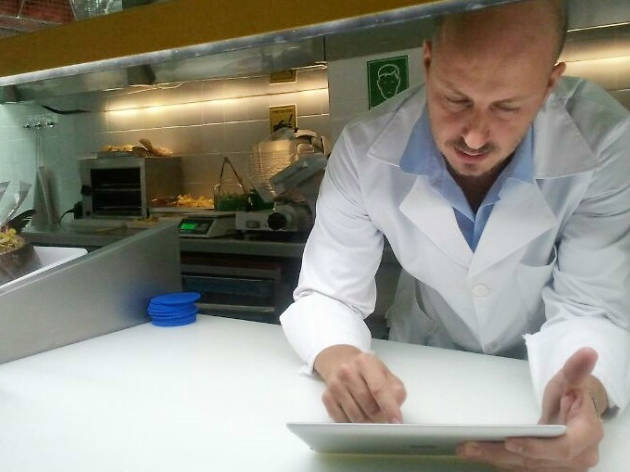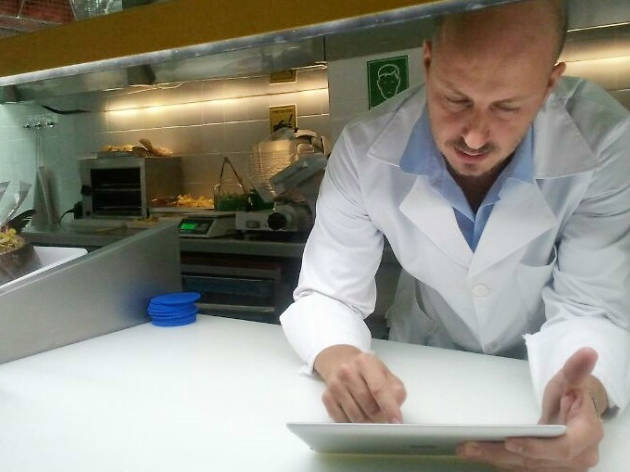 Javier Bonet. Sala de Despiece y Muta
Javier Bonet, King of Ponzano Street and promoter of the #ponzaning (action and effect of going after "tapas" in the aforementioned street) revolutionised what we knew up until then as "tapeo" with his Sala de Despiece. Grandchild of a fisherman, son of a butcher, this Majorcan appreciates the product's quality and authenticity, and makes them cornerstones of his proposal. In less than 50 metres and around a naked bar, if we manage to occupy a gap we'll enjoy - standing - platters based on the original flavour of the prime matter, without frills and on wax paper. A modern atmosphere, but free of pretentions, that has its continuation in Muta, just across the street: a place that looks like a warehouse and that literally mutates in order to accommodate, in its tables, fragrances and flavours of the various cuisines of the world.

Ponzano, 10-11.
91 752 61 06
Fashion
Jewels have the power of making the wearer feel unique. But that serves also the maker. The design of those small pieces that complement our outfits and that sometimes make us feel amazingly special can be an art when in the hands of creative people with the talent necessary to convey ideas and emotions via necklaces, earrings and rings. We show you three present day goldsmiths whose collections are much more than just ornamental pieces.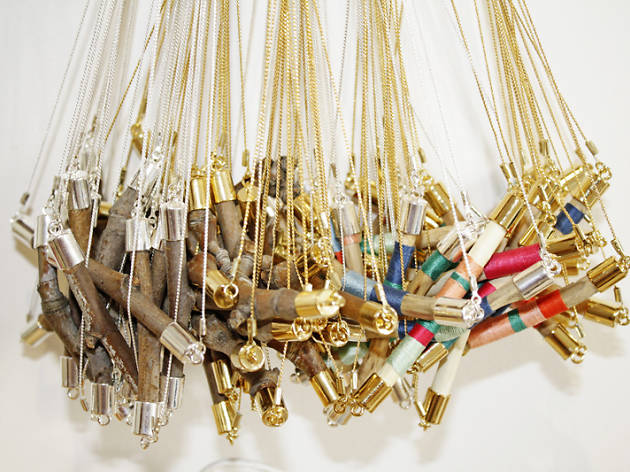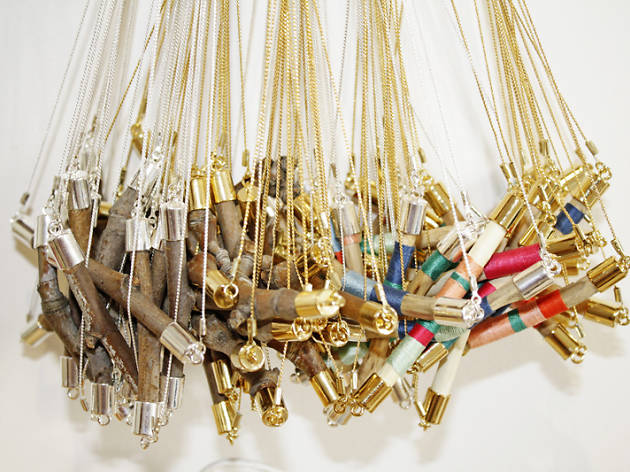 © Yiyí Gutz
Yiyí Gutz's "eco-necklaces"
Jewels handmade with branches fallen from trees. This is Yiyí Gutz's beautiful, sustainable project. She's an environment-concerned artist who cares about recycling and supporting craft-made, DIY jewels, who elaborates her "eco-accessories" with care, following the slow fashion philosophy. Under the name "On Wood", Yiyí offers each twig a second life, creating unique, fresh and colourful pieces, peeling the bark off with her own hands. It reminds of the driftwood to be found at the beach. She then combines them with Swarovski crystal beads, in a playful contrast between the twig's natural qualities and the delicateness of crystal, thus crating earrings and necklaces on silver and gilded silver mounts. The origins of each twig are various: it may come from a park, a wood, a street. The funny thing is, each piece has its own appellation of origin so you can know what part of Spain it comes from.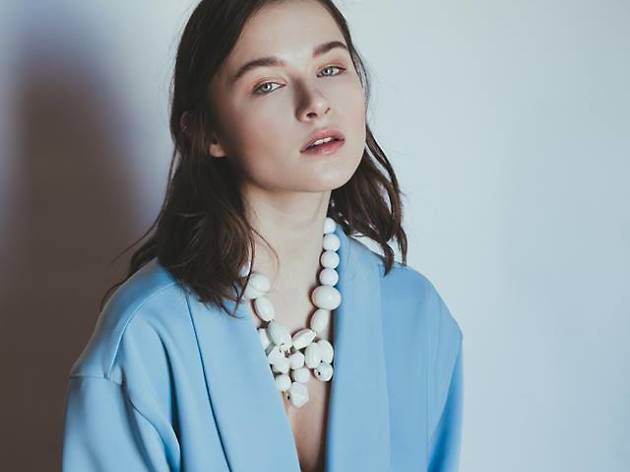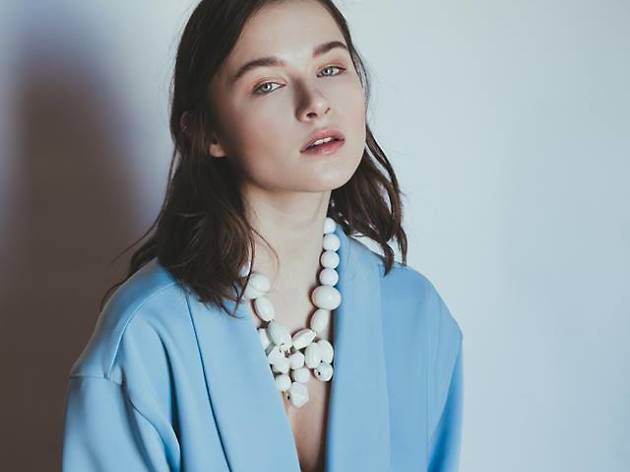 © Mamen Fajardo
Ceramics turned into jewels: Julieta Álvarez
Julieta Álvarez has been related to the world of fashion for a long time. Her ceramic-made jewels are already known in France, Belgium, Germany, Japan and Australia, all hailing from her atelier at Madrid. Each of her delicate pieces undergoes a gradual process of modelling, enamelling and baking before being ready for the production of necklaces, rings, earrings and bracelets. Clay has its own timing and it forces the artist to work with the utmost detail and care – precisely what Julieta values most. Timework is essential for the brand in order to achieve a unique final result. That's why each member of the team – completely consisting of women working together at the atelier – has her own responsibility and task in the production of the pieces.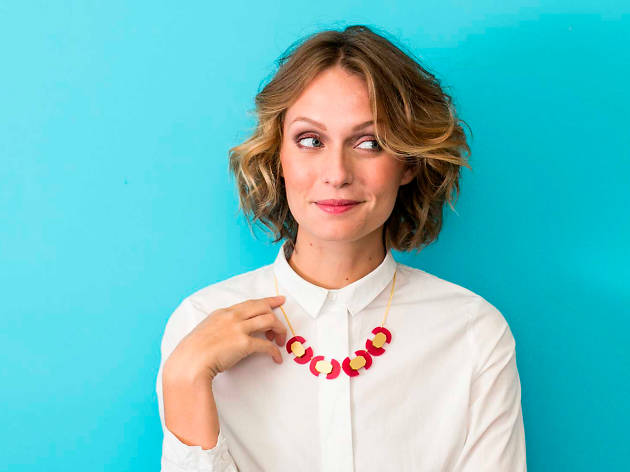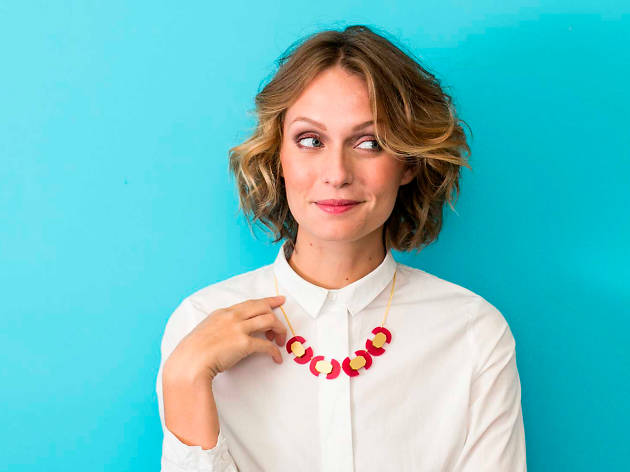 © Marcela Falci
Papiroga and its emotional accessories
Papiroga was born from the dissatisfaction of designer Estefanía de Oliveira, engineer Leire Urzaiz and brand positioning expert Daniel Coma-Cros with what they saw around them: brands that were soulless, with no emotional links to the consumer, designs that were unwilling to accept risks and were, thus, repetitive and monotonous, more oriented toward the income account than to revolutionise and reinvent the environment. Their brand is, thus, a wager for developing a previously non-existent space, with personality, attributes and values different to everything done up until then: unique, never-before-seen designs – whether creating new categories and shapes, in their use of colour, materials or the very way to set them up – that render emotion to the consumer and add values such as authenticity, happiness and an easygoing freshness in order to definitely change the way of living and feeling the accessories. It is but an "accessory-therapy" in the shape of maxi-necklaces, maxi-earings and maxi-brooches, all original and fully coloured, able to rise a smile in an insurmountable working evening. A smile they are transmitting via their website, multi-brand stores all around the world and their showroom at Fernando VI street, in Madrid.
Theatre
Taking the reigns, harnessing the talent
As the saying goes, Madrid is the capital of Spanish theatre. And they say it because it's here you'll find the big musicals on the Gran Vía, the mega-productions for public consumption, the hoary temples given over to the old glories. What no one (except us, natch) will tell you is that Madrid is also the capital of the theatrical bleeding edge.

And it's recently been witnessing an explosion of talent and innovation in dance and theatre, with the incorporation of new generations and people from far-flung climes, who find in Madrid the creative freedom the capital is becoming famous for, spurring them to take risks, to explore the unknown, to add their dose of stimulation, fusion, daring and bravery.

It's by no means an organised movement, nor one that the MSM has been able to give a convenient label. It's made up of those looking to give free reign to their imagination, the great contribution made by artists to a country in crisis that's turning its back on culture, interested only in celebrating those who died four centuries ago. They, by way of contrast, are all about the here and now, about telling us what's going on, and shaping it how they want, not following the dictates of some focus group-obsessed marketing drone. Shaping it into contemporary dance, alternative comedy, formal research or fusion theatre, the only kind that's truly 'alive'.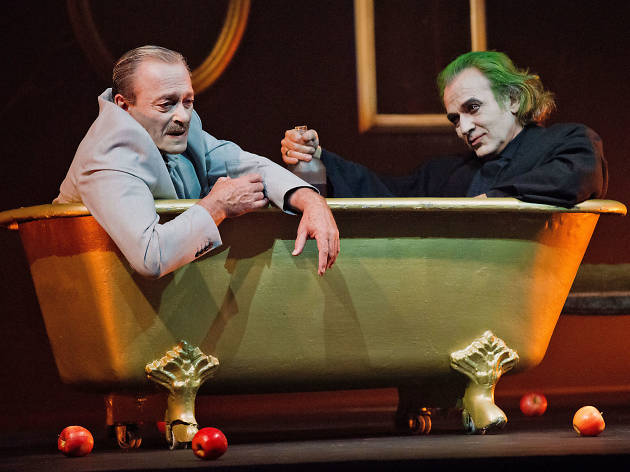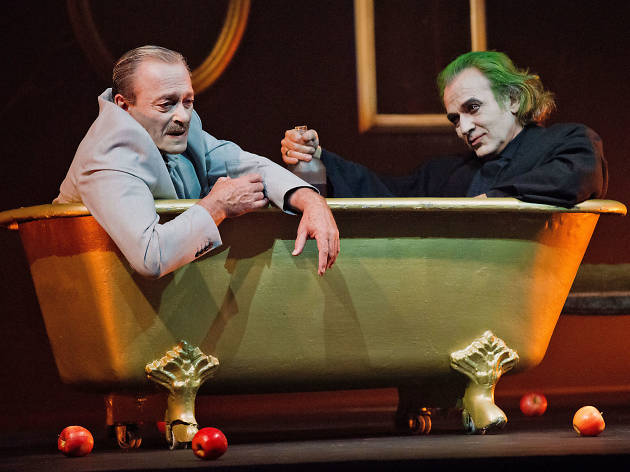 © Javier Naval
One good example of this is the theatre of Carlota Ferrer. This choreographer and dancer has a calling to give back to Europe everything that Europe has taught her. A creator of a cornucopia of formats, surely to provide coursework for the stage direction students of the future, she produces output that, like her most recent work, 'Alma y Cuerpo' (seen at the Teatro Español), fuses poetry, music, art, dance, theatre and even philosophy into a harmoniously seamless whole. Forming a dynamic duo with playwright José Manuel Mora, she's been behind other shows ('La melancolía de King Kong', 'Los nadadores nocturnos' and 'Fortune Cookie') that, like fine wines, accrue value and recognition with the passing of the years.

Mora is just one member of that group of men and women, sired in the 80s, who are currently behind an unprecedented revolution in Spanish theatre. Alongside him stand figures such as María Velasco, Alberto Conejero, Antonio Rojano, Sergio Martínez Vila, Carolina África, José Padilla, Denise Despeyroux, Juanma Romero Gárriz, QY Bazo and Lucía Carballal. Each and every one them (and, indeed, many others) are worth a closer look, but we'll examine the last two.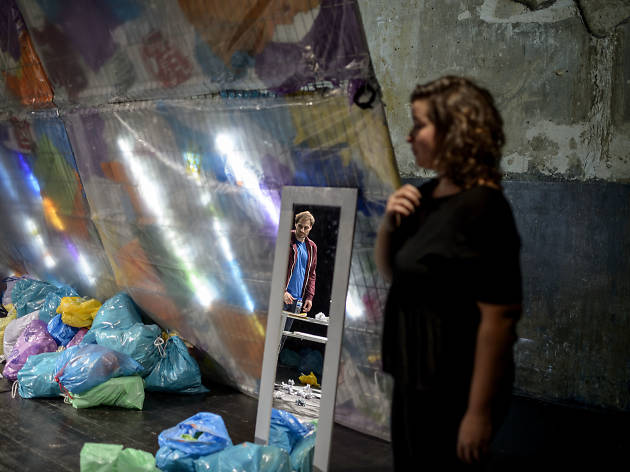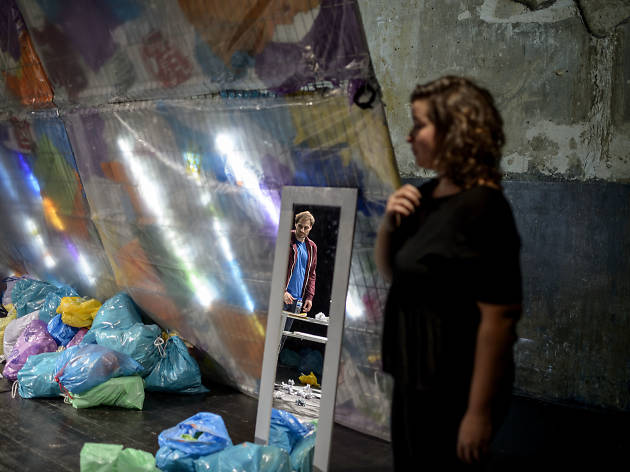 Brothers QY (Quique and Yeray) Bazo are part of the Nuevenovenos collective, a hive of both theatrical and audiovisual creativity. The Bazo siblings gave the system a bracing slap across the chops with their fantastic 'Nada que perder' (co-written by Romero Gárriz, a frequent collaborator), which will return to the Cuarta Pared venue—where it was —in September. And this summer's 'Frinje' will see the subject of the Charlie Hebdo attacks tackled in Tres días sin Charlie. In-your-face theatre, charged with motifs and meaning.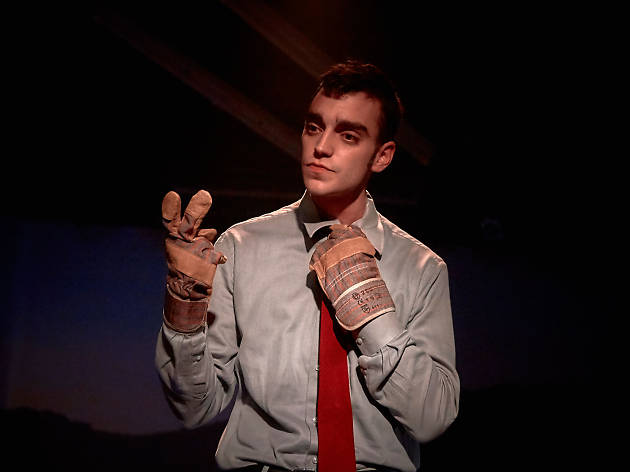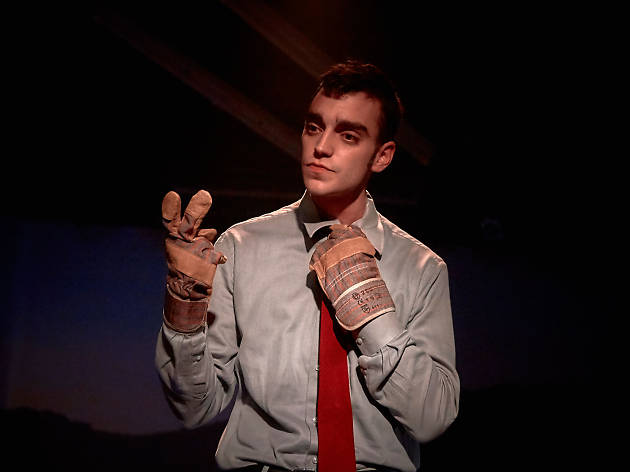 © marcosgpunto
Moving on: of Lucía Carballal, we're sure to hear more in the future. Because her last two appearances on the capital's billboards have been completely shattering in their quality, their unremitting contemporaneity, in the way she wields the dramatist's scalpel with laser-like precision to lay bare the state of contemporary society. She, too, makes up a creative tandem with fellow author and director of her last two productions, Víctor Sánchez. Let's face it: going it alone has never been en vogue in the world of the theatre, and even less so nowadays. Together, they have given us 'A España no la va a conocer ni la madre que la parió' and, most recently, 'Los temporales'. Nobody speaks of the happy slavery of the century of smart offices like these two do here. Powerful stuff.

Just as powerful was the deconstruction of loneliness and the transformative potential of what is, without doubt, Off madrileño's show of the year, 'Yogur/Piano', forged in the heat of the artist residencies at Malasaña's Espacio Labruc. A group of five young actors headed by Gon Ramos bring a Sigur Rós poem to the stage. As experimental as it is emotionally impactful, it transforms the very texture and structure of what is "real". Truly, worthy heirs to company La Tristura (which, by the way, is back this season with 'Cine', a theatrical quest to bring moviemaking codes to the world of the stage). Despite their youth, they're old hands at experimental theatre, and an inspiration for countless new, hang-up-free creators.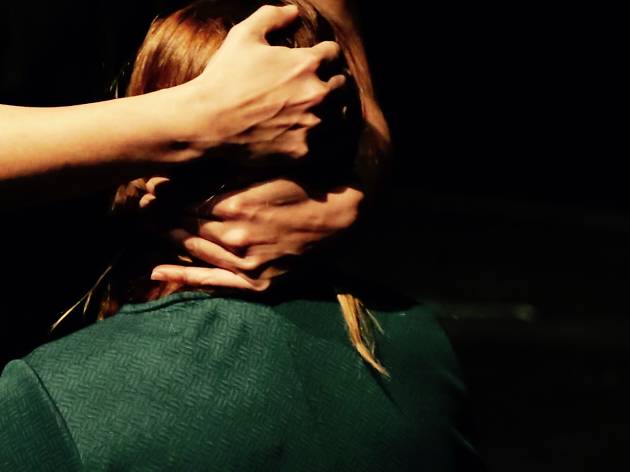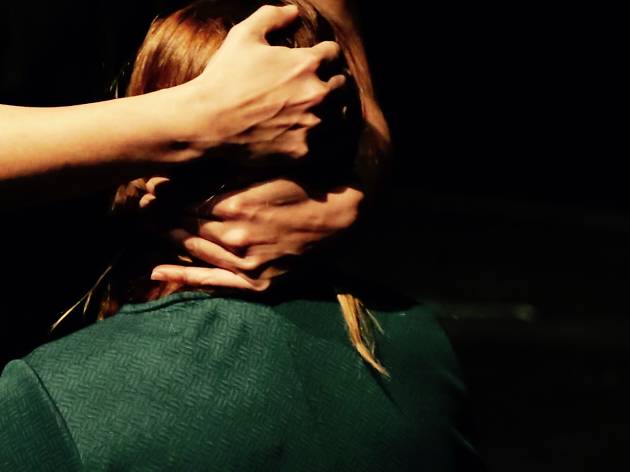 © Quique Marí
And, whilst on the subject of inspiration, let's take a look at Pablo Messiez. This Madrid-based Argentinean actor, playwright and director has, since his arrival here, given our theatre a well-needed shot of love and intelligence, with texts and productions full of room for thought and feelings. He's given us 'Muda' and 'Ahora', he's wrong-footed us with 'Los ojos' and 'Las palabras'. He's immersed us in 'Los brillantes empeños' (together with Grumelot, another company worthy of note and with which he is once again partnering for his upcoming première 'Todo el tiempo del mundo'). And he's given us a knot in the pit of our collective stomach with 'La distancia', which, after playing to packed houses at the Teatro Galileo for eight days in March, we'll surely be able to see again. We need him.

Just as we need all this rushing torrent of creativity that's shaking the rigid (and so often rancidly musty) structure of Madrid's theatrical mainstream to its very foundations. A bracing remedy for so much overindulgence in corny cheese.
Best selling Time Out Offers