Manchester's best lunch spots
Our pick of the best lunch spots in Manchester, from burgers and bhunas to sushi and salads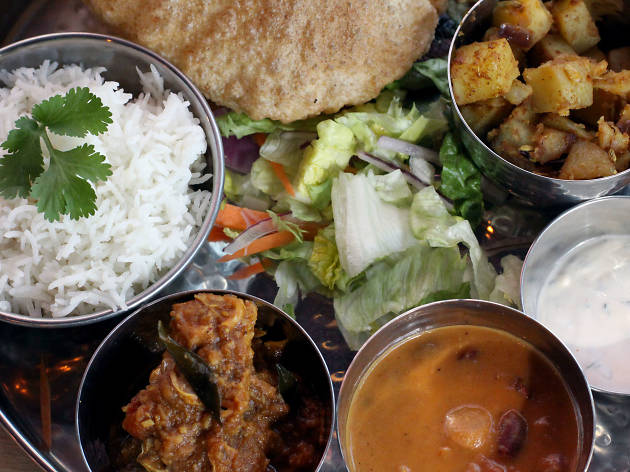 Forget getting up half an hour earlier to make your own cheese and pickle sarnies. The best lunch spots in Manchester are on hand to make your midday repast all the easier - and perhaps even tastier. From award-winning street food to cult curry houses and charming cheap eats there's plenty to enjoy, so grab a bargain lunch at the city's best filling stations.
Lunch spots in Manchester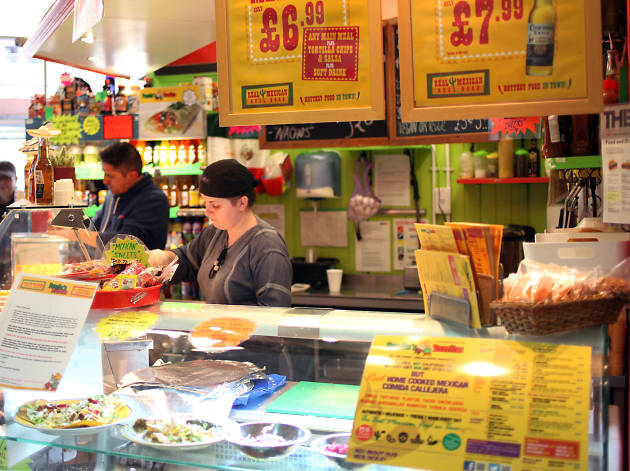 There are two branches of Pancho's to choose from: one in the Arndale Food Market and one just off Oxford Road, near to Manchester Metropolitan University. Regardless of which you visit, the food is consistent, tasty and offers good value for money. A rare taste of authentic Mexican fare in Manchester.
Read more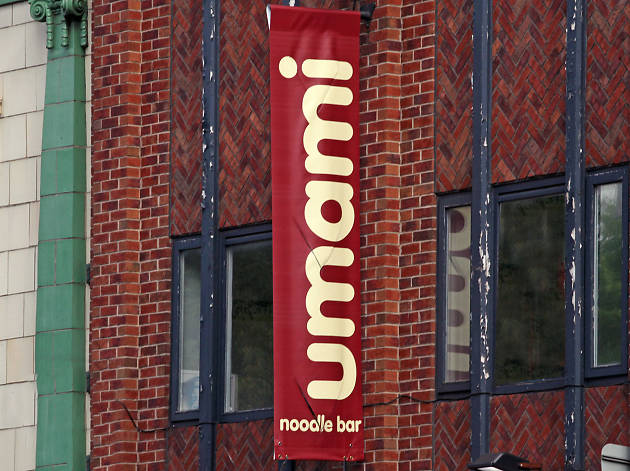 Ten years ago, the closest most Manchester students got to Japanese cuisine was a Pot Noodle, but the arrival of cafeteria-style noodle bars such as Umami has secured the presence of pan-Asian casual eateries as a mainstay in most university towns. Options include fresh sushi, soup noodles and salt and pepper crispy tofu. The two-course lunch deal is a winner at £4.95.
Read more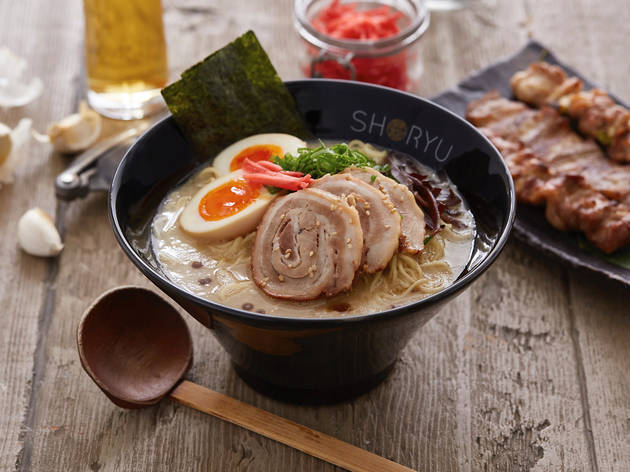 This elegant noodle bar is owned by the Japan Centre's CEO Tak Tokumine, and Manchester secured the first branch outside London in late 2016. House special is tonkotsu; a slow cooked pork broth with barbecue pork belly, egg, mushrooms, sesame, ginger and nori seaweed. Extras include fried shallots, caramelised black garlic, kimchi and seafood. The house gyoza and moreish wagyu steak buns are a must.
Read more
Those who turn up to Earth expecting greasy pizzas and fried chicken really need a good lesson in symbolism. Serving vegetarian food that harks back to an era of baggy pants and patchouli oil, tuck into tomato and chickpea sweet, burgers and mixed salad or grains for around £6. Pop upstairs for a yoga or mediation class in this beautiful, hand-built space that's part of the Northern Quarter's Buddhist Centre.
Read more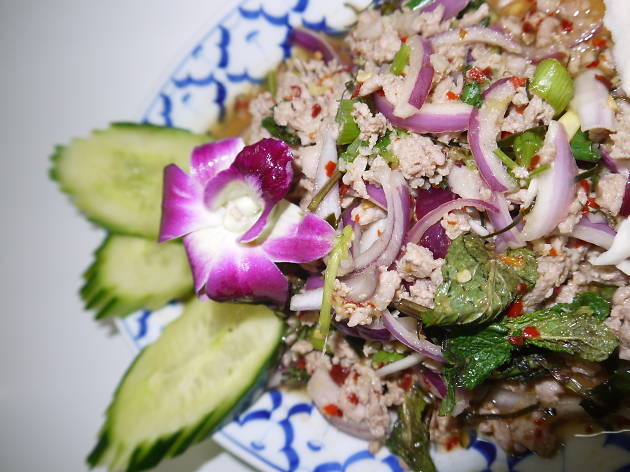 Love a hidden gem? You don't get much more off the beaten track than this proper Thai diner in the middle of a Chinatown supermarket. Highlights include a bright purple fish ball stew, eye-wateringly hot papaya salad and black rice pudding, baked to sticky perfection in banana leaves.
Read more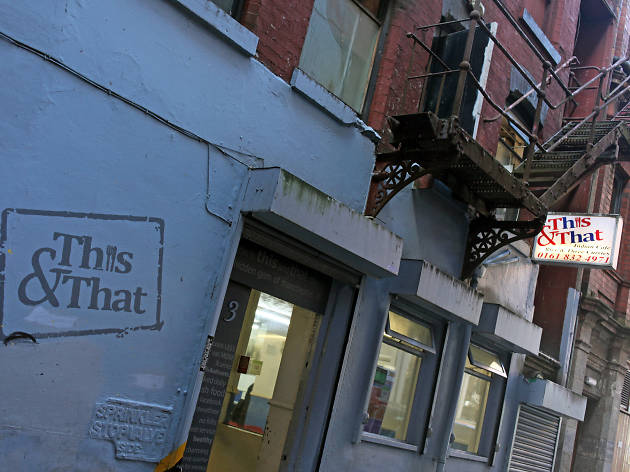 This'n'That ranks below zero on the frills spectrum. Basic tables and plastic chairs surround a counter decked in vats of curry. But what fun! Choose three curries with rice from around £5. The menu does change daily so be aware if you're hankering for something in particular, but generally, potato, daal and lamb dishes are highly recommended; add a samosa and can of Rubicon for a delicious three-course meal for a very good price.
Read more
The queue for Goody's Kimchi Bibimbap snakes out the door as students seek out bowls of healthy eating from this Asian hot spot. Enjoy an authentic Korean lunch – bibimbap or bento-style boxes, a stone's throw from the Manchester Metropolitan University campus. The simple canteen setting is open weekdays only. Oh, and they don't bother with signage outside, but it's definitely worth seeking out.
Read more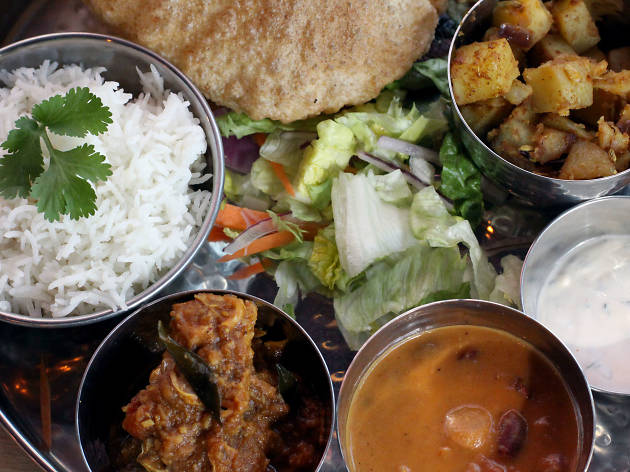 Indian Tiffin Room serves quality curries and street food inspired by India's highway diners, or dhabas. The most obvious reference point is London's Dishoom, but their vegetarian and 'non-veg' lunchtime thalis (which change daily) are a step above. Drinks include homemade almond milk called badom and Manchester's largest selection of Indian whiskies. Strings of coloured bulbs and fake palms warm this spacious new build on First Street.
Read more
Many Brits grew up eating toasted cheese sandwiches in front of the TV – and Northern Soul make the city's best. Choose from extras like beef patties, bacon and house pickles – or go back to basics with the three-cheese house blend. Lampshades made from cheese graters and wooden decking warm this semi-outdoor stall, just opposite the Arndale Food Market.
Read more