The best cheap eats in Manchester
Our pick of the best places to eat for less in Manchester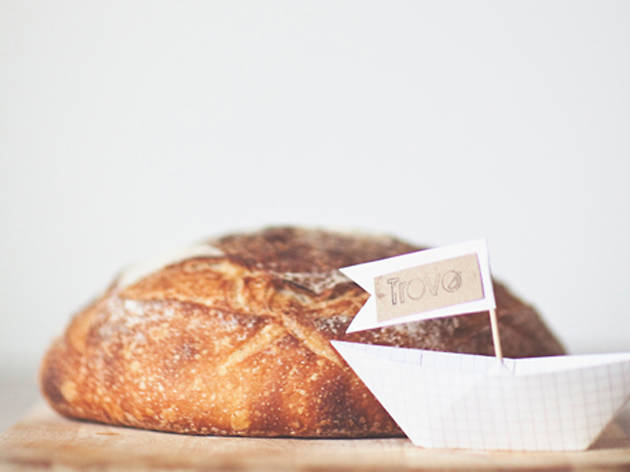 From brilliant breakfast spots to delicious late night restaurants, dining out in Manchester doesn't have to cost a small fortune. And while it's nice to splash out on something fancy once in a while, there's nothing better than getting yourself a bargain by feasting on fantastic food that doesn't even go near to breaking the bank. After all, not many of us are that flush are we? So here's our pick of the best cheap eats in Manchester. Your pocket will be pleased - promise.
Manchester cheap eats
Kate Wilson and Jim Morgan (previously of Honest Crust) know a thing or two about pizza.They've been involved in pop-ups and events previously but now they've set up their own permanent site in an area of the city known at one time as Little Italy, Ancoats.
Read more
You know you've reached Barbakan when you catch a whiff of fried onions, or spot a queue that snakes down the steps and onto the street. Fortunately, their outdoor sausage sellers are efficient and you won't be waiting long: the bratwurst is a solid favourite, and there are around ten chutneys and mustards to choose from (the sauces are self-service too: go crazy!).
Read more
It's safe to say expectations are low when you have to enter a restaurant via a metal staircase in a takeaway that's surrounded by tens of nightclubs and bars. While Habesha certainly is a little rustic, once you've grabbed yourself a bottle of St George (an Ethiopian beer), you'll soon forget about the precarious entrance.
Read more
While the atmosphere inside is perfectly acceptable, it's obvious that ambience has never been the number one concern; lighting seems to vary from extremely low level one night to almost blinding the next and wall decorations are at their most simple and stereotypical. However, as is often the case, this is a reassuring scenario, leaving the food as the main focus.
Read more
Eating at Kabana is a euphoric experience. The day you choose to visit will impact the curries available to you (prices vary, but float around the £3.50 to £5 mark). The chicken masala and lamb karahi (on or off the bone) are excellent, reliable options – the latter is thick and coriander-heavy with a freshness you may not expect from a dish that requires lengthy cooking.
Read more
Located within the Arndale's food market, Pancho's Burritos operates with a bizarre two kitchen/counter system, located across the room from each other. Regardless of which one you visit, the food is consistent, tasty and offers good value for money and a rare taste of authentic Mexican fare in Manchester.
Read more
A relative newbie to the pan-Asian scene in Manchester, Saigon Lotus has been wowing residents of Ancoats with its well-priced menu. While the environs may look a little derelict, once you step inside the airy and bright Saigon Lotus it's easy to forget what's outside.
Read more
The best thing about this kebab shop is that you don't need to be hammered to enjoy the grub they're dishing out. While there's a table service restaurant hidden at the back, most don't get further than the takeout counter at the front. This is where you'll get value for money: food that's tastier eaten off your lap or whilst walking home than it is on a plate with a knife and fork.
Read more
Those who turn up to Earth expecting greasy pizzas and fried chicken really need a good lesson in symbolism. Combinations aren't crazy – you can expect staples like tomato and chickpea, or red onion, black olive and mixed pepper. They'll pile this high for you, alongside one of their hot dishes for less than £6. And don't miss the mung bean curry – it's as tasty as it is healthy.
Read more
As Kukoos's big sister, Zaika, realised a little while ago: street food post-recession is all the rage. And so, busy with streams of people queuing for tables on Saturday nights, Zaika maximised on its output by opening Kukoos on Oxford Road back in early 2013. It's not quite up to the same standards set by its siblings, but it's certainly being guided in the right direction.
Read more
Close to the 'Four Banks' intersection in Chorlton, a suburban area of south Manchester known for its bars and cafés, this Middle Eastern family-run restaurant provides good value food, ideal for groups of friends or a midweek bite to eat.
Book now
Read more
There are plenty of Thai and Malaysian restaurants to choose from in Manchester, some headed up by celebrity chefs (Ning), others located in swanky million pound buildings (Vermillion) or high profile locations like King Street (Chaophraya). One that has none of those things but consistently delivers good food is straight up, authentic Thai restaurant Phetpailin.
Read more
The latest addition to Arndale's food market, Viet Shack has caused quite a stir, offering self-styled Vietnamese street food with a modern twist. With counter service and seating shared with the rest of the market's customers, it's set up perfectly for a quick, cheap lunch. That said, this isn't food that you'll necessarily want to rush.
Read more