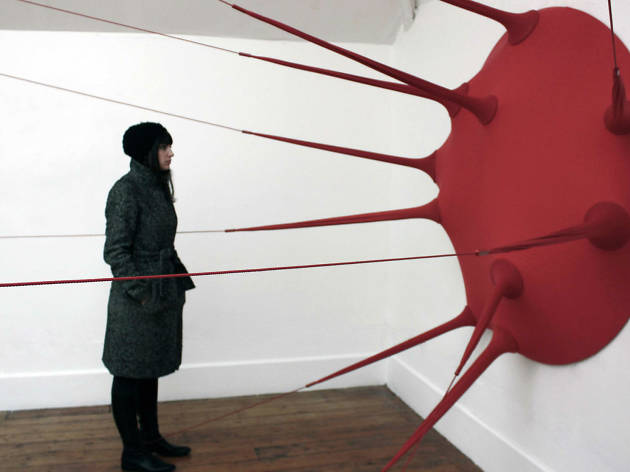 This gallery was born in 2009 under the name Galería Talcual. The purpose was to promote and support the talent of standout young artists whose proposals enrich not only the art world but the environment through a contemporary vision.
They changed the name to Arredondo \ Arozarena in 2015, taking the surnames of its directors to create a new identity, although the main focus is still to promote national and international artists.
For this reason, they have partnered with international institutions and galleries like the Cisneros Fontanals Art Foundation (Miami, USA) and the Centro de Arte Dos de Mayo (Madrid, Spain). They have also secured support for Mexican artists from foreign organizations like Mercosur (Brazil) and the Biennale Online, so that they may be able to participate in biennials.
In the national scope, they are in constant collaboration with other art spaces like the Museo de Arte Zapopan, Museo Experimental El Eco, Polyforum Siqueiros, Casa Estudio Luis Barragán and Museo Tamayo.
Their artist base boasts names such as Fritzia Irizar, the mind behind projects like "Diamante", for which she called people from Chihuahua's Tarahumara communities stricken by extreme poverty and food crisis. They donated hair as a testament of their health condition to create an artificial diamond made up from the extraction of carbon molecules from their manes.
Located right in Koreatown in the Juárez neighborhood, this gallery—more than just promoting art—is responsible for the experimentation with plastic arts and new media. As a result of this, scattered along the two floors of this house that blends with neighboring residences, you'll find many artists dabbling in a diversity of platforms like photography, sculpture, painting and sound, seeking to produce innovative concepts intended to step away from the comfort zone.
Venue name:
Arredondo\ Arozarena
Contact:
Address:
Praga 27
Juárez
México, DF
06600

Opening hours:
Tue-Fri 10am-2pm and 3-6pm, Sat 11am-3pm
Transport:
Metro Sevilla
Price:
Free entry