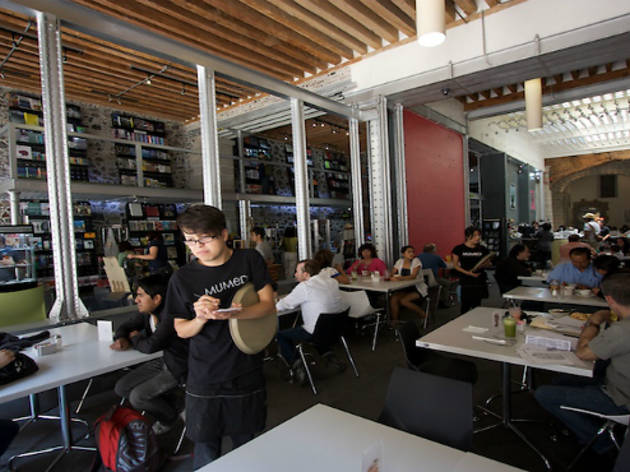 We all have witnessed the changes in Mexico City's downtown. From urban alterations to the opening of galleries, restaurants, stores and coffee shops—our city's first quadrant is getting a second boost that's quite enjoyable.
One of its main streets—right in the middle of chaos, people and noise—houses the Museo Mexicano de Diseño (The Mexican Design Museum), a gallery, store and coffee shop that's been committed to promoting great food and artwork for almost ten years now.
MUMEDI was created by designer Alvaro Reno García de Alba out of a need for a design museum in Mexico and has had two important phases. Two years ago, it underwent a full renovation to capitalize every inch of property space, thus allocating an almost independent area for each section. Mumedi has become a multifaceted project and, aside from a museum, it's also a foundation dedicated to support graphic and industrial design in our country. 80% of its giftshop's stock is made in Mexico, which boosts its production and consumption. Hence, the store has become a lab for constant experimentation, where young designers can sell their products while small and medium-sized design companies get recognition and support.
In this particular scenery of pictures, paintings, a giftshop and specialized library where you can buy avant-garde accessories or posters from their latest exhibition, it is possible to delight your palate with appetizing dishes which complement the scenery.
Designed by chef Aaron Gómez Figueroa, the menu takes international dishes like quiches, baguettes and croissants and gives them a totally irresistible little Mexican touch. Everything is freshly cooked, so the dishes are always tasty and unique. This might cause a slight delay but it's worth the wait.
MUMEDI's restaurant/coffee shop has an all-day service along with a great variety of tea, coffee, smoothies and probably their best drink: chai tea. The food offer on the menu is great, and the flavors and presentation make it a great choice. Visit Mumedi and witness one of the strongest independent accomplishments in downtown.
Venue name:
Mumedi
Contact:
Address:
Francisco I. Madero 74
Centro
Mexico City
06002

Opening hours:
Mon 11:30am-8pm, Tue-Sun 10am-8pm. Restaurant: Mon 10:30am-9pm, Tue-Sun 8am-9pm
Transport:
Metro Zócalo