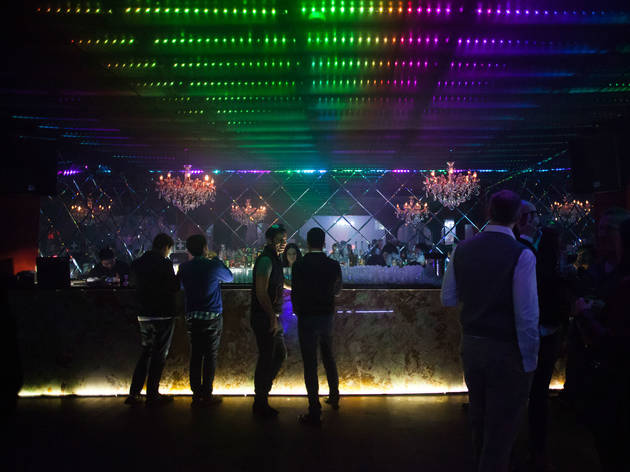 1/11
Foto: Alejandra Carbajal
2/11
Foto: Alejandra Carbajal
3/11
Foto: Alejandra Carbajal
4/11
Foto: Alejandra Carbajal
5/11
Foto: Alejandra Carbajal
6/11
Foto: Alejandra Carbajal
7/11
Foto: Alejandra Carbajal
8/11
Foto: Alejandra Carbajal
9/11
Foto: Alejandra Carbajal
10/11
11/11
Foto: Alejandra Carbajal
It's kind of like going to mass in that everyone here wants to be noticed to prove they showed up. The décor is sort of church-like with exposed stone, chandeliers, stained-glass windows, old-fashioned curtains and very high ceilings with LED lighting bathing the dance floor. Almost as if blessing the sinning that's about to go down.
Fridays are the best nights to come but come dressed appropriately as there are many different themed-nights. It's great for people watching, too. There are fitness freaks, tight shirts, and high heels everywhere. The place fills up and everyone dances in spite of the comfortable armchairs surrounding the dance floor. So, go ahead and show off your dance moves when the pop, electronic or reggeaton beats drop. And rest assured that you'll get at least one sultry look shot in your direction.
The idea here is to spring for bottle service, it's the best way to enjoy this club. It can get really crowded, especially on drag show nights when queens like Lorena Herrera, Kabah or Jeans are on the card. But, take it as an opportunity to cozy up to your neighbor (wink-wink).
Getting in here isn't a production, just contact them on Facebook to get a discount on the cover (normally 200 MXN), and come dress to impress. We wouldn't want you getting excommunicated.
Venue name:
Saint
Contact:
Address:
Campos Elíseos 290
Polanco
Mexico City
11000

Opening hours:
Fri 10pm-3am
Transport:
Metro Auditorio
Price:
Average drink $500