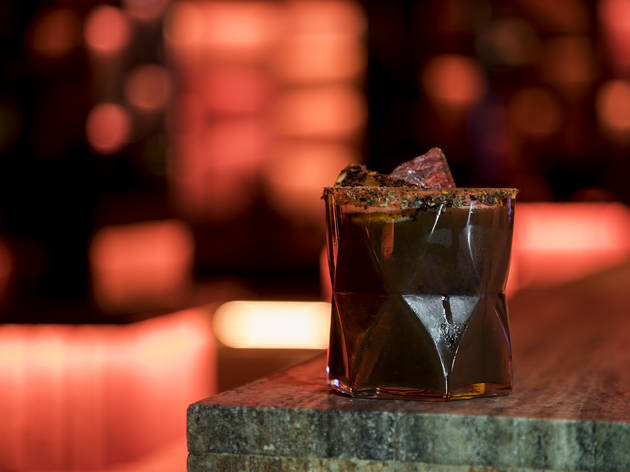 1/11
Foto: Roberto Beltrán
2/11
Foto: Roberto Beltrán
3/11
Foto: Roberto Beltrán
4/11
Foto: Roberto Beltrán
5/11
Foto: Roberto Beltrán
6/11
Foto: Roberto Beltrán
7/11
Foto: Roberto Beltrán
8/11
Foto: Roberto Beltrán
9/11
Foto: Roberto Beltrán
10/11
Foto: Roberto Beltrán
11/11
Foto: Roberto Beltrán
We lost many restaurants and bars in the Roma neighborhood after the earthquake last September 2017, but the area is recovering quickly, and the nightlife kept a strong momentum and it's Otto's turn to be the host.
It's just a few steps from Mercado Roma on Queretaro street. It's not labeled but, the line of people trying to get in will give it away. If you want in, you'll have to be on the list but, it's as simple as reaching out to them on social media and having them add you to the list on the night of your choosing.
The interior is notoriously retro. Exposed brick columns, red-orange lighting, and mirrored-walls await you inside. The lighting is definitely intimate and comfortable maybe even sensual, at times. We loved the tribal lamps at the bar. They're a perfect contrast to the rest of the place. Otto Bar is definitely sure to keep your senses aroused, especially the DJ booth. The unmistakable 60s vibe with yellow lighting and mirrors is a sight to be seen.
If you're a Tuluminati (a moniker for the crowd that heads to Tulum for house music festivals), you'll love Otto Bar. The DJs have a chill beat library but, never stray far from the most current house, disco, and funk hits.
The bar menu is from Ramón Tovar (Hotel Casa Awolly) and follows the trend of mixing spirits with locally-sourced Mexican ingredients. If you like citrus, we recommend an emme la vi, a super-cold lime-mandarin mix with celery bitters, Ancho Chili Liqueur, Mezcal and a spicy salt rim – it's perfectly refreshing and balanced. Another of our faves was the hot little number, sexxes, gin, OJ, raspberry and pink peppercorn – sweet, vibrant and balanced.
The party at Otto starts on Thursdays so, head down with your crew, a full wallet, and a party-all-night attitude.
Venue name:
Otto Bar
Address:
Querétaro 221
Roma
Mexico City
06700

Opening hours:
Thu-Sat 10pm-3am
Transport:
Metrobús Sonora
Price:
Average drink $250