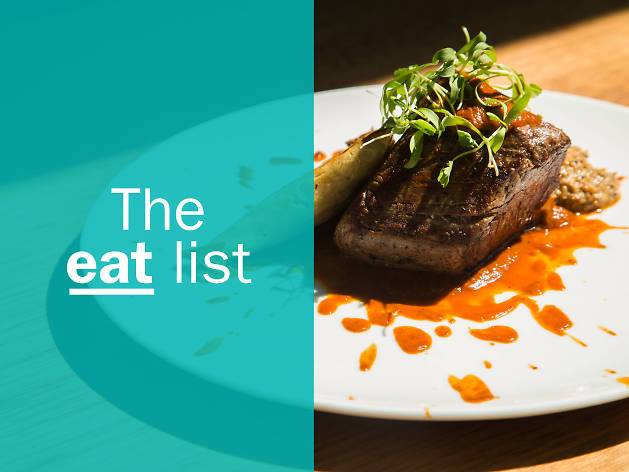 The 25 best restaurants in Mexico City
Mexico City is one of the world's most exciting culinary destinations, with an abundance of incredible places to eat
Welcome to Time Out Mexico City EAT List, a definitive list of the 25 best restaurants in Mexico City. There are unmissable food spots seemingly on every corner of this metropolis and we're sure one of the best ways to enjoy a city is through its food.
The gastronomy of Mexico City reflects the history of Mexican cooking and it's considered to be some of the best food in the world; but more specifically, it's a collection of the most irreverent and exquisite follies of the genuines that call the shots with the stove. Here are the 25 most delicious spots for food that are at once fresh, innovative, and memorable. All the restaurants are reviewed anonymously by local experts, giving you a snapshot of the everyday experience.

What's on offer at these eateries varies widely, from kitchens with unparalleled upmarket dishes to straight-forward bar bites, not to mention the best in comfort food from cafés and restaurants alike. We sampled the best restaurants in town for you. Now go out there, grab a table, and follow your instincts to some delicious eats. Bon appetit!

Eaten somewhere on this list and loved it? Share it with the hashtag #TimeOutEatList. You can also find out more about how Time Out makes recommendations and reviews restaurants here.
Best restaurants in Mexico City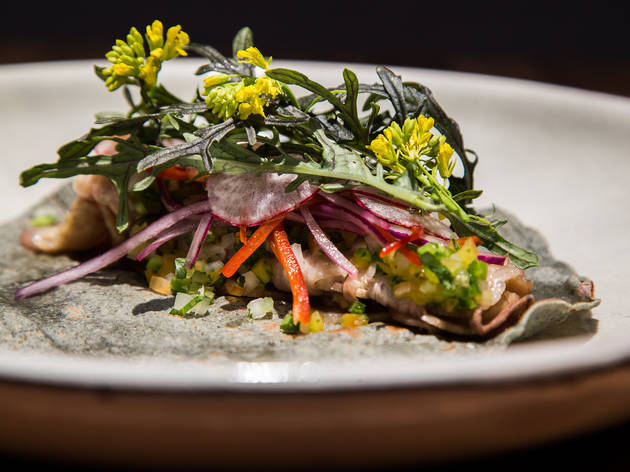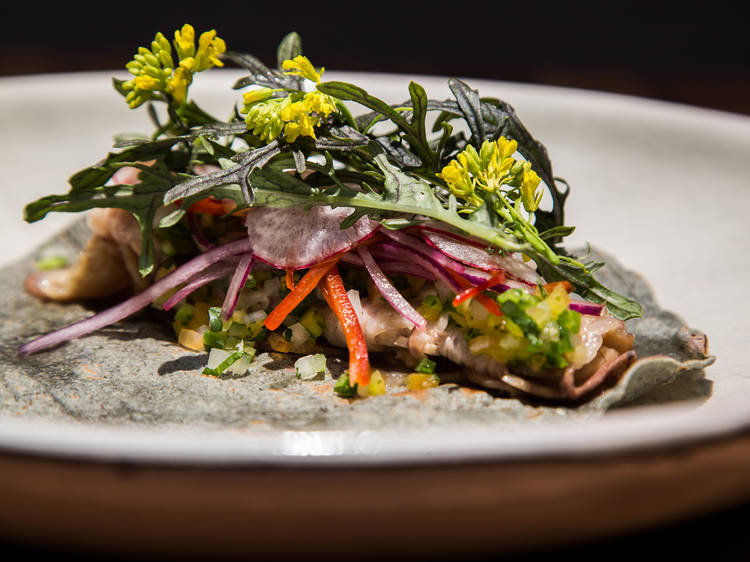 What is it? A high-end reference point for contemporary Mexican food for almost 20 years. Chef Enrique Olvera's signature restaurant is currently 12th on the list of the World's 50 Best Restaurants. After opening in 2000, it moved from Petrarca Street over to Tennyson in Polanco in 2017. This place gets high marks for its ever-changing menu.

Why to go? Mexico's best restaurant plays with seasonings, textures, and heritage in Mexican cuisine with the help of an on-site organic garden. One of Pujol's strong suits is the availability and freshness of its products.

What should you try? The Mole Madre with hoja santa (a slightly peppery endemic Mexican herb) tortillas is the one and only permanent staple on the menu; Oaxacan black mole made with nuts, dried fruit, and herbs. There's also the omakase taco bar, an eight-to-10 course tasting with cocktail pairings.
What is it? This restaurant's cupboards devote two-thirds of their space to ingredients sourced from local farms, including crops from Xochimilco. Chef Eduardo Garcia, together with his wife and business partner Gabriela Lopez, opened this restaurant in 2012 with the concept of serving dishes rooted in sustainable farming and fair trade.

Why to go? Eduardo Garcia has an impressive resume, featuring spots like Le Bernardin (a 3-Michelin star New York restaurant)) and Pujol (Mexico City). This spot follows a firm philosophy of supporting domestic products and serving up sophisticated dishes without falling into ostentatious presentations. Pair these menu items with anything from a craft beer to featured wines.
What should you try? The menu changes daily, but it never ceases to impress with things like carrot and asparagus purée, chicatana ants, or chile serrano.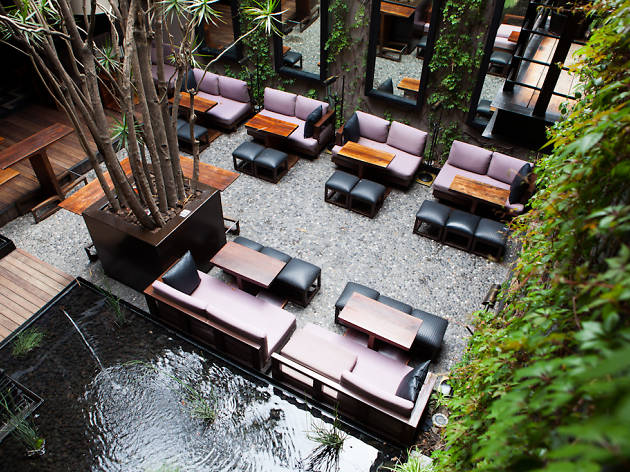 Foto: Reinaldo Odreman
What is it? An eatery that represents a multi-concept restaurant and kitchen of a typical house in the Pedregal neighborhood; Sud 777 is Edgar Núñez's brainchild. Its farm-fresh ingredients come alive in a backdrop of waterfalls and mirrors.
Why to go? They're currently holding down number 14 on the list of the 25 Best Restaurants in Latin America. Walking inside, you'll notice a luxurious wood motif, stone, and upmarket facades -- all a result of a collab between Sergio Berger (Niz-Chauvet architects) and designer Adan Carabes.
What should you try? The centerpiece is the tasting menu: rotating, cutting-edge, and traditional all at once. Check out the pepper stuffed with dark chocolate and crunchy cacao, sure to command your attention.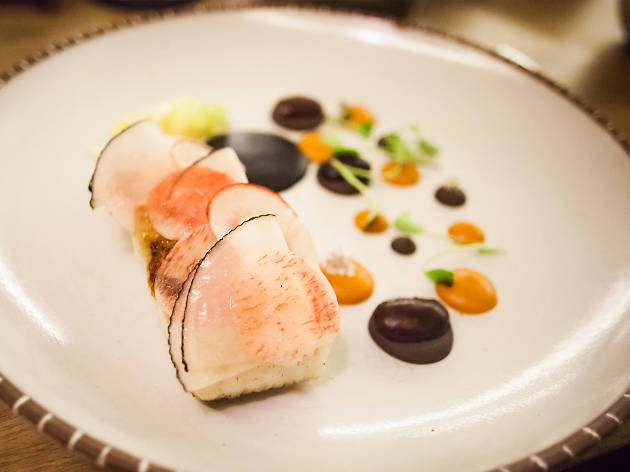 Foto: Alejandra Carbajal
What is it? Quintonil shines as a deep expression of Mexican cooking and herbal notes, brimming with completely different flavors (in a good way). This year, headed up by Jorge Vallejo and Alejandra Flores comes in at 24 on The World's 50 Best, a list they've been on since 2015.
Why to go? The offerings are centered on products culled from the earth, where their flavors can take center stage. All the flavors are balanced and executed with a deft hand, taking contemporary Mexican cuisine to its maximum potential. All of this and more coming out of a humble kitchen in Polanco.
What should you try? Adobos with grasshopper and beans, artichoke tamales, chile and caramelized onion infusions that bring national heritage to center stage. The nixtamalized tomato braised in meat broth and vegetable reduction is not to be missed.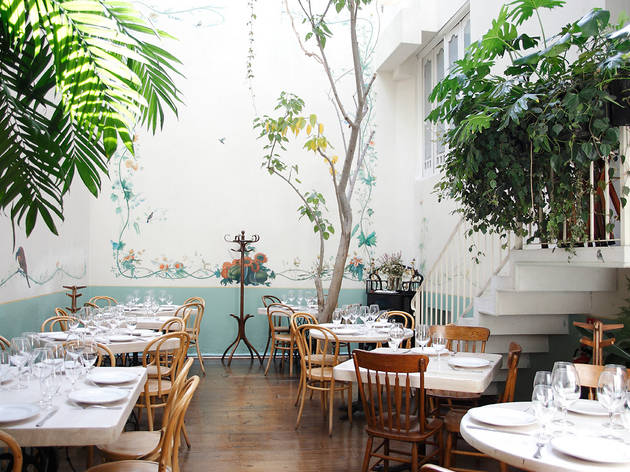 What is it? Step inside this Porfiriato-era house to find an Italian kitchen with Mexican touches and no clichés. They make use of products -- above all, seafood -- featured in recipes straight out of an Italian grandma's cookbook, with the creative touch of chef Elena Reygadas.
Why to go? Seasonal ingredients at the peak of their powers, a really upbeat environment in the afternoon, and romantic in the evening. And as if that wasn't enough, both of their bakery locations have boomed, bringing artisanal sweet and savory delights to the Roma and Juárez neighborhoods.

What should you try? The green mole with quelites is heavy on the herbs, with wild touches that don't detract from its creaminess; try the homemade white cacao and hoja santa for an experimental dessert feature that aims to please.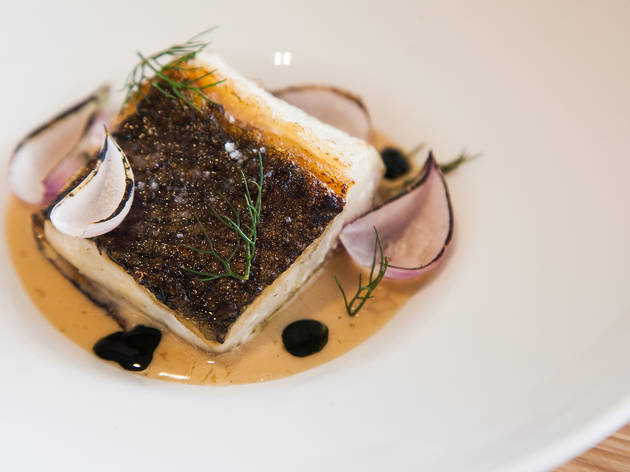 What is it? A place named in honor of the roman fermented fish sauce. Garum, from Vicente Torres (Top Millesime Chef of 2011), specializes in Mediterranean food made with local products that make for a shifting, albeit always innovative menu. In an interview with the chef, he told us about how Garum came up as "an opportunity to put together a project with a lot of freedom in it."
Why to go? Rather than only being a chef-driven menu, this place is also about the details and respect for the ingredients. It's a top spot for flavor purists and those trying to get into the food's origin story. The menu stands as a uniquely perfect balance between local ingredients and Mediterranean influences.
What should you try? The chocolatemussels with beer, sangrita shaved ice with salt fragrance is their iteration of a michelada and also a fantastic cold appetizer.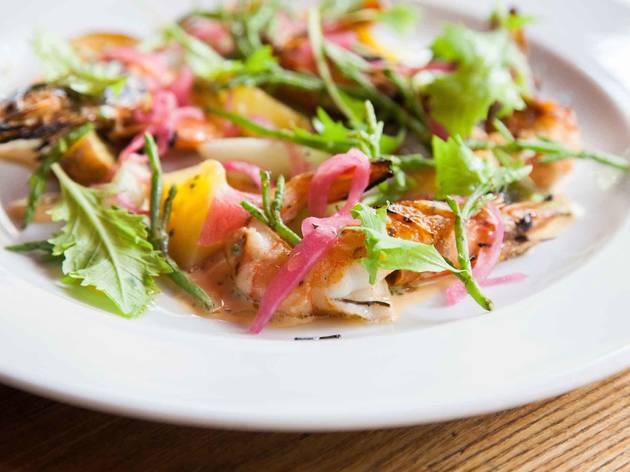 What is it? A Baja California kitchen with an urban touch, top-notch ingredients purchased that were day picked by the most discerning of palates, and used generously by the most deft of hands (those of chef Jair Téllez).

Why to go? Meretoro confronts and conquers the challenges of sourcing the best ingredients for their regionally-focused kitchen every single day. The menu gets printed daily, shifting with the seasons and the chef's inspiration.
What should you try? Check out the pork jowl with egg, a menu fixture that the waitstaff will pair wine with perfectly. Get ready for a trip through a take on Mexican cuisine whose profile continues to grow on the international stage.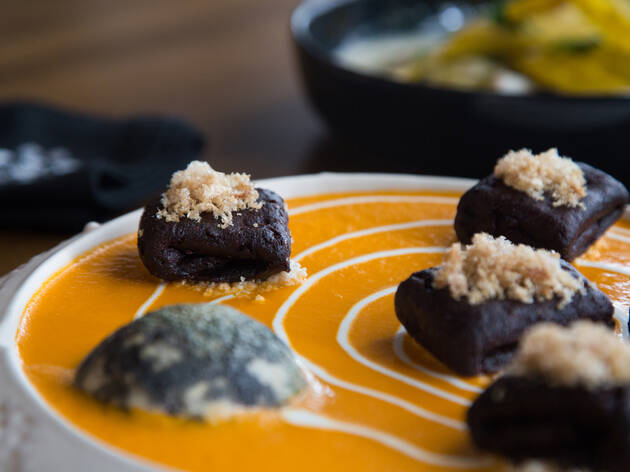 Foto: Alejandra Carbajal
What is it? A trip brimming with flavor and creativity, names of dishes that pique curiosity like riveting stories unto themselves. Chef Gaby Ruiz opened this restaurant en Lomas Virreyes behind the concept of innovative food influenced by the state of Tabasco.
Why to go? Here the food is like a concert. Get ready for the menu's prelude, interlude, climax, and outro. Mexican ingredients prepared innovatively and with looks that match flavors. Look for the plantains featured in a half-moon presentation as a prime example.
What should you try? A surprising dynamic duo is the jicama and pesto paired with green grapes and pistachios, or try the fish wrapped in hoja santa.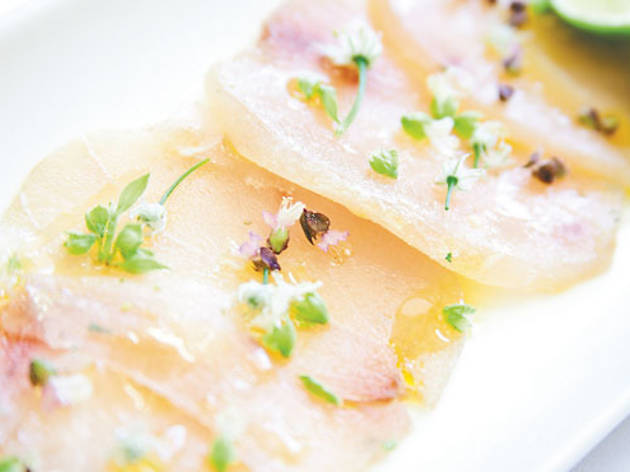 What is it? In the Claveria neighborhood here's a spot that's been around for over six decades dedicated to traditional Mexican fare. Chef Gerardo Vázquez Lugo serves up a menu of time-tested dishes with only the best ingredients.
Why to go? Nicos keeps classic recipes alive and in all their glory. The careful and sophisticated presentation of the dishes is evidence that traditional food is part of haute cuisine, and that both are only made better by the slow food movement.
What should you try? For years, the menu has featured classics like crunchy beef cecina (salted beef steak), dry cream soup (18th-century recipe), and Nicolasa filet served in chile ancho, paired with tequila caramelized apples and hibiscus salsa.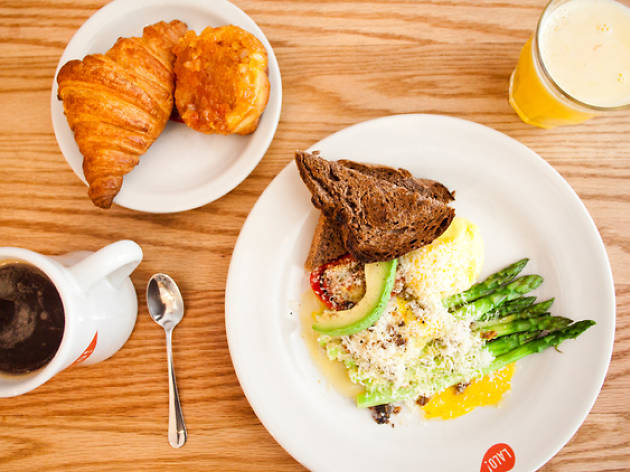 Foto: Alejandra Carbajal
What is it? A culinary relationship between the countryside and its bounty, with sustainable cooking cred in Mexico City at a reasonable price. Chef Eduardo Garcia is the kind of guy who is exacting in his ingredient sourcing, as well as someone who nurtures the importance of agriculture in the restaurant industry.
Why to go? Eduardo has experience in fine dining, having also worked at Bernardin, a New York restaurant boasting three Michelin stars. His original design was crafted with communal dining in mind. Check out the 30 person long table in the front that lends itself to sharing plates and experiences.
What should you try? The pork in green sauce, salmon biscuit or eggs with lard, gruyere, and green onion pair well with a mimosa or house-made soda. For vegetarians, the squash blossoms stuffed with comté cheese is the move.
What is it? Dulce Patria has an ethos of reinterpretation of the flavors Mexican grandmas have been bringing to the table for years, all under the direction of chef Martha Ortiz.
Why to go? This place is a veritable parade of mole breads and flowers, spanning from chipotle to violet. Treat yourself to the shellfish pozole, zaranda-style fish, and plantain stuffed enchiladas – dishes all aimed to please any palate. The smiling faces across the room let you know that everyone, yourself included, is thinking about mom's cooking.
What should you try? Order the Dulce Patria Mole, sporting the same red hue as the restaurant's floor. Captivating aromas and presentations of traditional pink mole rule the day, featuring organic chicken breast and "love colored" rice (a must-try).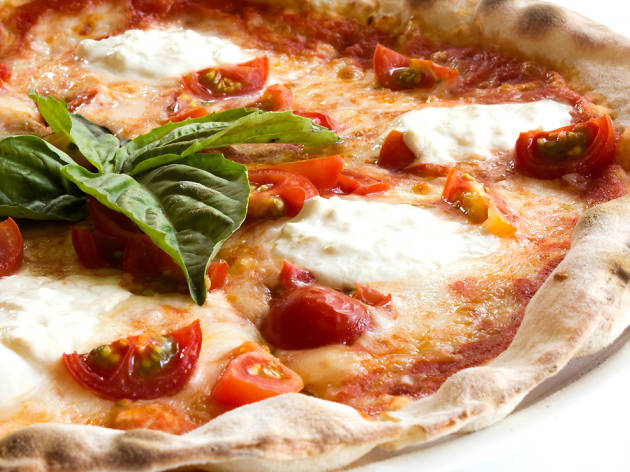 What is it? Unlike other Italian places that focus on putting out food that nonna would make, and still others that skew fusion offerings, Belfiore offers up a menu that you'd find in actual Italy. The dishes shine in the simplicity of their ingredients.
Why to go? The food is as comforting as the humble surroundings, complete with low ceilings and white walls. Incredible pasta, pizza, salads, and desserts are this menu's staples. Pro tip: when you spot the pasta that catches your eye, look no further – just order. <
What should you try? Fusilli with eggplant, ricotta cheese and tomato (unctuous, fruity, and simple); risotto with artichoke hearts and parmesan (with all the blunt force of pure Italian flavors), and baked penne with artichoke and truffle oil (prepare for tears of joy).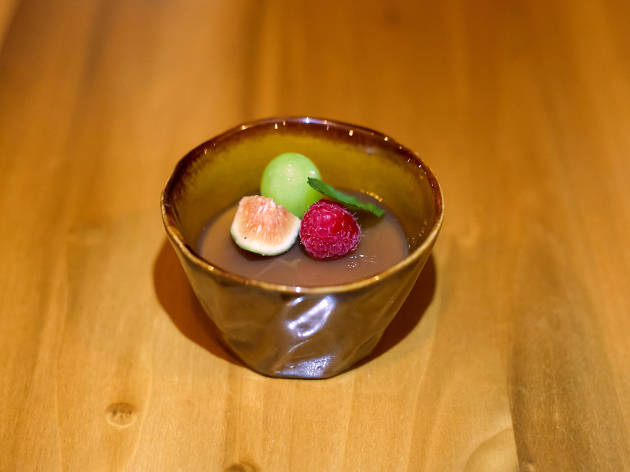 Foto: Alejandra Carbajal
What is it? Rokai brings two kinds of Japanese food to the table: hot and cold. The latter is represented by their variety of fish offerings that change daily. On the other hand, the hot stuff comes by way of multiple soups and ramen, both portioned to leave you thoroughly full.
Why to go? This spot is the natural result of putting quality above all else, not to mention the experience of the two big Japanese cuisine genres. The nigiri has traditional "Nikiri" (sweet soy sauce) on it, made in-house with soy and other ingredients.
What should you try? Those looking for a real Japanese experience should ask for the omakase at the sushi bar. Ask about cocktails like the genmaicha shiso.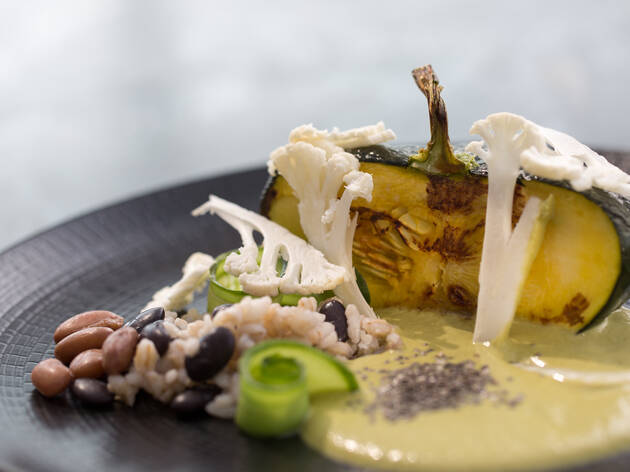 Foto: Michelle Burgos
What is it? Arrango is big on Mexican pride, displayed in their dishes and revolution-era decor. They're named in honor of Doroteo Arrango, better known as Pancho Villa, an important figure in Mexican history.
Why to go? The menu is crafted by chef Alejandro Cuatepotzo, a Puebla native focused on the magical flavors of Mexico. In 2015 he was recognized as the "Rising Star Mexican Chef," at the Cancun Wine and Food Festival, among the most important festivals in Latin America. His floor-to-ceiling glass design with breathtaking views of the Revolution Monument elevates the whole experience.
What to try? The sweet potato pinto with beef tongue barbacoa and the surf and turf tartar (mixing raw shrimp and ribeye) are all a must-try. Suadero made bourguignon style is also to die for.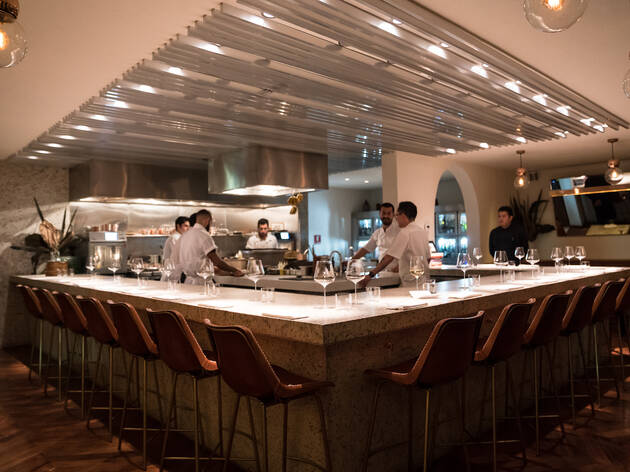 Foto: Alejandra Carbajal
What is it? Emilia, Lucho Martinez's fine dining restaurant that's only open for dinner. This spot is fully immersed in fine dining, stemming from Lucho's experience at Quintonil, Maximo Bistrot, and Mia Domenicca. The space, discreetly located in the Cuauhtémoc neighborhood, is centered on the utmost top ingredients, particularly as they relate to seasonal availability.
Why to go? The menu is printed daily and ingredients rotate often (and that's a good thing). There's heavy influence here coming from Japanese cuisine, but folding in choice Mexican ingredients to bring something really special to the table.
What should you try? The menu changes every day, but we're pretty sure their dessert has held court for a minute. The Melissa ice cream with mandarin slices and powder is a show-stopper.
What is it? If there were spots dedicated to expert sandwich tasters, Belmondo would be at the top of that rotation. Miwi, aka Adriana Lima (Pizza Felix and Felix Bar) is a chef and founding partner of this humble sanctuary, where there's a chance you might find Thom Yorke grabbing a bite.
Why to go? It's a carnival of aromas that will transport you to the country, peppered with hints of oregano and rosemary. Artisanal loaves, toasted baguettes, ciabatta, and caraway seed come fresh out of the oven with a crunch to fall in love with.
What should you try? The crispy chicken sandwich, if you happen to like fried food; or grab a bacon, egg, and cheese for the perfect breakfast treat.
Foto: Michelle Burgos
What is it? A feast of country vibe food that's generous with the seasoning. Chef Karen Drijanski (Minaggu and Nativa Cocina) and her son Eduardo Plaschinki grabbed a corner in the Juárez neighborhood to run a soul food kitchen doing breakfast, brunch, and dinner.
Why to go? The dishes, while featuring basic ingredients, boast textures and aromas that take you on a chef's tour of Mexico and Europe. There's bread with mother yeast, organic garden beds run by chef Karen, and an open kitchen to watch all the action.
What should you try? For savory: Gouda and cheddar grilled cheese, at a maximum cheesiness that melts in your mouth. For sweet: Babka french toast, house bread with chocolate paired with a fresh strawberry and cream compote.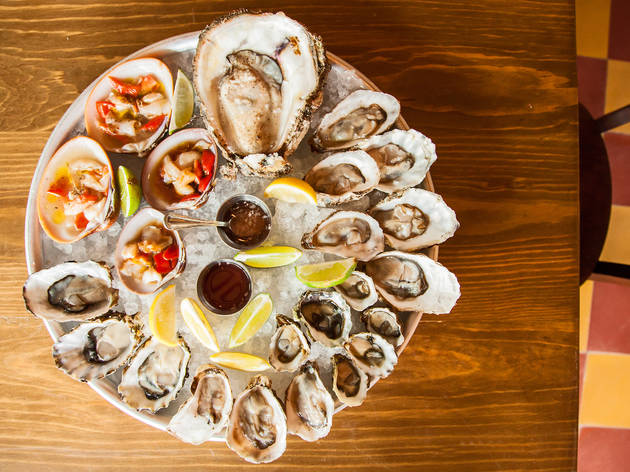 What is it? Get transported from the Roma neighborhood to coastal paradise. Chef Tomás Bermúdez works with shellfish -- particularly oysters -- a lesser-known entity around these parts that has become popular thanks to the food quality and relaxed ambiance at this spot.
Why to go? The concept is very practical: oysters, mussels, scallops, more shellfish, and some swimming fish. The service is warm and attentive, reminding you that the city is also a place to get ahold of some of the ocean's rich bounty.
What should you try? If you're into the classics, get a dozen oysters off the grill with butter, olive oil, garlic, and parsley.
Foto: Reinaldo Odreman. Cortesía Disenia
What is it? A little sanctuary in Condesa that pays tribute to Tuscan charcuterie. They've got a bar that runs the length of the entire place and is always full thanks to the unique offering of cured meats, like house-made salami and ramonetti with quince, both creations from chef Elena Reygadas.
Why to go? This airy space only adds to the incredible culinary experience. The textures, aromas, and flavors coming straight out of western Europe's famous boot, along with little Mediterranean touches. Their daily offerings are shaped by the available seasonal ingredients.
What should you try? Green chilaquiles with burrata, the creaminess of this soft cheese is nothing but magic with the crunchy chips. If you're at the bar, ask about the parma ham and get ready for salty cured meat heaven.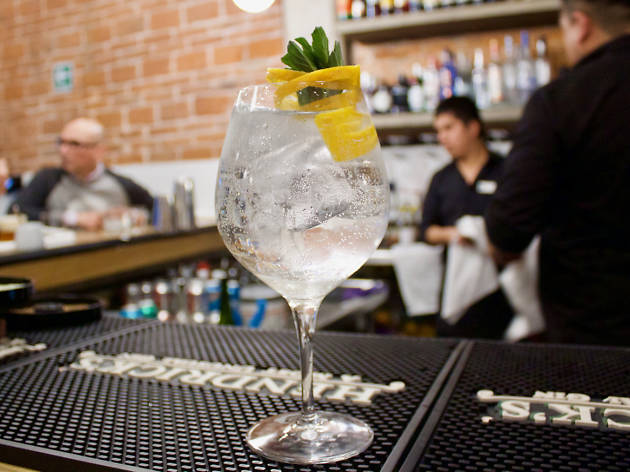 Foto: Raúl Fernández
What is it? "Delicious food and weird wine." At Amaya, chef Jair Telléz wields a kitchen that knows no creative bounds and uses ingredients to their full potential. Rather than be judged at first blush, these offerings are big on fresh ingredients, good techniques, and exacting seasonings.
Why to go? The chef has his own line of natural wines, Bichi, among the first wines in Mexico to be sulfite-free. The menu is subject to change, depending of course on the availability and freshness of ingredients.
What should you try? The magra beef tartar is ground especially fine, and full of nice chunks of sardine. This delectable offering gets finished with house-made caper mayonnaise.
What is it? Mexican cuisine enjoyed in the heart of the city's historic center. Situated in the patio of a massive house and at the helm of chef Ricardo Muñóz Zurita (Chef of the Year, 2008).
Why to go? Azul is not a white tablecloth restaurant. Better yet, there are no tablecloths. The naked wooden tables are adorned only with names of streets in the neighborhood. The perfect vehicle for authoritatively classic cuisine.
What should you try? They have a fixed menu with classics like cochinita pibil panuchos. Otherwise, there's a festival held every month with different ingredients new initiates in the door.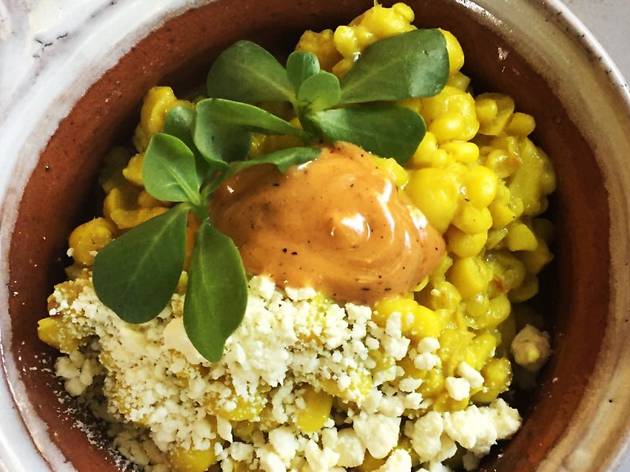 Foto: Una Pérez Ruiz
What is it? Norma Listman and Saqib Keval are the chefs in charge of the impressive kitchen at Masala y Maiz. Their offerings are distinct in that they expertly combine Mexican, Indian, and African features. This cultural hodgepodge of flavors, aromas, and textures is something wholly unique.
Why to go? This is a story told through the complex culinary migration between India and Mexico. To boot, their food techniques are on the cutting edge.
What should you try? The tamales are classic whether savory or sweet. If you're looking for something more substantive, get the goat chorizo gordita or the peel-and-eat shrimp. One of their specialties is esquites Makai Paka with hominy corn, coconut milk, and Kenyan masala.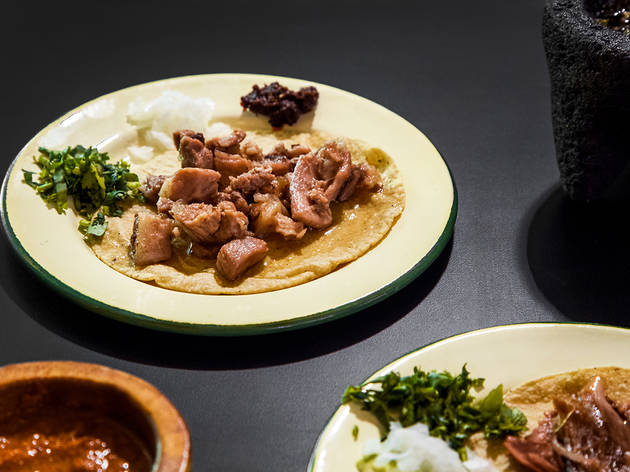 What is it? It's the nighttime haunt and "hipster taqueria" of choice. Paramo is only open at night, is a great hangout spot, and designed for eating and drinking well for a reasonable price. The menu has a basis in family recipes from seven different households, executed with only the choicest ingredients.
Why to go? They've got a house beer, Flor de Cueino, that needs to be on your radar. A new dish gets added to the menu every three months. They were featured on the Netflix series Somebody Feed Phil and they're on Mario Beteta's list. For you music lovers, this is Interpol's favorite restaurant.
What should you try? The Muñeca Taco that's packed with pork leg, or the suadero burrito will hook you with their seasoned perfection. Ceviche is another classic, lest we forget the micheladas.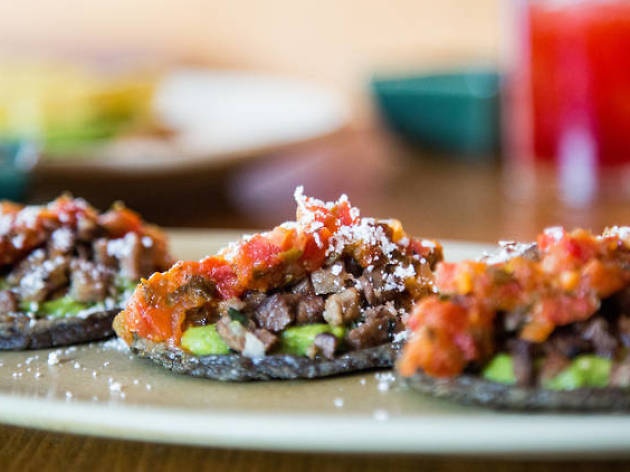 Foto: Alejandra Carbajal
What is it? Another Mexican cuisine success story, coming out of the well-heeled Santa Fe neighborhood. These offerings are curated by chef Lula Martín del campo, taking inspiration from three key ingredients: beans, peppers, and corn.
Why to go? Cascabel clocks in as a breath of fresh air and a homage to the cascabel chile, named for its round shape and the sound the seeds make when shaken. Blue corn tortillas and bold protein like cecina and birria pull you into a dining experience that might've seemed dull at a glance.
What should you try? Cabrería, a Sonoran classic with Cascabel chile, well-seasoned and smoky to go with your guacamole and blue corn tortilla chips.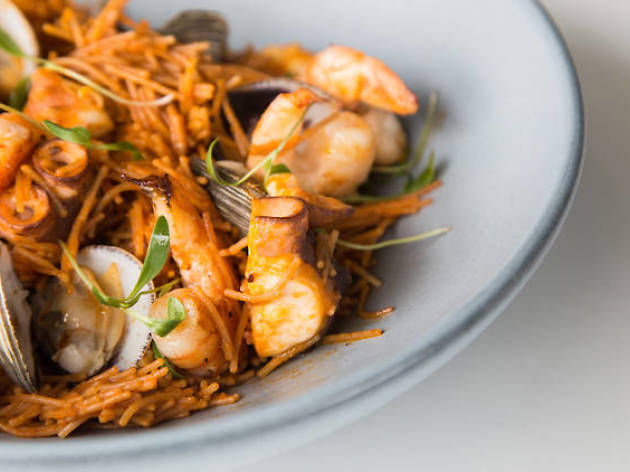 Foto: Alejandra Carbajal
What is it? You're not sure whether this place is the treehouse of an eclectic Tarzan, a nest, a Miami beach club, or a fancy cage. The guys in charge of Hotel Casa Awolly, Irak Roaro (chef) and Ramón Tovar (mixologist), opened this tropical-feeling space for meat dishes in all their iterations as well as craft cocktails.
Why to go? This food kills various birds with one stone featuring offerings designed to share, should you plan on attending in a big group. Some of these plates will have you doing double-takes. Did somebody say poutine with suadero and poached egg?
What should you try? Centenario ceviche with mackerel, scallops, cucumber, and red onion in traditional tiger's milk (okay, there's ginger, too). This dish plays with soft and crunchy thanks to the sweet potato chips.
Fancy a cocktail at some of the best bars in Mexico City?
Mexico City is full of nightlife surprises at every turn. Some of the best mixologists in the world can be found in Mexico City, in charge of the most iconic bars. Since 2016, Mica Rousseau has been recognized in the World Class as the best bartender in America for his Fifty Mils creations, while Limantour ranked 14th in the world on The World's 50 Best Bars in 2017. Another highlight of the bars in Mexico City is the setting, such as the secret entrance to the 1920s world of USA prohibition found at the Hanky Panky Cocktail Bar, where you can also try the improved recipe of Ada "Coley" Coleman's hanky panky drink from the Savoy Hotel in London. Discover using your senses the most seductive mixology formulas. You will experience the magic if you sit at the bar; it doesn't matter if you don't know what to order, the bartender will have a special combination of unmissable cocktails in these top nightlife bars of the city.
Best selling Time Out Offers