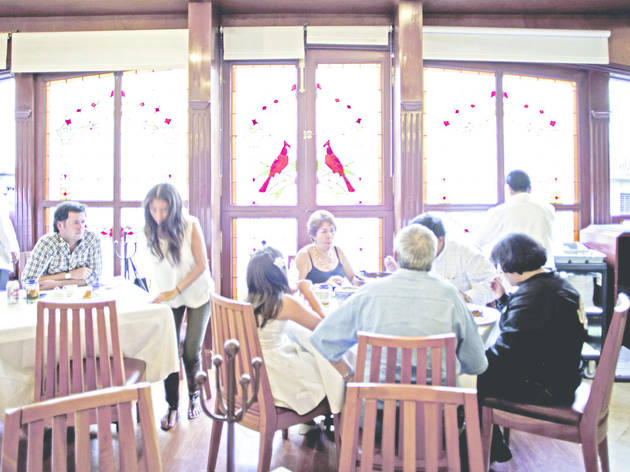 It's usually risky to talk about classic restaurants because a vast majority are well past their prime. But, if there's one place that's as good in service and quality as it ever was, it's El Cardenal. It's been open for 43 years and has moved only one time. From Moneda and Seminario streets to the Porfirian building with the massive ceilings and giant columns where it now resides.
Although the drive for El Cardenal is to preserve traditional Mexican culinary practices – like nixtamalization (processing of maze) for making bread or tortillas at home – the menu is full of surprises. Like, the salmon meatballs or seared tuna, both of which were entirely foreign to Mexican tables until recently.
If you want to taste the authenticity, we say try the breakfast. It's essentially a Bajío region tour with your palate. Whether it's an omelet with ant eggs or gorditas from Hidalgo or the succulent enchiladas, it's impossible to miss here. And the wafting of fresh baked bread is enough to make you forget about the bustle of being in the city center. Don't miss the Doña Oliva hot chocolate, it's an El Cardenal trademark.
The lunchtime stews are no slouch either and the variety leaves no wiggle room for excuses. Try the shrimp tacos or the catch of the day on warm afternoons. You can also take a few more chances like the goat-cheese-stuffed chicken breast served with red mole and the seasonal options are a home run, too. Try the maguey flowers or the huazontle (edible flowers) cakes in the spring and the maguey worms in the summer or the Chiles in Nogada in September.
Even though this spot is frequented by celebrities and politicians, it's neither pretentious or formal. So, come in for the tastiness and stay for the live romantic piano classics.
Venue name:
El Cardenal
Contact:
Address:
Palma 23
Centro
Mexico City


Cross street:
5 de mayo
Opening hours:
Mon-Sun 8am-6pm
Transport:
Metro Zócalo
Price:
Average main course $300