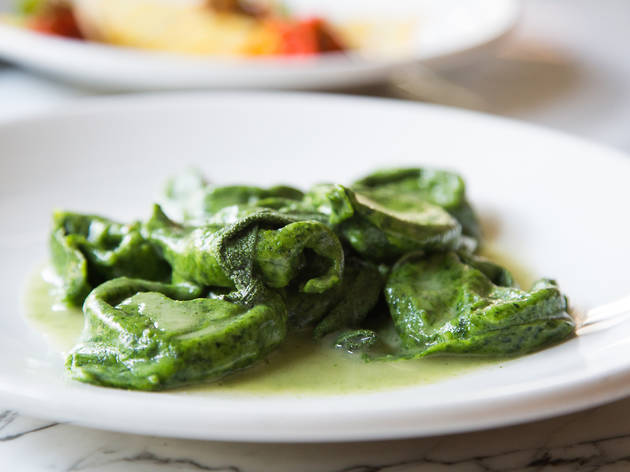 1/13
Foto: Alejandra Carbajal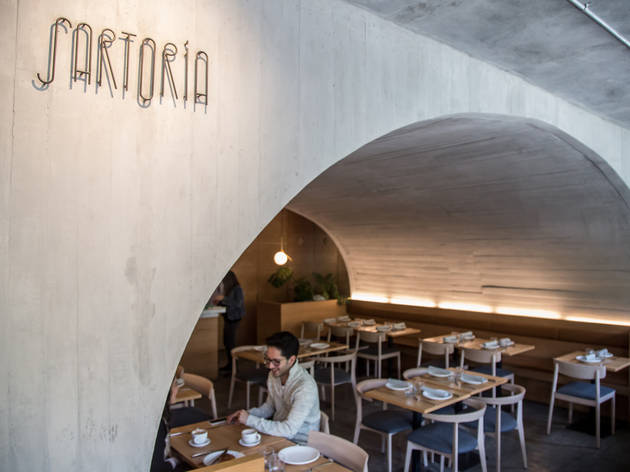 2/13
Foto: Alejandra Carbajal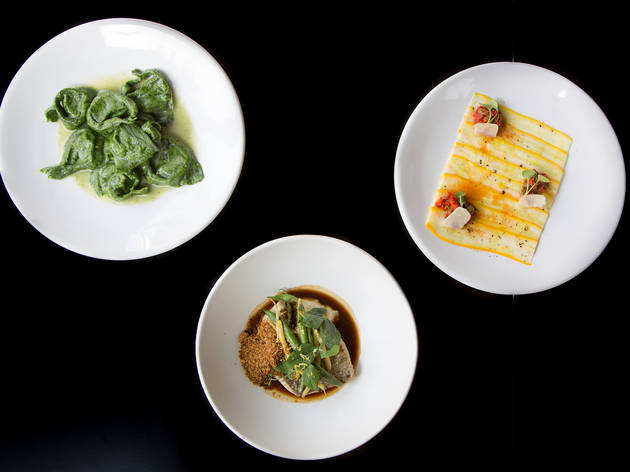 3/13
Foto: Alejandra Carbajal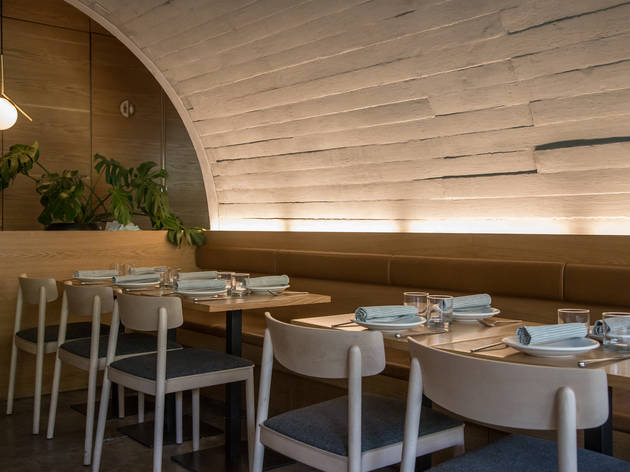 4/13
Foto: Alejandra Carbajal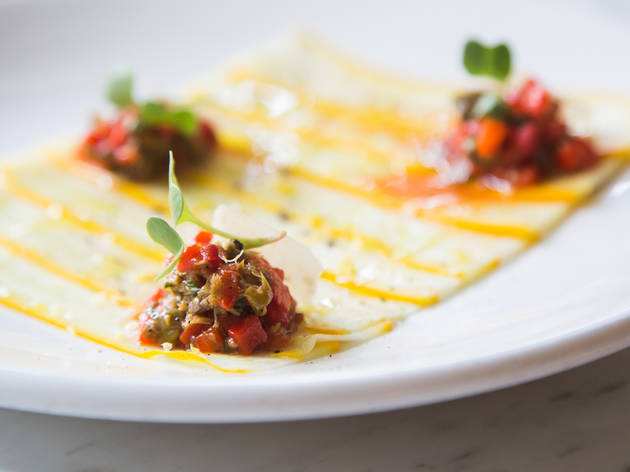 5/13
Foto: Alejandra Carbajal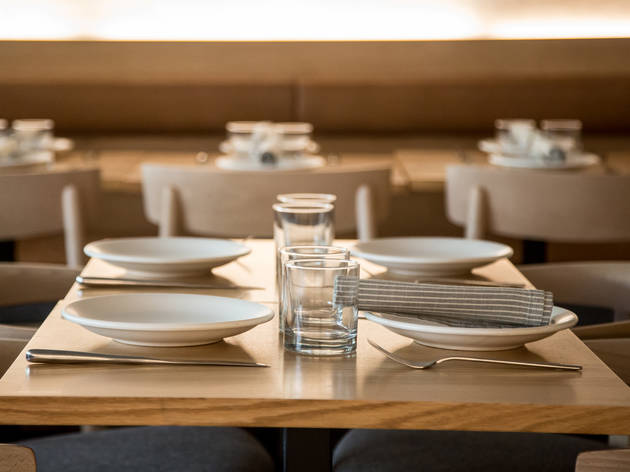 6/13
Foto: Alejandra Carbajal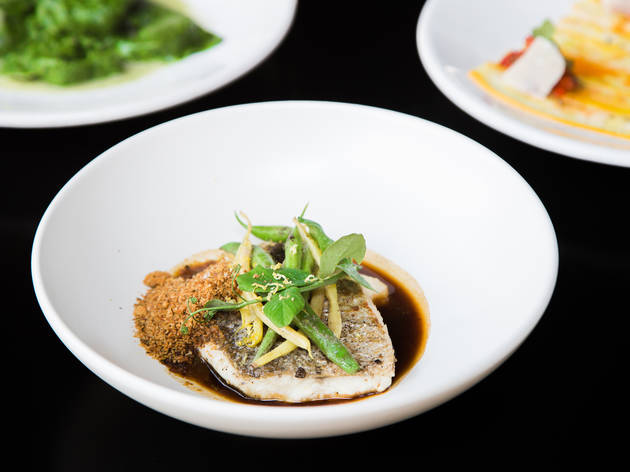 7/13
Foto: Alejandra Carbajal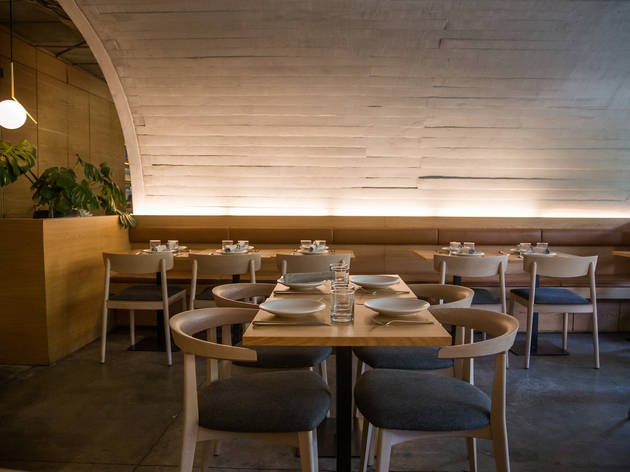 8/13
Foto: Alejandra Carbajal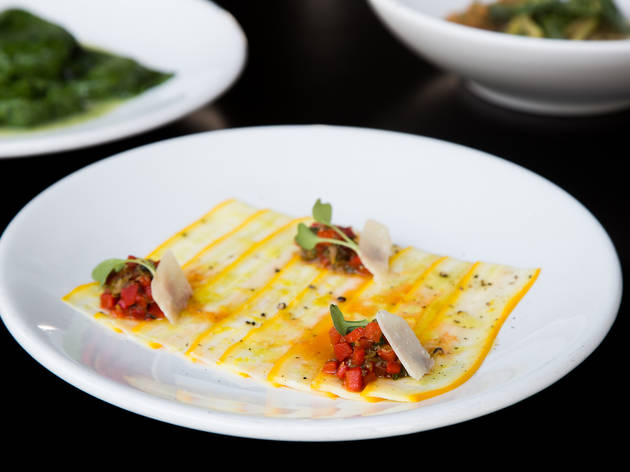 9/13
Foto: Alejandra Carbajal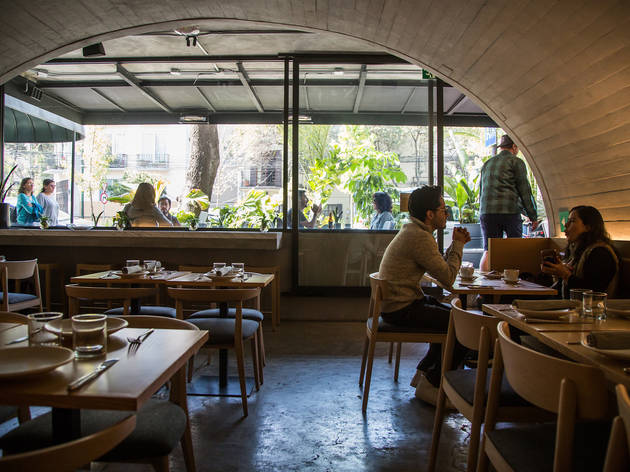 10/13
Foto: Alejandra Carbajal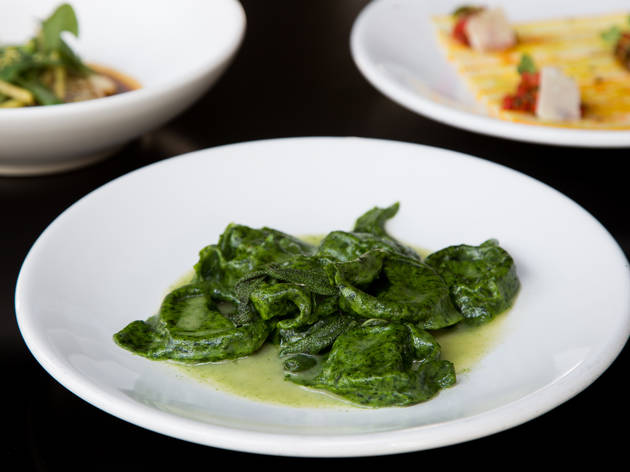 11/13
Foto: Alejandra Carbajal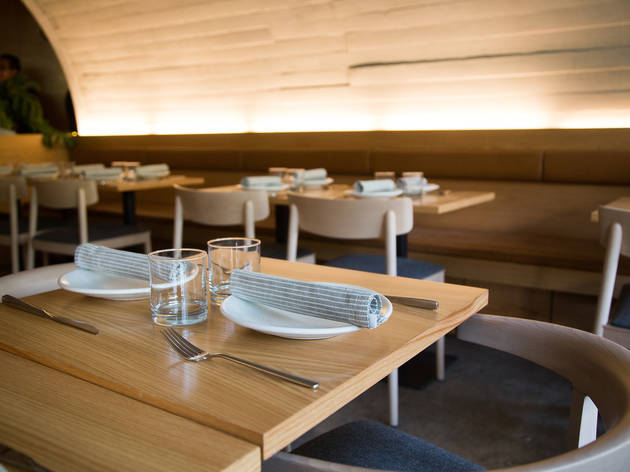 12/13
Foto: Alejandra Carbajal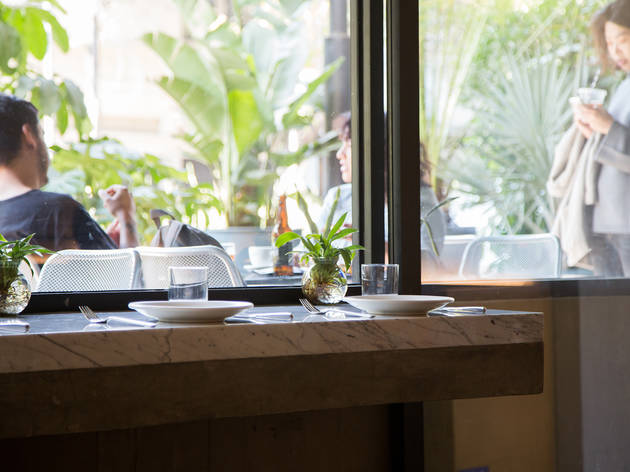 13/13
Foto: Alejandra Carbajal
The place to go for handmade pasta. Period.
Our ears perked up when we heard that chef Marco Carboni - from Modena, a town in northern Italy - had worked at restaurants Osteria Francescana (three Michelin stars) by chef Massimo Bottura, and Alkimia, by chef Jordi Vilà.
The dishes he serves in the Roma neighborhood on the banks of the urban park, Plaza Rio de Janeiro, are traditional recipes from different regions of Italy, sure. But, the menu here stands alone not just for its flair but, also for using mostly Mexican-sourced ingredients, like vegetables from nearby Valle de Bravo or Xochimilco; all top-notch and organic. Admittedly, our expectations were raised the moment we eyed the crisp and clean design with its stunning exposed concrete arch and sepia-toned lighting.
Once seated, the first plate to arrive was the gnocco fritto: impeccably inflated and delectably greasy little rectangles of fried dough stuffed with parmesan cheese foam, topped with Prosciutto di Parma and a hint of Modena balsamic vinegar; absolute comfort food perfection.
Considered a street food staple in the Emilia-Romagna region in Sartoria, this starter is Chef Carboni's pride and joy.
Happy with my first choice, I decided to press on and have a go at another ace on the menu, the mandilli di seta (silk handkerchiefs), a Genoese pasta al pesto, thin and flat, served with pistachios and goat cheese cream. That's when we had a stroke of bad luck - it was late, and they'd run out of pesto. Luckily, there were plenty of eye-catching options on the menu – plus, a seductive Italian wine list – so, we hardly considered this a problem.
Next up was the spaghetti a la chitarra cacio e pepe (literally, black pepper and cheese). The epitome of classically charming Italian food, served with smoked Caciocavallo cheese, Pecorino Romano, parmesan, and delightfully bright green lima beans in tow. There's no way to hide the Abruzzo-region spaghetti's remarkable superiority with its thick and squared-off shape seldom seen on Mexican tables.
Now, let's talk about the nearly-religious experience that is the hand-closed paccheri. Perfectly-crafted stout tubes of pasta, served with Creole cherry tomatoes, Pecorino Sardo and a lemon basil sauce which satisfy the palate in a light and clean fashion- true delight from start to finish.
Make no mistake, Sartoria is not a one-trick pasta pony. There's also a smattering of meats and fish options on the menu. That's where I crossed paths with a delectable octopus and lentil stew. The expertly seasoned lentil broth is made with Kalamata olives, cuttlefish ink, prosciutto sofrito, and sweet tomato confit. The lentils were cooked perfectly and had an essence that was as comforting as it was original. So much so that, incredible as it may seem, the lentils overshadowed the lightly-charred cephalopod.
The dessert duo I tried was the tiramisu, which albeit slightly dry, was escorted by a delightful cocoa sorbet and the Sicilian cannolo with fresh homemade ricotta, candied orange, and chocolate and pistachio powder.
Overall, although the food was unequivocally outstanding, there were a couple of pain points which prevent me from classifying it as a true fine dining experience. To start, and a word to the wise: choose where you sit carefully, the gorgeous concrete dome which adorns the room creates an acoustic phenomenon where you can hear everyone's conversations to the point where the noise rises to bothersome levels. I say book your reservation on the terrace and skip the dining room altogether. The service, distracted and slow at times, is another area where there's room for improvement. Although, the staff was kind enough to shine a light on a dish as I took a picture.
Sartoria could be more welcoming, no doubt. But if it's pasta you're after, this is the new must-eat and I'll be back as soon as I can to taste the unmistakably Instagramable giant ravioli stuffed with ricotta cheese and egg yolk, and topped with Pecorino Sardo, beef jus, hazelnut butter and black truffle.
Venue name:
Sartoria
Contact:
Address:
Orizaba 42
Roma
Mexico City
06700

Opening hours:
Tue-Sat 8am-12:30pm, 1-6:30pm, 7-11pm; Sun 8am-12:30pm, 1-6:30pm.
Transport:
Metrobús Durango
Price:
Average main course $600