Gimnasio Olímpico Juan de la Barrera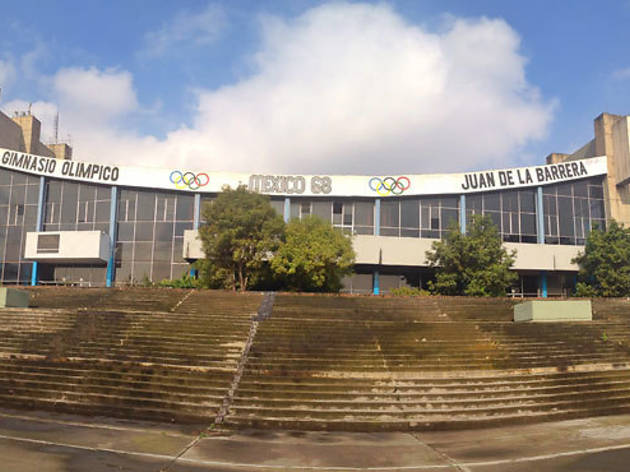 This is the mythical place where the Ramones played their third concert in Mexico (the first one was in Tijuana and the second in Pantitlán). The building was constructed towards the end of the sixties and hosted volleyball matches during the 1968 Olympic games in Mexico. Together with the Olympic Swimming Pool (where Mexican swimmer Felipe "el tibio" Muñoz won the gold medal in '68), it complements the Mexico '68 Olympic complex.
The names of all the venues in this complex honor the military cadets known as "niños héroes" (child heroes): Francisco Márquez Olympic Swimming Pool, Juan Escutia Sports Palace, Agustín Melgar Olympic Velodrome, Fernando Montes de Oca Fencing Hall and the Vicente Suárez Shooting Hall (though we have never heard anyone say, "let's go to the Palacio de los Deportes Juan Escutia" or "let's go to the Juan Escutia", have you?).
Gymnastics and basketball are taught here; there are karate, fencing and other sports exhibitions, and it serves as a venue for concerts and wrestling events.
Venue name:
Gimnasio Olímpico Juan de la Barrera
Address:
Complejo Olímpico México 68
División del Norte 2333
General Anaya
Mexico City
03340

Cross street:
Río Churubusco
Opening hours:
Sports events Mon-Fri 5am-11pm, Sat-Sun 6am-2pm. Administrative events Mon-Fri 9am-8pm, Sat-Sun 9am-2pm
Transport:
Metro Eje Central