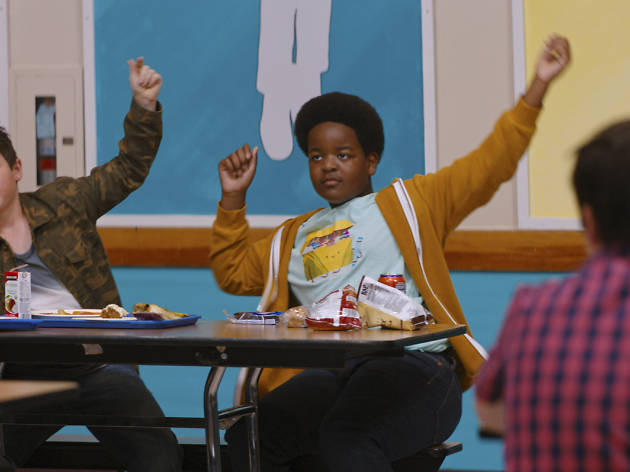 Time Out says
Tweens just wanna have fun in a profane comedy that plays off its cast's innocence.
Review by Joshua Rothkopf
At this point, after Superbad and Booksmart, we've hit upon a formula: dorky, essentially sweet-natured kids getting into R-rated trouble scored to DJ Shadow's "Nobody Speak." Good Boys drops the age range to tween—though it's certainly not meant to be watched by them, only by nostalgic adults—and makes the most of its disparity between life inexperience and oddly poised dialogue. (The biggest laugh comes when our sixth-grade hero drops the random slam: "Everyone knows your mom plagiarized her cookbook.") It's a one-joke premise, which might be best summarized as Kids Say the Fucking Darndest Things. (Hey, that child just swore!)
Regardless, this movie is blessed with a cast of young actors who all seem to be in on the gag. Max (Room's gifted Jacob Tremblay) and Thor (Brady Noon) are both on the verge of discovering girls; Max's father (Will Forte, supportive to a degree that's wince-inducing) is thrilled to learn that his son his masturbating. But their gang's third member, Lucas (Keith L. Williams, who deserves his own spin-off), is still trapped in that squeaky, shrieky zone of easy tears, bruised emotions and instantaneous guilt. Good Boys saddles Lucas with divorcing parents, a wobbling speed walk and the keenest awareness of his being left behind in the sexual sweepstakes, and Williams plays it as expertly as Will Ferrell did in Step Brothers.
The screenplay (cowritten by The Office vets Gene Stupnitsky, who directs, and Lee Eisenberg) isn't especially inventive: What kind of trouble could these self-styled "Bean Bag Boys" get into with a drone? Or with a childproof container of molly? Or on a mission invading a frat house to execute a drug deal? Generation Home Alone, now grown up and maybe with children of its own, will be amused in the moment, but the film's heart isn't as subversive as it wants us to believe.
Follow Joshua Rothkopf on Twitter: @joshrothkopf
Details
Release details
Rated:
R
Release date:
Friday August 16 2019
Duration:
89 mins
Cast and crew
Director:
Gene Stupnitsky
Screenwriter:
Gene Stupnitsky, Lee Eisenberg
Cast:
Jacob Tremblay
Molly Gordon
Will Forte
Lil Rel Howery
Millie Davis
Brady Noon
Keith L. Williams

Users say